Social media sensation Nick Bateman truly shut down the internet last month: when we posted our interview with him, it promptly crashed our site for hours. This native Canadian and up-and-coming actor, who has a whopping 1.5 million plus followers on Facebook and a massive Instagram following (a mere 1 million!), has gathered some of his best mod buddies for a 2015 calendar, with a portion of the proceeds going to the Make-A-Wish Foundation. We rang up Bateman to get the story on the calendar, how you can get it, and why he's going to be spending most of the new year in Los Angeles. We're still keeping details on his love life under wraps. Sorry! 
Nice to catch up again, Nick! So, how did the calendar come about?
All the Canadian guys featured are model friends of mine; we've all shot Harlequin romance novel covers. I thought it would be hilarious a couple years back to do a men of Harlequin calendar. That didn't happen, but we thought, 'Why not do a calendar that can reach out to the people that have been following us on social media over the last couple years?' It was also a good opportunity for us to give back to a charity of our choice. We thought that the Make-A-Wish foundation was the best charity to give to around the holidays. These terminally ill kids don't have much longer to live, and [the foundation] makes their wishes come true.
Why did you shoot the calendar in Miami?
We were debating between L.A. or Miami, and the photographer we chose was Emmanuel Monsalve. I had shot with him before when I was in Miami and I liked his work. He's a polite, professional guy. It just so happened that two of the other guys who were shooting for the calendar happened to be live in Miami, so it was the most convenient location.
You shot on the beach. Where else?
Emmanuel has these little quirky places where he likes to shoot, like in a train station. We also shot in the back of the woods, which literally looked like a place where people go to do drugs. All the models got there and were like, 'Oh God, this is where we're shooting?' We started looking through the pictures and it looked amazing. It was almost like an Abercrombie & Fitch campaign, because we were in the woods. There were all these shades of green and different textures.
You're shirtless in every shot. Did people stare when you were shooting?
We were lucky that the two locations we shot at were specifically picked so there would be no public coming through, because we didn't want to be sidetracked. We had a lot of shots to get done in a fast amount of time. Surprisingly, we planned to do the shoot for two full days, and both days ended up taking half the time we thought we'd need. It was friends shooting, it was on the beach, it was fun, and it just got done super fast. The few people that did run by were like, 'What the hell is going on?'
Why didn't you do the calendar solo?
I like to do things with my friends! They're trying to build their social media followings, so I thought it would be a good opportunity for my fans to learn a bit about my friends.
Who are the other guys in the calendar?
There are three others: I met Landon Falgoust in Miami a couple years back, and we've been friends ever since. I went and stayed with him in Brooklyn earlier this year, with Jules Schratter. You might remember that whole thing on the Internet about them adopting a dog. I met Joe Weir in Canada, through modeling, when I was 19 years old. Another guy featured is Matt Coatsworth! He's another Canadian I met through modeling. He's a hilarious, entrepreneur type guy, doing his own businesses now, similar to what I'm doing. Jesse Dunphy is also featured; he's a former hockey player.  He just moved to L.A. to model and act. All these guys are just cool, cool guys I met through the industry. People who are following me and like me would definitely like these guys.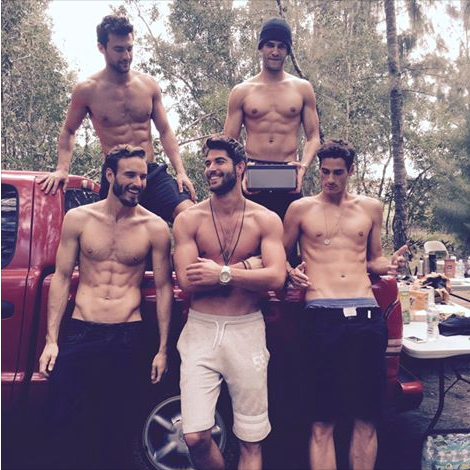 What months of the calendar are you featured in?
I'm in February for Valentine's Day, May, December, and January. It's a thirteen-month calendar. It goes from January 2015 all the way through to January 2016.
Do you have a favorite month?
The summer months. I hate the cold! I can't stand it. Even though I grew up in Canada, the cold drives me nuts. October is one of my favorite months because I freaking love Halloween. The weather changes; it becomes fall. The winter drives me nuts.
When's your birthday?
November 18th. I'm a Scorpio.
Did you have a calendar on your wall as a kid?
I had the Ninja Turtles calendars every year. I would get stickers for my calendar from my mom, as rewards. If I got a sticker every day, I would get a present at the end of the month. As far as calendars with good-looking girls or anything like that? I didn't really do that.
Will you be hanging your own calendar on the wall in your house?
[Laughs] Definitely not! I actually don't even want one of them in my house!
Now, for the most important question! How does one get a copy of the calendar?
Go to TOPFITMEN.com. I'll be signing many of them!
What's your New years resolution for 2015?
My resolution never changes; it's always to be happy. It doesn't matter what I'm doing, as long as I'm happy.
So, how's L.A. life treating you?
I'm back in Canada for the rest of the month, but I'm moving all my stuff to L.A., so I'm very lethargic. It's -7° here right now! I'm used to waking up, looking outside, seeing that it's sunny, and getting ready for a run. But here I wake up and I'm like, 'I don't even want to leave my house!' I'm being deprived of vitamin D!
Happy 2015!
Same to you!