Even just the word ballet, let alone the art form itself, is enough to conjure images of grace and beauty—so it makes sense that former ballet dancer Jordan Samuel would honor his past while entering his next act. Jordan Samuel Skin was born from the namesake founder's quest to keep his skin clear after performing shows in heavy stage makeup would leave his pores clogged and stressed. After mixing his own formulas, he took things to the next level once he retired from dance and became an esthetician. The brand is now a decade-old, but the day one mission of gentle, hydrating ingredients that are still the same. Read on to hear his backstory! 
When did you first know you wanted to become a dancer? Did you ever envision any other career, or specifically, getting into beauty?
I probably knew from my first dance class at 10-years-old. I fell in love with the art form immediately! This initial passion and love led to more serious training, which solidified my desire to pursue dance professionally. However, since a physically demanding career in ballet is inevitably short-lived, I knew I would eventually have to pursue a second career path. From the time I was 17, I always said I would be doing something else in another industry after I retired from the ballet. At that time, I had no idea that it would be in the beauty industry, though I was already a very passionate and well-informed beauty consumer.
During your dance career, you were always wearing heavy makeup for performances—tell us about how your skin fared during this time?
Terribly. I have a reverse skincare brand founder story. My skin was fine growing up—a few breakouts here and there, but that was it. On one hand, this made things easy for me while going through my teenage years, for which I'm still very grateful. On the other hand, I never learned how to properly care for or develop good habits for my skin. Once I started performing many evenings per week, things changed drastically. Wearing heavy stage makeup while sweating under hot stage lights and then having to remove it from my skin one to two times per day caused my skin to go haywire, becoming extremely sensitive, broken out, dry, and easily aggravated.
What kind of steps did you take to keep your skin clear and hydrated during that time?
First, I sought professional treatments and started getting deep cleansing facials. Not only did the facials help but the information provided by the esthetician helped me to choose the right products for my skin type and condition. Once I was on a proper routine of cleansing, exfoliating, moisturizing, sun protection, and receiving quarterly facials, my skin completely changed to healthy and glowing.
When did you begin to consider pivoting your careers? How long did it take?
I had a serious ballet-related injury in 2004 and then again in 2006. In 2004, I used the time off to simply rest and heal both mentally and physically. In 2006, however, I went stir crazy and began to explore the direction my life might take after dance. I instinctually knew that whatever new profession I went into it had to be something I was extremely passionate about, and by that point, I was already a beauty fanatic who was using all my skincare lotions and potions, hair products, and fragrances daily. So, it was through rehabbing the injury in 2006 that a new path took shape, and I started to explore the options of what it really meant to work in the beauty industry. After another year of research and personal exploration, I knew what I wanted my next profession to be, and I started putting a plan in place. With a vision in place, I officially retired from the ballet in 2010 and immediately enrolled in esthetics school!
View this post on Instagram
Fun! How does your ballet background inform the products/the brand ethos?
Like ballet, skincare is truly a delicate balance. As a ballet dancer, you're constantly balancing strength with artistry and walking a fine line of stressing the body enough to achieve excellence without pushing it past its limitations. In skincare, while it's essential to use great active ingredients to achieve your desired results, more is not always better, and it can be easy to overdo it. I always aim to create products that balance using active ingredients in the correct strengths with soothing and hydrating ingredients so that my customers are never pushing the skin so far that they are left back at square one with their skin needing a complete reset.
Tell us about some of your hero products.
Two of our best sellers are the Jordan Samuel Skin Moisture Recovery Cream and The Matinee Gel Cleanser. They are both for different skin types and skin conditions. My Moisture Recovery Cream is a thick, rich cream that is great for the driest of skins. It contains shea butter, squalane, glycerin and ceramides to help reduce water loss in the skin, moisturize and give a beautiful glow. If you have over-exfoliated, spent too long on the beach, or overly-irritated your skin, this is the perfect solution. The Matinee Gel Cleanser is an aloe-based, non-foaming gel cleanser. It's perfect for a congestion prone skin, as it has a touch of salicylic acid in it. It leaves the skin clean, lightly exfoliated, and comfortable—never dry or tight.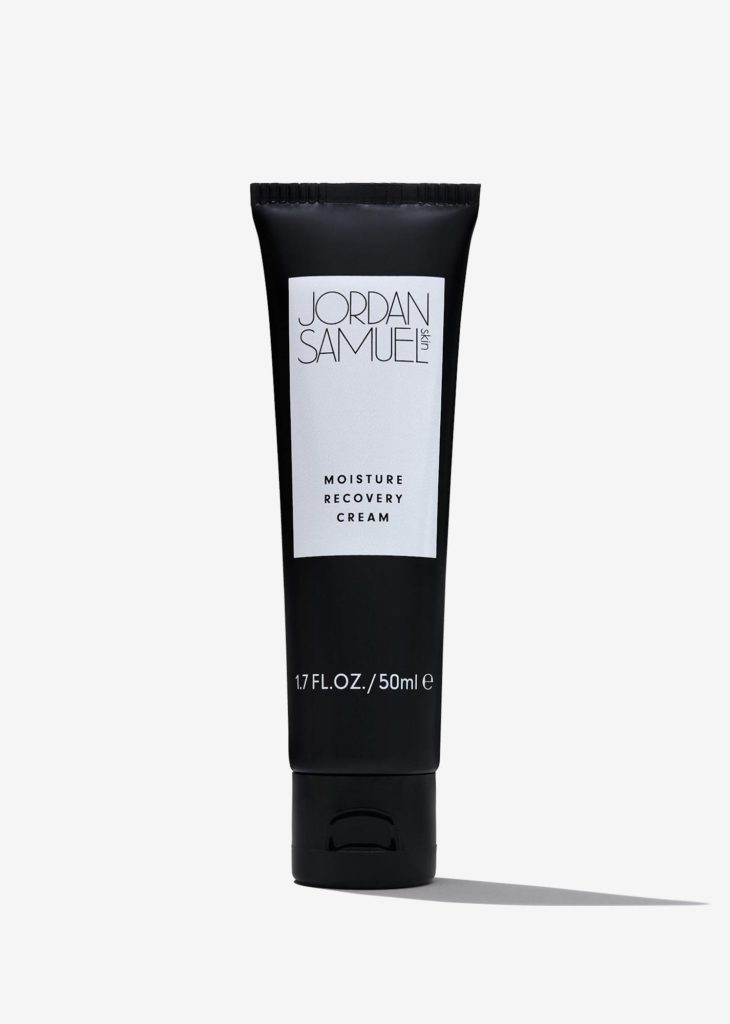 What is it about skincare that you're so passionate about?
I love what cosmetic products can do for our skin. If you are consistent with a great regimen meant for your skin you really can make great improvements in helping with concerns like congestion, dullness, sensitivity, pigmentation, and even fine lines and wrinkles. From the esthetics point of view, I love the problem-solving aspect of putting together a great routine for a customer that will address their individual skin concerns, work to improve their skin daily, and empower them to be at their best and most confident.
What are three ballet dancer-approved lifestyle tips that we could all implement for better skin?
Sleep! One of the most important things you can do for your body, mind, and skin. Drinking adequate amounts of water. While staying internally hydrated does not directly translate to the skin's hydration levels, it just keeps everything working properly. Another thing that I think is so important is meditation. Taking the time each day to settle the mind and slow the breath can do wonders for the skin.
View this post on Instagram
What's your biggest dream for the brand?
To continue growing, bringing out amazing formulas, becoming a household name in the skincare world, and having a lot of fun along the way.
Subscribe to our newsletter and follow us on Facebook and Instagram to stay up to date on all the latest fashion news and juicy industry gossip.