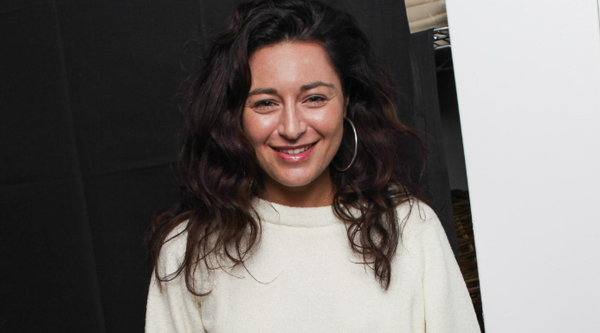 Houghton's Katharine Polk Breaks Down Her Booming Bridal Business
|
(NEW YORK) Bridal's Fall 2014 season has arrived! Ready to walk down the aisle, style-wise? New York-based designer Katharine Polk's bridal dresses have been known to cross over from the aisle to the red-carpet with pretty young celebs like Lily Collins donning her ivory lace gowns for movie premieres…that's just how she likes it. Polk's Houghton is the low maintenance girl that wants to look spectacular without looking like a lot of effort has been put into it. Meanwhile, Polk's beautiful gowns involve plenty of detail, with dresses like an ivory and pink ombre lace dress taking up to 80 hours of painstaking work. The getting-hitched category has made for an unexpected business boom, with clients clamoring for Polk's custom designs. We caught up with Polk and her bulldog Jonesy in her Manhattan studio to find out how she manages to weave unconventional ideas (like rompers!) into the often-conventional bridal market.
BY PAIGE REDDINGER
So who's your studio companion?
This is my bulldog Jonesy. She's been milling around the office, so her fur is a little pink from some of the fabrics I've been using!
Cute! So what does your new bridal collection entail this season?
It's truly the same as ready-to-wear. The bridal for me is really just a gown that you can get married in. It isn't your traditional bridal, which is why a lot of my bridal pieces have been on the red carpet. But this collection as a group is a bit more traditional because I did do bigger skirts, but I also have pieces like rompers, which I have in every collection. With the rompers, the fabric drapes all the way around; they look like gowns or dresses from the back, with concealed pockets. It looks more traditional as a group, but when you break it down you see the untraditional details.
Are they mostly custom?
We mostly deal with our brides directly so all of our pieces are custom. They come to our studio and the sample room is right here, so we fit everything in this space. I do between five to 10 bridal appointments per week.
Do you have more fun doing bridal or ready-to-wear?
I do actually have a lot of fun doing it, because I don't really worry about who I'm designing for. I don't have to design for a retailer. It is more for my Houghton girl. I can really just design more freely without having any restraints.
Is it hard to re-envision the white wedding dress all the time?
This collection is actually the most white that I have done. In previous seasons I've done pink and blue or nude with black lace. I bring a lot of color into the collections; this one is my least colorful. It's funny, though, because each season is kind of neutral. The first collection was all ivory, so I always have an ivory undertone, which is how the Houghton bride spin-off collection got started. It was because of my ivory gowns, which then began to be worn as wedding dresses.
So how long does it take to put all the final touches on?
I would say dresses like the full-skirted piece with the pink underlay took probably about a week and a half to two weeks; it's probably a good 80-hour dress.
What is the Houghton bride about?
My brides that come in are totally no fuss. We have an appointment almost every day, and they come in with a girlfriend, not a whole wedding party. They know what they want. They try on a couple of dresses and are in and out quickly. They're all pretty cool.
Do you ever have any customers coming in for a second wedding?
I always joke that the Houghton bride is on her second or third wedding, because typically she can be untraditional. That is why I do suits, because typically a woman in her 40s or 50s or 60s is not going to want to wear 50 yards of tulle. She's going to want something simple, like a nice ivory dress. So I actually haven't yet, but when I started that's what I had in mind. When my mom got married a couple of years ago in Vegas was like, "I'm not going to get married in a strapless wedding dress". She got married before I started designing, but it was the same concept she couldn't find anything she just wanted something comfortable.
What is the best wedding that you have ever been to?
I am not that big on weddings as it turns out, but I have plans to go to California on Friday for my girlfriend's wedding.
Will she be wearing one of your dresses?
No, she actually isn't! She is probably doing a Vera [Wang] or Monique [Lhuillier]. She is doing the whole fairytale dress, like a mermaid dress with like a 50-foot train, which is not very Houghton.
If you were to be married, what would you wear?
I sort of have a phobia of weddings! I have no intention to get married. It's not even on my radar.