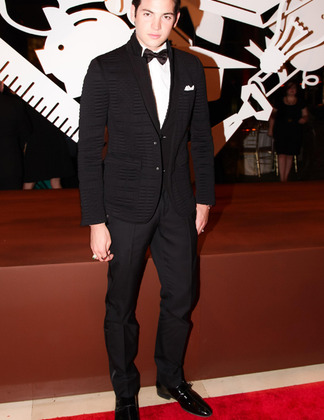 Homework Break! With Peter Brant Jr.
|
College kid by day, socialite by night! We always love catching up with Peter Brant Jr., so it was a delight to see him last night at the New Yorkers For Children's 14th Annual Fall Gala in between homework.
How's your evening? [Brant starts to eat bread.] Are you hungry?
I'm feeling a little peckish, what time is it, like 8:30? [Ed note: It's 7:30 p.m.] I haven't eaten anything all day.
Are you watching your figure?
I just forgot! I honestly have never dieted in my life, I just forgot to eat. I woke up at 10 this morning rushing to my 10:10 class and then I was like wait, it's Tuesday, my 10:10 class is on Wednesday.
Oh, the typical life of a college student!
Exactly. Those are the things that ruin your day when you're in college, when you wake up an hour or two early. Then you, what, have to go back to your room and watch TV until your next class?
Then you have to make it to Cipriani by 7:30! What does this charity mean to you?
Well, I think that as a born and raised New Yorker, it's really important to give back—I'm joking, that's what Hannah Bronfman just said! [Laughs] It's very important to promote education, keep children in school, and send kids to college and provide with the tools necessary. I think it's fantastic.
What are you looking forward to this fall?
I was very much looking forward to the end of fashion week. Now it's over and I'm like, Hallelujah! What I'm looking forward to most from fall is the winter. I love the winter. I love wearing coats. Sweater weather is my new favorite term. I love sweater weather! I have a pretty bad coat problem. I have an addiction to buying and wearing coats.