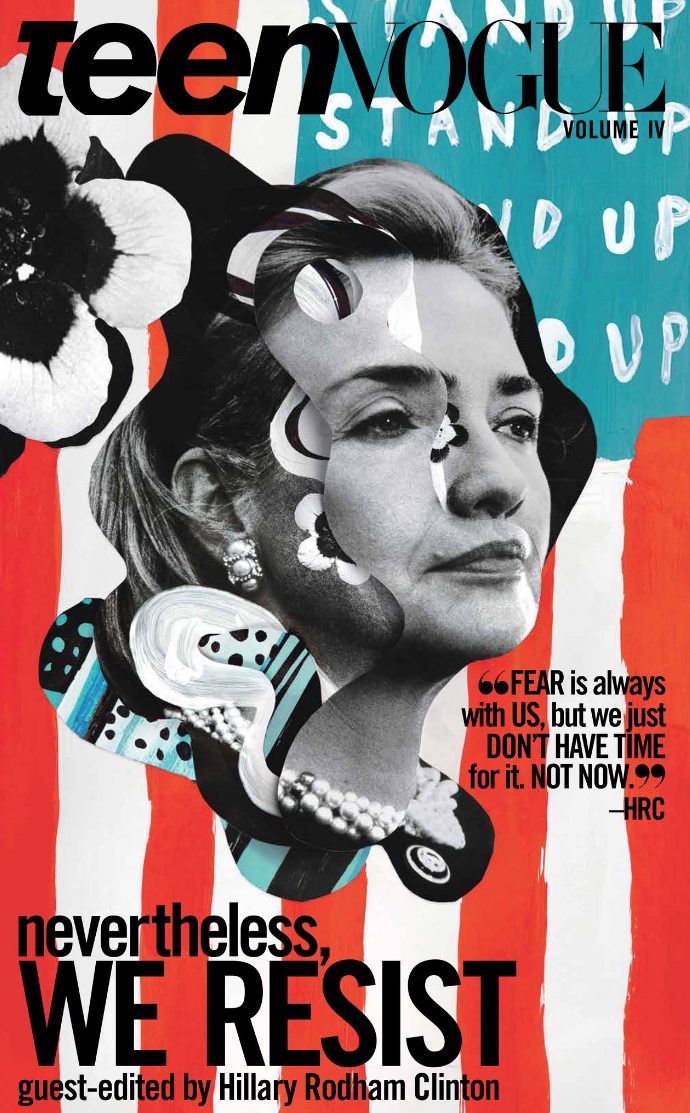 Teen Vogue has unveiled its latest print edition with a special guest editor and cover star: Hillary Rodham Clinton, who will keynote at the first-ever Teen Vogue Summit in conversation with actress, scholar, and activist Yara Shahidi on December 1st and 2nd in Los Angeles. The issue comes out exactly one year after the day that Clinton was defeated by Donald Trump. She was photographed for the book by Ethan James Green, and her portrait is collaged against an American flag and the call to action "stand up."
"Teen Vogue takes teen girls seriously and understands that style and substance aren't mutually exclusive," Clinton writes in her editor's letter. "I love seeing articles about the search for the perfect makeup remover next to essays about running for office (I have strong opinions on both topics, but we'll get to that later)." The new issue, which hits newsstands on Dec. 5, will introduce readers to Clinton's daughter Chelsea, her best childhood friend Betsy Ebeling, Clinton's own responses to letters from readers "whose politics differ from [her] own," and more.
"Hillary Clinton may not have broken the tallest glass ceiling in America — but one of you will," writes Teen Vogue EIC Elaine Welteroth in her own editor's letter. "And you will be standing on the shoulders of women leaders like HRC whose story unlocks universal lessons in determination, survival and resilience." The issue release comes just days after Condé Nast announced plants to shutter Teen Vogue's print operations. Clearly, with this issue, there was no holding back.