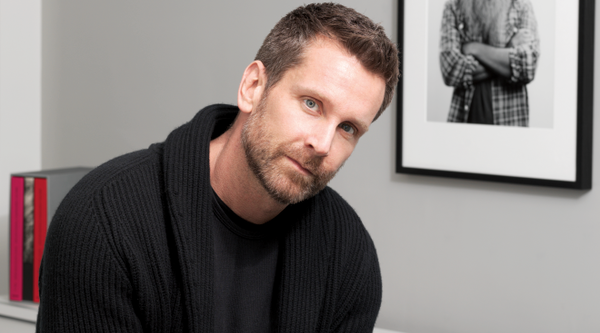 High Society With Chris Gay
|
(NEW YORK) Since opening its doors a year ago, haute modeling agency The Society has built an impressive roster of in-demand talent like Lindsey Wixson, Adriana Lima, and Liu Wen. The Daily dropped by boss Chris Gay's swanky offices to see what all the buzz is about.
BY EDDIE ROCHE
What's The Society?
It's an offshot of Elite World. They're one of the most established agencies in the world and have been in business for over 30 years. We have the Elite Look of the Year, which is a massive television competition. About 10 or 15 years ago, Elite North America and Elite World separated. Elite World felt that they needed to create an agency here in New York, so Stefania Valenti, our Global CEO and Vick Mihaci, our president, were the people that really pushed forward and created The Society.
What's your background?
I started working in this business when I was in college and I just sort of fell into it. I thought I was going to be a sports agent, but then got into modeling. I started at Next and then went to DNA and then I had the opportunity to run Women, and then Marilyn. When this opportunity came along, I jumped on it.
Do you have any affiliation with Elite Models in New York City?
No, there is currently no affiliation. Elite North America had a bankruptcy years ago and are required to operate Elite North America independently of Elite World.
Do you want to keep this office on the smaller side?
What we focus on here is individually tailoring their careers and finding the strengths of our talent. We have different managers that have their own style, too. We have managers that are non-traditional in the way that they might develop a new talent, and then we have managers that are more traditional. We're not just creating a system and then there are 300 girls on the wall.
What do you think of the current state of the industry?
It's the first time in a long time that models have the ability to communicate with an audience that they can actually generate, promote, and create themselves. It adds a new layer to how you can distinctly promote and manage your talent. At the same time, we're in the fashion business, so the models have to be able to seamlessly move between different brands. It is not like we are representing a film star that is known for this, or an athlete that is known for that. A model's core business is actually her relationships and endorsements with brands, so you have to be extraordinarily sensitive to that, but at the same time we have a distinct opportunity to create opportunities for our talent, which is exciting.
Who are your biggest names?
Adriana Lima is an icon at this point. Her reach is huge, and I think she just recently went over a million likes on Facebook. Her numbers are spectacular. She is incredibly professional and is someone that can get off a 10-hour flight and go to work. It's spectacular to see communities that you wouldn't think would even know about her suddenly waiting for her autograph.
What are some other names from your board that we should be looking for?
Caroline Brasch Nielsen is a girl that could potentially go superstar. She's one of the most beautiful girls in our business and just recently committed to moving here to New York City from Denmark. Lindsey Wixson is so unique and could absolutely be a film actress. She has so much character in her face and in her soul. There are not a lot of models that can transition into moving picture and she can; she is spectacular. Catherine McNeil has had a really spectacular resurgence here and she currently continues to kill it and do extremely well. Some new girls to keep an eye on are Natalie Westling, Josephine le Tutour, Marine Deleeuw, and Magdalena Jasek.
What makes you a good manager?
I'm passionate about my clients and am super competitive by nature. I'm also a dad and am really protective. Being a parent you are a bit more patient and realize that talent and people develop in their own ways. Your role is to guide them and look at their strengths and figure out how to bring them out. I'm probably different from the typecast agent that some people think, but, whatever, it's worked so far. A lot of people think that agents are hucksters.
Cool Rick Rubin photo on your wall. Is he your hero?
I've admired him since I was a teenager because he was so authentic and real. He's one of those people that may be in the background but has had his hand in so many wonderful musicians' careers and really guided them in the right way. My parents are my heroes.