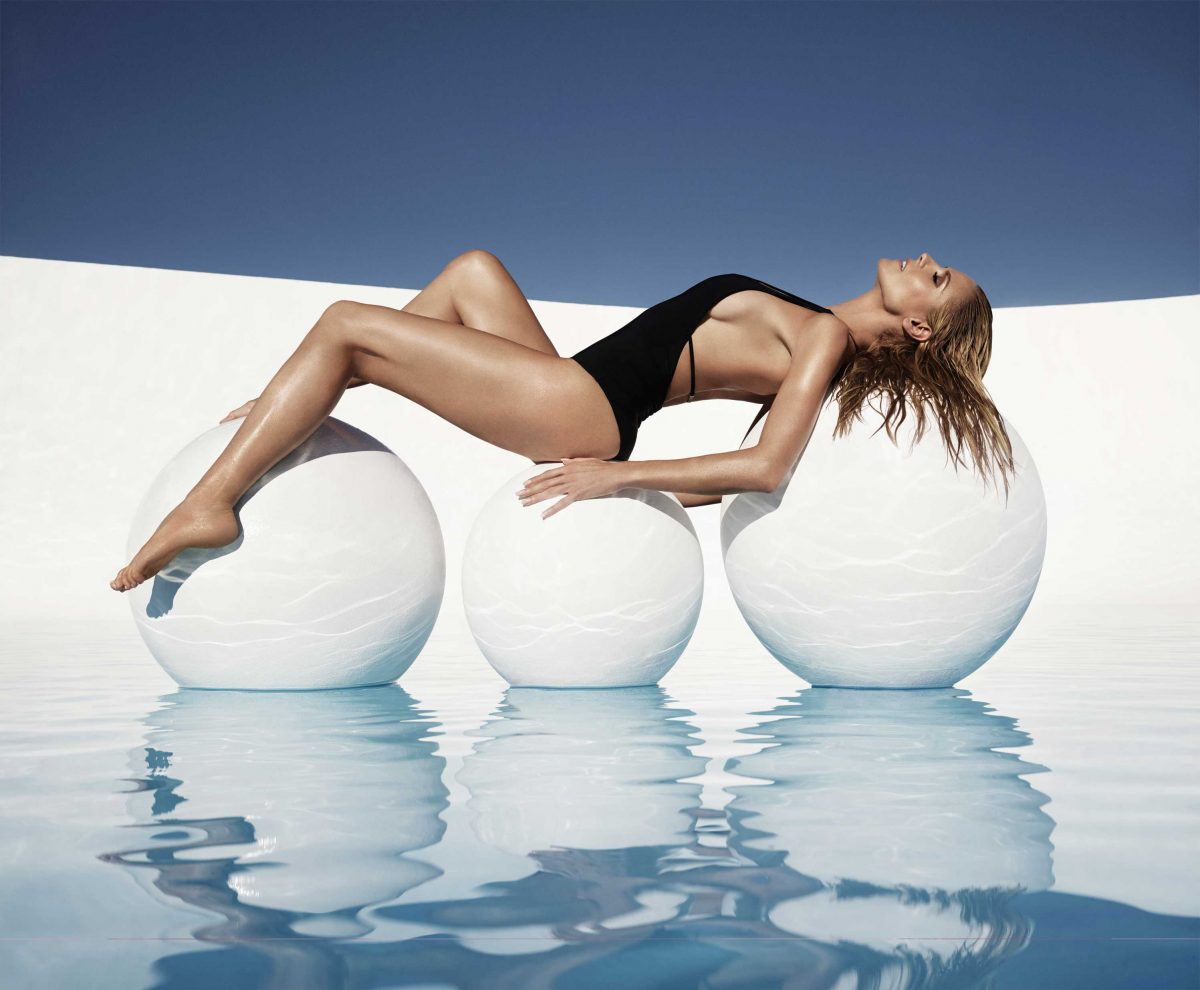 With two shows, four kids, and three brands under her belt, what can't Heidi Klum do? The model, who's dabbled in design for the past 15 years, is expanding her role as a creative director with the upcoming launch of Heidi Klum Swim.
When did you first get into fashion design?
When I was living in Europe, I designed sleepwear, shoes, dresses, loungewear, and swimsuits for one of the biggest catalog houses in Germany, called Otto. From there, I went on to designing for Birkenstock and pretty much reinvented the sandal. It was looked at as an orthopedic shoe, so I pushed them to be modern again. Over the past 10 years, I've done a capsule collection for Jordache, made-to-order swimsuits for Sports Illustrated, and a kids' line for Babies "R" Us. As a teenager, I was accepted to a fashion design school in Germany, but I won a modeling contest and pursued that instead. Now, so many years later, it's all turned around again—two years later I started designing lingerie for Bendon.
How has Heidi Klum Intimates grown?
It's become more modern. I don't see the push-up as being so trendy anymore—I did that during my 15 years with Victoria's Secret. Now bras are harder and sexier. I push the envelope.
What inspires you on the design front?
Traveling and having my eyes open. Because of what I do, I get to go to amazing places like India, Africa, and Mongolia. I love going into small boutiques and flea markets—that's something I've been doing since I was a little girl. I have a huge library at home with the best books in fashion, jewelry, shoes, and accessories. I look at fashion show pictures as soon as they're on the Internet. We make our own prints, so I'm always thinking about those, and then adding embellishments. I love going to M&J Trimming. I'm not a huge fan of logos, so I try to keep all of that very small and hidden.
You're launching a swim line in November. Was it a natural progression?
Yes, and it's been a lot of fun. Many of the shapes are very similar in terms of construction. When it comes to both swim and lingerie, the most important things are fit, function, and fun.
You wore a one-piece on your Sports Illustrated cover in the '90s. Are they still sexy?
I'm personally not a fan of them. As a designer, you have to cater to women who don't want to wear two-pieces, and we make things for everyone out there. But personally, when I'm on a beach in a country where I can take off my top, it's off. It's just who I am. The smaller the top, the better!
Favorite beaches?
I love the beach in Bora Bora and the beautiful, clear water in Turks and Caicos. I love opening my eyes and seeing the starfish and shells. For my next collection, I was inspired by a recent holiday. I said we have to go there to shoot my next collection, and everyone was telling me it wasn't in my budget. I said I didn't need a hairdresser or anything—I'd just take a photographer and keep it simple.
What makes a good designer?
There are designers, and then there are designers.
I love haute couture, but most people can't really wear it—not even me! Maybe just once a year, when you go to the most fabulous red-carpet event. I think good design is about being innovative and coming up with something new, and that's harder and harder to do now.
Any challenges to design work?
Not really, just because I love being creative. If you were in my house, you'd see everything I collect. I literally have rocks from all the beaches from around the world that I've been to. I also have every boarding pass of every plane I've been on. I don't want to say I'm a hoarder, but I definitely collect things.
You front the campaigns for your lines. Have you ever considered choosing someone else?
I'm sure at one point I'm going to be done with it, but right now, no.
Do you have a mentor in design?
No. I've always had my own brain with my own ideas.
What's the story behind Heidi Klum Solutions?
Sometimes we all need a little help, and now, with so many unusual necklines and open backs, you can't always wear a bra, so our products will give you a lift without wearing a bra!
Is Project Runway really in its 15th season?
It is. Time flies. But I'm a mother of four, so I wake up every morning and think about how big my kids are getting. In 15 years, so many things have happened. It's a huge honor that people are still watching.
You have lots of die-hards!
It's interesting—before, a lot of moms watched the show. Now their daughters have grown up, and they're watching too. We have the next generation hooked! My oldest daughter is 12, and I brought her to the set so many times, because we film during the summer, when the kids aren't in school. When she was younger, she didn't care about the show—she'd sit around and say, "This is boring." Now she's watching it all on Netflix! She just started the first season, and she said, "Look at your hair! What were you wearing? You look so young!"
What can we expect from the designers this season?
There are some great designers. I'm actually considering [hiring] one of them, which has never happened before. So special and talented!
Have you grown as a judge?
In the beginning, I was looking at their work from a model's perspective. On the red carpet, you're always being judged, and people are writing about why your clothes work or don't work. Now, as a designer, I bring something else.
You've been shooting America's Got Talent. What's your dynamic with Simon Cowell?
It's more fun, I have to say. Simon hangs out with us—he tells stories, his baby and girlfriend are there, he laughs with us, we have lunch. We're more like the four musketeers, if you will, even though we call him Boss Man! I think we have a lot more singers since American Idol ended too.
What's exciting you in pop culture these days?
It's funny, because when I go to the Emmys, all these shows pop up, and I'm like, "Nope, haven't seen that!" I watched the season finale of Game of Thrones, but I honestly just don't have time for much.
Between modeling, TV hosting, designing, and being a mom, how do you balance it all?
I think you have to be wired that way, and I am. I'd be bored doing just one thing. I think a lot of women are like that—sometimes you ask men to do two things, and it takes them all day to do one. If I wasn't super busy, I'd be like, "Is there something wrong?" But when I go on holiday, I could just drop a suitcase, lie on the beach, and take in that sun.
Read the issue HERE.