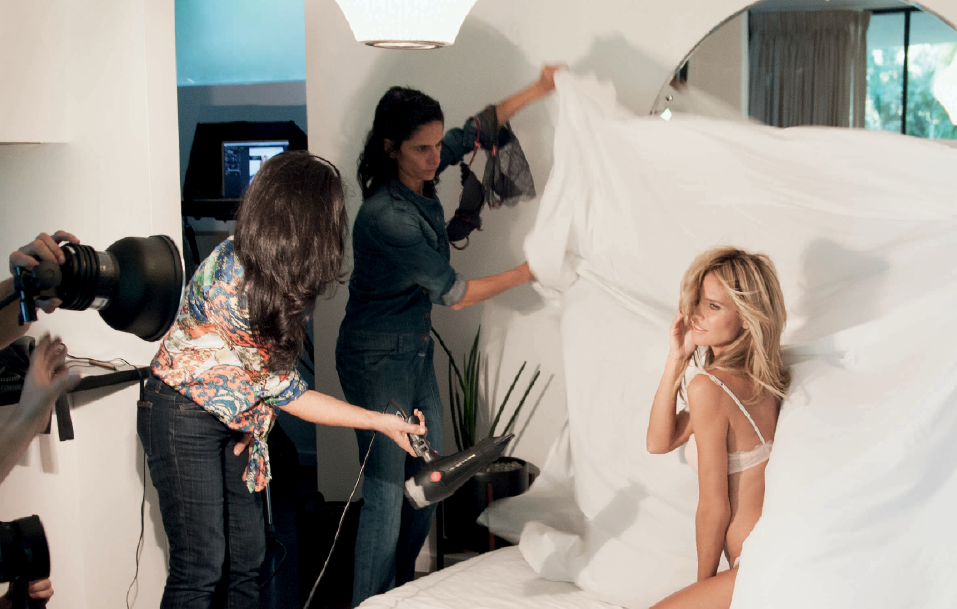 The entrepreneurial Heidi Klum has a new venture sure to delight women everywhere. In a nod to her salad days in the modeling world, the legendary supe is launching Heidi Klum Intimates in a whopping 1,800 stores worldwide.
How did Heidi Klum Intimates come your way?
Bendon, the company that made the Elle Macpherson brand [of intimates] for 25 years, wanted a change, so they called and asked me to take over the reins. I was kind of shocked, but it was such an honor. It's a brand with a lot of heritage, and 25 years in any business is a really long time, so to make a move like this was a pretty big deal. I come from the world of lingerie, so I was honored and flattered.
Was this project a no-brainer?
Things come my way quite a lot, but I don't always say yes to everything because it might not fit with my beliefs or lifestyle. I'm quite busy as it is. But I love the product, the quality is right, and I love designing and lingerie. I had my first design meeting [with Bendon] about two months ago. I tried on everything that they currently have in the line, and I added pieces to the line that I thought were missing before we got started. Lingerie always improves. You know how your phone keeps getting better? It's the same with bras. They're more comfortable than ever. There are all these different technologies that have been developed over the years that really work and women love.
What are your plans for the line?
To add my own twist to these shapes and make something new. The line didn't include racerbacks, and for me, those are no-brainers, so we added them. Now, we plan to improve the specialty bras and add more beautiful straps and laces. Next year, we'll introduce swimwear.
Your longtime pal Rankin shot the campaign.
You're one of the first to see the black-and-white photos! Rankin and I have worked together for over 10 years. He's my friend, and I love him dearly. He finds the right mixture between being commercial and edgy at the same time. I love the way he makes me look. Lingerie, to me, is a commercial product, but it's something we all need and want. At the same time, I didn't want it to look too commercial. It's also a lot of fun to shoot with him. He has the music blasting and when you're so comfortable with a photographer, you feel it in front of the camera. I don't mind taking off my top and just showing the panties when I shoot with him, but I wouldn't do that with just anyone.
How do you get in the mood on set? Do you have a tequila shot beforehand?
Oh, no! I wouldn't do that anywhere. Blech! I like to listen to hip-hop music. Rankin introduces me to all this fun English music on set—there's a band, Jungle, that I love—but I also love Drake.
Did you have to work out extra hard before shooting the campaign?
No, I didn't. When I started as a model 20 years ago, I changed my whole lifestyle. Coming from Germany and eating tons of meat, potatoes, and sauces with everything, I had to change my whole way of eating. Women outside of this industry start dieting before they hit the beach, but that doesn't work as a model—you always have to be in tip-top shape.
What's your No. 1 tip for staying thin?
I try to stay away from too many carbs. No pasta, and if I eat bread, it's pumpernickel with a lot of grains in it. You know the kind of stuff you should and shouldn't eat if you want to be in shape. If I had pizza, I'd have to go and run the next day for an hour. It's not worth it. I'd rather eat a beautiful piece of fish or vegetables. I love healthy food. For me, it's very easy to stay fit. I exercise a little bit and eat right. I also don't eat a lot of candy or chocolate. I eat a lot of fruit.
Any guilty pleasures?
Sure! Sometimes, I eat a slice of pizza or two, but not the amounts that most people eat. When I go out to dinner, I notice people eating pasta, and dipping their bread into the sauce, and ordering cheesecake afterward. I won't do any of that.
You were recently in Australia promoting the lingerie line. How was your trip?
I hadn't been to Sydney in 15 years, and it's a shame I hadn't gone back sooner, because it's just beautiful. Our weather wasn't great, so we went to the Taronga Zoo to see the koalas, kangaroos, and giraffes.
Did you feed a giraffe?
I did! I had a whole bucket of carrots. They're so friendly. I also went to the top of the Sydney Harbour Bridge, and I was so happy to see it again. Last time I was there, I was with my mom and dad, so I sent pictures to my parents afterward saying, "Remember when we were here?" It took me down memory lane.
What else are you up to these days?
I'm excited about the 10th season of Germany's Next Top Model. Right now, my head is there. We started with 60 girls, and now we're down to eight. I've been shooting the show in Los Angeles for the past few months. I also have different clients throughout the year that I'm going to be shooting with. I'll soon be starting with Project Runway again, where I'm executive producer.
You do it all! Which businesswomen do you most admire?
I don't spend too much time looking at other people's business. I'm too busy with my own stuff. Don't forget—I have four children! I make time for them, and take care of their little lives, from their playdates and tea parties to driving them around. There are parent/teacher conferences, games, cooking, and thinking of new things that are inspiring to my kids. Whenever I'm not with my kids, I'm working and focused. I always want to be original.
Do your kids understand your empire?
In the past few years, as they've gotten older, they see more things and understand that Mommy is on television and makes kids clothes. My smallest daughter, who is five, can wear some of my clothes from my Truly Scrumptious line for Babies "R" Us. When she sees the logo on the clothes, she says, "Look! My mommy made that!" She's always proud.