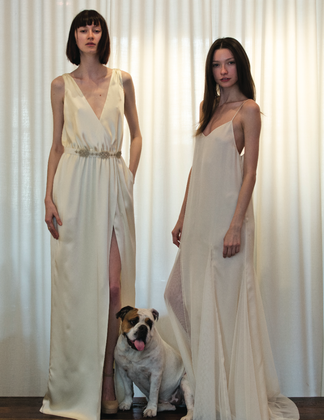 Haute Topics With Houghton's Katharine Polk
|
(NEW YORK) Her brand is a Herburn homage, and we're not talking any Breakfast at Tiffany's LBDs: Houghton's Katharine Polk has been accruing buzz for four season now with her line that's partially eponymous, partially based on Katharine Hepburn. Beyond her ready-to-wear forays, the lowkey, innately cool designer has stumbled into the bridal biz. Find out how!
BY ALEXANDRA ILYASHOV
A quick refresher on the brand's gist, please!
Katharine Hepburn is the inspiration for the collection, the brand, and the aesthetic. My name is Katharine, too, and Hepburn's middle name was Houghton. I look to her season in and season out!


How did your bridal biz come to be?
My first season of ready-to-wear for Fall 2012 was all white; it wasn't meant to be a bridal collection, but I got so much feedback from all these women, bridal magazines, and blogs that gravitated towards it.


Were you surprised?
When I started, I didn't mean for it to be bridal! But in the back of my head I thought, "yeah, this would be a cool dress to get married in." Then, everyone picked up on it and I just ran with it and developed it as an alternative bridal collection. So that's how the Houghton bride came about ! I softly launched it in October.
Is the design process or aesthetic different for bridal vs. RTW?
The funny thing is that my customers seem to really like the ready-to-wear pieces as bridal—and then my bride still gravitates to the ready wear collection.
Intriguing! So, who's your bride?
My girl is no-frills. She just wants to throw something on and have a fun party wedding. It's that Katharine Hepburn mentality—the anti-fuss production. She doesn't want a huge, organza and tulle, poufy prom dress. She wants something that looks like a ready-to-wear gown. They don't want the frills and they're not over the top; that translates to the process, too. They're not crazy brides, which is nice!
Touché! Any dream Houghton brides?
Girls like Kate Bosworth. I'd love to dress her for a wedding, or for the red carpet. Also, Diane Kruger and Kerry Washington. I don't even know if they're engaged or married yet…

What's the most recent wedding you whipped up a dress for?
Last weekend, I did a custom gown for a wedding in Lexington, Kentucky. She was probably in her mid-40s. She was getting married for the first time, and she didn't want to wear white. So I made her a blush lace gown crossed at the waist and grazed the hip. There was nothing restricting, it was comfortable, and there wasn't a huge train. I hand-embroidered iridescent sequins, so it had a little shimmer in the light, but it wasn't glitzy. It was perfect for her; and that's the perfect type of person to be my bride!
Are you a big fan of weddings?
No. It's just not my thing. I'm not anti-wedding, though. I'm all about just having fun and go with it. As long as it's fun and from the heart, and there's no drama, then it's going to be a good party.
Back to your brand's namesake: do you frequently rewatch Katherine Hepburn movies?
Not often! But I do pull her quotes; they're all throughout my lookbook, and I post them on Twitter all the time. I just think she's so intelligent. You can always go back to her, whether it's her style or words of wisdom.
If you designed Katherine Hepburn a wedding dress circa 2013, how would it look?
I think it would probably be a pantsuit.
Definitely. Lastly, what's the last thing you vowed to do?
I try to do everything and not put anything off, I guess that's a vow, right? Live everyday like you're not going to see your friends and family, because you never know what could happen. You don't want to go to bed angry or hang up the phone angry; I'm really big on that.