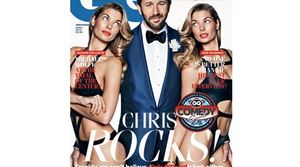 GQ Names A Quartet Of Best New Menswear Designers In America
|
(NEW YORK) GQ has endorsed their latest group of newbie designers: The men's glossy has announced the winners of their eighth annual Best New Menswear Designer in America program. Who are the lucky talents this year? The Williamsburg-based label, Brooklyn Tailors, which is helmed by Daniel Lewis; Rob Garcia of avant-garde label En Noir; John Elliott's line of all-American casual basics, John Elliott + Co.; and the Hawaiian surfer approved beach gear, M.Nii, by John Moore.
Each designer will work with Gap to produce a capsule collection, slated to debut globally in September. In addition, the four labels will each take home a $10,000 prize and make an appearance in the pages of the April and October issues of GQ.
The format of the program was changed up last year, highlighting four new names, rather than catapulting just one up-and-coming talent into the spotlight. Also, this is the third year the program is teaming up with Gap to toast burgeoning talent. Last year's winners were Paige Mycoskie of Aviator Nation, Matt Baldwin of Baldwin, Ernest Sabine of Ernest Alexander, and Liam and Sam Fayed of Bespoken. Other former notable winners include Alexander Wang in 2011, Billy Reid in 2010, and Robert Geller in 2009. With such notable alums, it'd be wise to get acquainted with the fresh crop of Best New Menswear Designers.