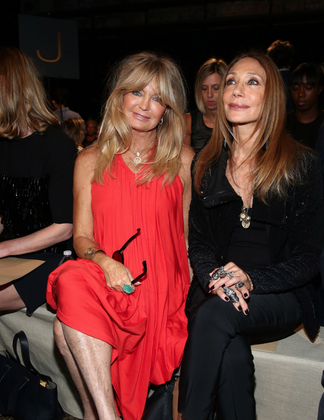 Goldie Hawn, Chez Donna Karan!
|
We may be deep into Milan Fashion Week, but there are quite a few moments to remember from NYFW's Spring '14 circus of catwalks and bashes. To wit: Catching up with Goldie Hawn in the front row of her dear pal Donna Karan's show. The duo has been kicking it for a quarter century. Aww alert!
Thoughts on Donna Karan's show during NYFW?
It was inspiring and fabulous! Sexy, wearable, comfortable, and everything Donna is!
Do you and Donna go far back?
We've known each for 25 years. It's a mutual admiration society.
We don't see you at shows very often!
I'm never in town. I was speaking at the Wisdom 2.0 conference. Donna heard I was here and asked me to come to her show.
Good to have you back!
Thanks, honey!