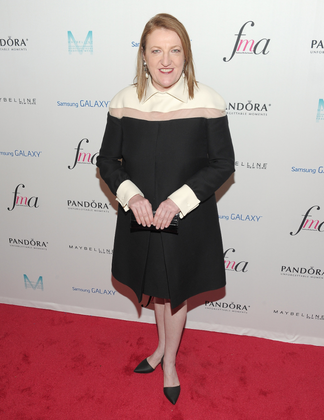 Glenda Bailey and Suzy Menkes On Loving de la Renta
|
Does Oscar de la Renta make you crave a tipple or two? Apparently, that's the effect it has on Harper's Bazaar editrix Glenda Bailey!
What kind of mood are you in when you wear Oscar?
Very festive! I have a lot in my closet. When I'm wearing Oscar, I feel I'm always ready for a cocktail, even if it's 10 o'clock in the morning.
He's downsized his show.
I like it because it's more personal. It's such a great privilege when you have such craftsmanship that you can almost touch the fabric on the runway. It's a wonderful experience.
PLUS! Suzy Menkes Tells The Daily Her Thoughts on Mr. de la Renta…
"Oscar is one of the last great designers who has dressed and still dresses the ladies, and I think that's very important, because so much of New York fashion seems so disengaged from reality. Some of the stuff is sold and worn, but not in the way that Oscar has dressed and continues to dress people who are the spirit of New York."