Gigi Hadid took to Instagram today to address the controversy swirling around her cover of Italian Vogue's May issue. Shot by Steven Klein, the cover shows a super-bronzed Hadid sitting on the lap of an equally-bronzed male model. Hadid posted the cover on Instagram yesterday, writing in the caption that she was, "Excited and honored, and grateful to cover @VogueItalia's May issue" and thanking the creative team behind the "amazing" shoot. Fans and followers were quick to speak out against the cover, though, with many saying it was excessively Photoshopped and others going as far as to say that the shoot bordered on blackface.
The post has since been deleted from her account, but this BTS video of the cover shoot remains.
This afternoon from Paris — where Hadid just walked the Chanel Cruise show — she gave her side of the story with an apology and a photo of herself taken on the same day as the shoot.
She wrote:
"This is a photo of me returning home from shooting my Italian Vogue cover on April 3rd…you can see the level I had been bronzed on set that day. Please understand that my control of the shoot 1. is non existent in terms of creative direction 2. ends completely when I leave set, and anything done to a photo in post is out of my control fully. The bronzing and photoshop is a style that S.Klein has done for many years and I believe what was expected from the shoot (to show me in a different way creatively), BUT, although I understand what Vogue Italia's intentions were, it was not executed correctly, and the concerns that have been brought up are valid. I want to address this for those were offended by the editing/retouching/coloring of the cover. Please know that things would have been different if my control of the situation was different. Regardless, I want to apologize because my intention is never to diminish those concerns or take opportunities away from anyone else, and I hope that this can be an example to other magazines and teams in the future. There are real issues regarding representation in fashion- it's our responsibility to acknowledge those issues and communicate through them to work towards a more diverse industry. xG "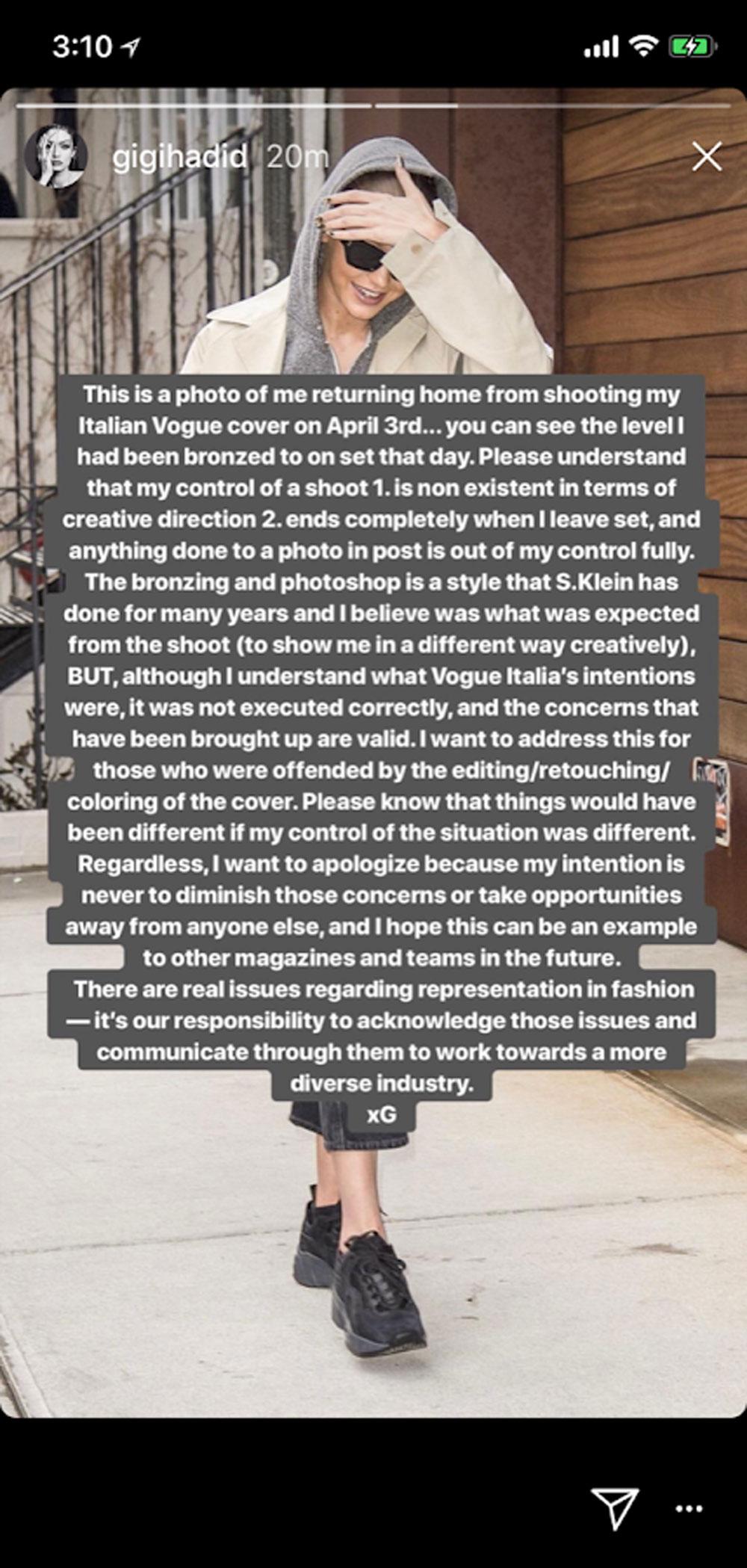 No word yet from Steven Klein or Italian Vogue, but Klein's Instagram of the cover remains on his page where it continues to rack up negative comments.
Subscribe to our newsletter and follow us on Facebook to stay up to date on all the latest fashion news and juicy industry gossip.