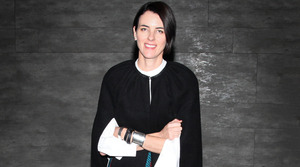 Getting To Know Glamour's New Fashion Director, Jillian Davison
|
(NEW YORK) Your Daily recently caught up with Jillian Davison, Glamour's freshly-minted fashion director who officially stepped into Anne Christensen's shoes in January, at a cocktail bash thrown in the Aussie ed's honor. After a decade in NYC, including a stint at Teen Vogue, Davison has spent the past four years Down Under, most recently as creative director at Vogue Australia for a year, preceded by a gig as fashion director at Harper's Bazaar Australia. Davison filled us in on her frank thoughts on American style, her go-to local spot for stocking up on Vegemite, and her plans for the pages of Glamour.
BY ALEXANDRA ILYASHOV
How's your return to the U.S. been after four years Down Under?
I'm super excited to be back! I really love working in the American fashion industry. It's so dynamic at Glamour right now—there's so much going on.
Did you always plan to head back to New York?
I had lived in the States for 10 years, and I was definitely open to coming back for the right opportunity.

Why do you think Anna Wintour played matchmaker between you and Glamour?
Anna was really wanting to create a new, strong fashion point of view for Glamour, and she liked my work. She liked what I did.
What do you love most about American fashion?
I love the American classics: the polo, the chino…
How about, say, festival-apropos denim cutoffs?
Yeah, I'm not a fan of the denim cutoff. Absolutely not!
What can we expect from your work at your new gig?
I want to bring a lot of life back to fashion. I really want to look at women's wardrobes and the key aspects of a woman's life—what to wear to work, what to wear on a date, what to wear on the weekend—and bring new, exciting ideas.
Should we anticipate any distinctly Aussie touches?
No, it wouldn't be a focus. It might seep in somewhere, but it's certainly an American point of view. That's very important to me. I also want to be inspired by American culture and the spirit of the modern American woman. Glamour is unique in how it looks at fashion.
How so?
A lot of high end fashion magazines are about looking at the collections, then finding the trends, and divving them up amongst different issues. At Glamour, it always comes back to the woman herself. The focus is on ideas about dressing—and then, the trends will factor into that.
What do you miss about Australia now that you're back in the States?
I miss the weather! And my family and friends. I have great friends in America, too, and it's nice to reconnect.
Does it feel the same returning to 4 Times Square each morning as when you were at Teen Vogue?
The nostalgia is nice! I've been able to just jump into the role: I know New York, I know Conde Nast, so the focus is on the pages [of Glamour].
There are a quite a few folks from Oz in fashion! Do you have a local Aussie posse of sorts?
I know lots of Australians—there's a great pool of talent. A lot of my ex-assistants came out for my welcome party, and they've gone on to do amazing things. I'm super proud of that.
Is it hard to find Vegemite stateside?
Oh, I've sourced that, at Myer's of Kenswick in the West Village.
Do you have a fave Aussie resto in NYC?
Not that I've been to…yet!