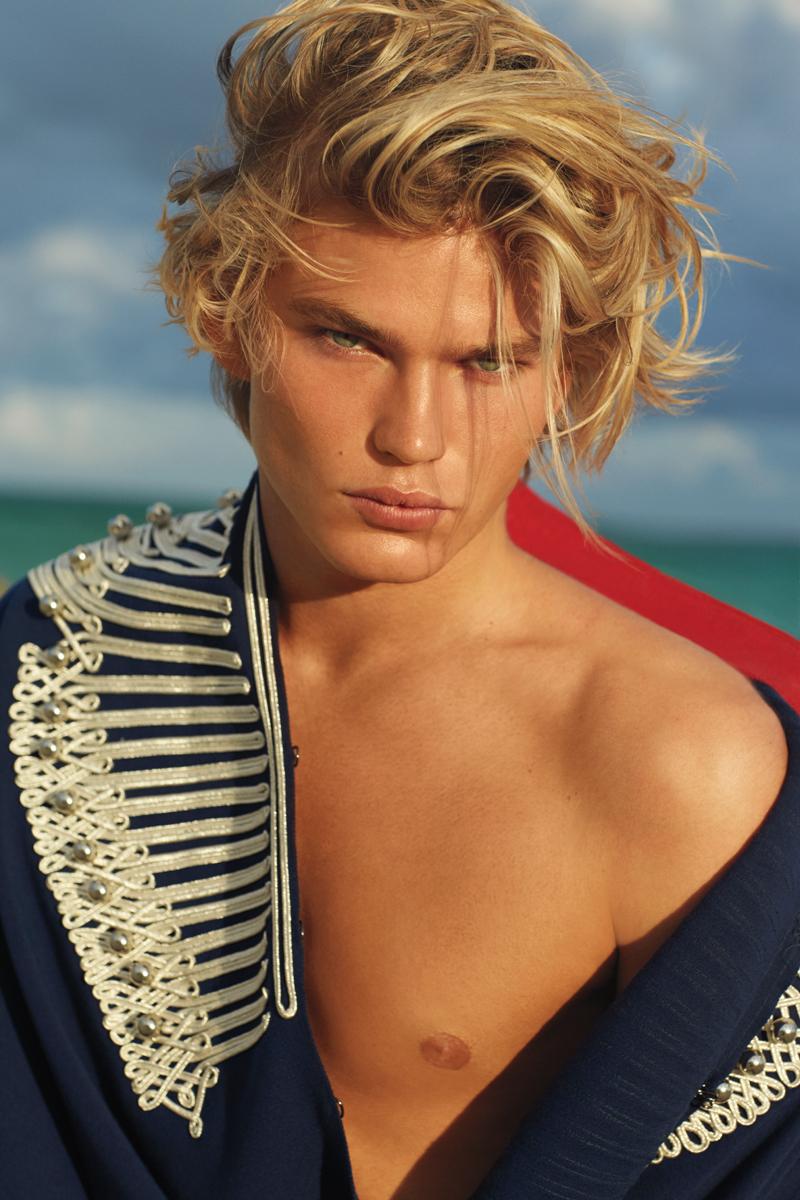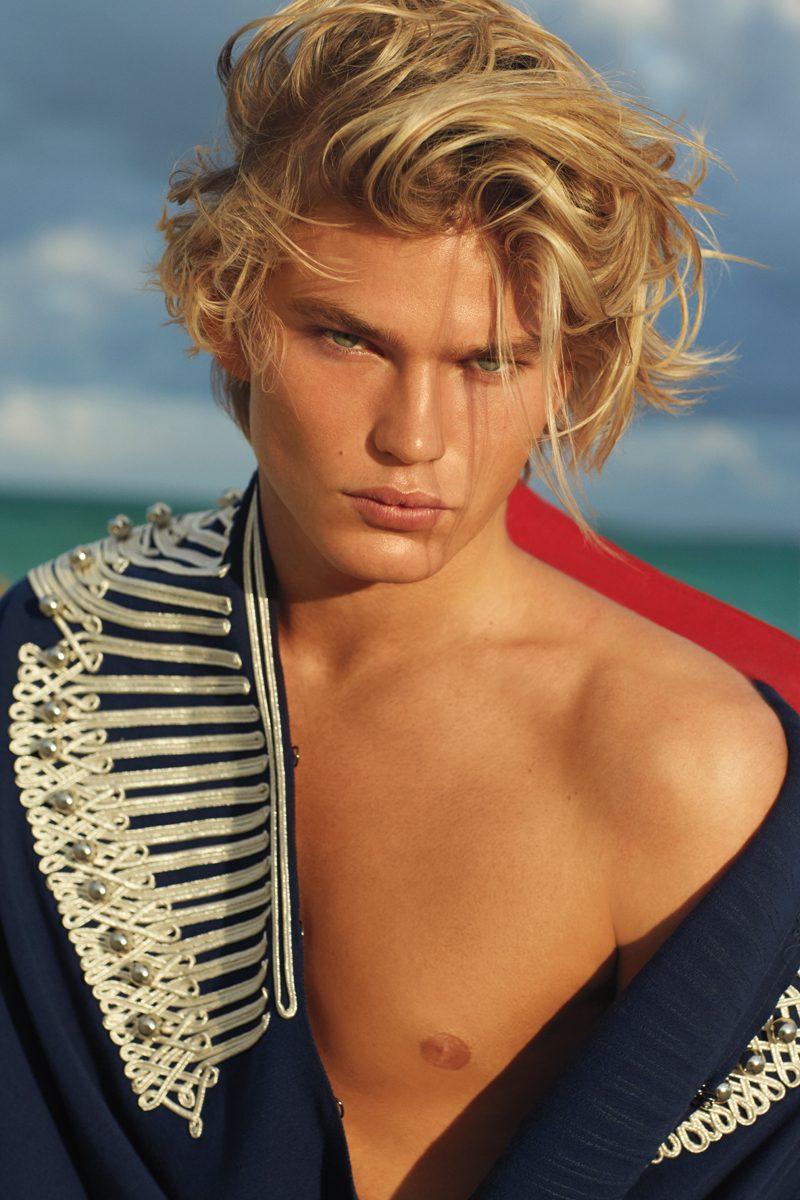 Twenty-year-old Jordan Barrett was discovered at a convenience store at age 13, and he's been causing a stir in the fashion world ever since. Now, he wants to see the world through rose-colored glasses. Literally!
PHOTOGRAPHY BY SEBASTIAN FAENA
STYLED BY SOFIA ACHAVAL DE MONTAIGU
You shot this story with photographer Sebastian Faena. Did you have fun?
Yes! We're really good friends. When I first moved to New York, I wanted to work with him, and I forced my way in. By now, we've worked together a lot. This shoot [for The Daily] was really cool, because we got to go to Miami to do it.
Why do you think you and Sebastian work together so well?
Probably because he's a little bit crazy. We're both on different planets!
You're an amateur photographer. What do you enjoy shooting?
Naked people, crazy people in New York…I'm not really one to take photos of landscapes. I have hundreds of Polaroids from my travels. I keep some in a big box at home, and I stick others on the wall. They remind me of really fun memories.
Which photographers do you admire?
Mario Sorrenti is definitely one of my favorites. I also like Cass Bird—she's awesome. I also really like Hans Feurer. Mario's are always dirty, crazy; Cass's are always alive; and Hans always has that pop of color.
Who would you still like to shoot with?
Steven Meisel. I also haven't worked with Mark Borthwick.
British GQ Style shot a cover of you that's an homage to George Michael.
They came up with the idea—they wanted to do a tribute to him. I didn't really know who he was while he was alive. I was once on my way to meet [my manager] Jen at Kate [Moss's] house to go to dinner in London and the taxi driver asked if I was going to George Michael's house. [Kate and George were neighbors.] I didn't know who he was or if I was in the right area, and I called Jen and told her what the driver asked, and she laughed. I asked if I should Google him. Now it's like an ongoing joke between us. I recognize his music, but I didn't grow up listening to him.
Before you were professionally modeling, were you comfortable in front of the camera?
I don't really have many family photos or photos of myself as a kid. It's weird! But in the ones I do have, I'm always completely grinning.
In addition to photography, is acting still a passion?
It is. I'm studying and working with dialect and acting coaches in New York and Los Angeles. It took me about a year to start feeling comfortable, and now I'm really starting to enjoy it.
Are you more of a dramatic or comedic actor?
I hate comedy. I like psychological thrillers. I wouldn't mind playing an action hero.
Which actors do you admire?
My favorite actor was Heath Ledger. His performance in [the Australian film] Candy was amazing. I also loved Abbie Cornish in that film. The other actor I love is also dead—River Phoenix.
You have a River-like quality to you.
I get that a lot. I like every one of his movies, especially Running on Empty.
We hear that you want to open a hotel.
That's the goal. When my mom asked me what I wanted to do when I grew up, I would say, "I'm going to be rich and I want to open a hotel." But the hotel I want to open would be more like a very healthy retreat in Costa Rica. There's one in Mexico I like that's like a tree house. It doesn't use electricity and they work to save turtles. I want a sanctuary, not a hotel…a big sanctuary for everyone to come to.
When will it open?
When I have enough money!
Do you follow astrology?
I bought a book about it, but haven't opened it yet. I've started spending a lot of time at The Alchemist's Kitchen in Manhattan. I sit there for literally three hours a day and try oils. Downstairs, there are infrared saunas, a mediation room, and cryotherapy.
Do you go to Burning Man?
I went for the first time last year, and I'm going again this year. I want the world to be like Burning Man.
What was your favorite thing about it?
Watching everyone run around naked. And getting stuck in a teepee with no shoes on!
Do you ever go to the Hamptons?
I spend a lot of time here over the summer. I like to take photos out here because there's a lot of open space. I like to get in the water when I get a chance.
What's next for you?
I want to take more photos and make things. I'm also collaborating with Frame denim on a collection, which comes out in Spring 2018. I'm so excited.
And you're also making glasses?
My friend [photographer] Alana O'Herlihy and I started a label of fashion goggles called Heavily Sedated that you can wear any time of the day. Everything is better with a beautiful tint of blue or orange or rose pink. We're only making statements—nothing basic. We're aiming to launch just before New York Fashion Week. Everyone's going to realize that the world is better in really tinted color.
COSTUMES: Juan Gatti
FASHION EDITOR: Paige Reddinger
MAKEUP Paola Orlando
HAIR: Steven Hoeppner
RETOUCHING: Justine Foord for Silhouette Studio NYC
Read the issue HERE.