Same Scarpetta, different location. On its 10th anniversary, everybody's favorite Italian dining destination decamped from the MePa and found a new location at the James Hotel in NoMad. LDV Hospitality's John Meadow, the man who turned the signature tomato basil spaghetti into an empire, shows us around.
Why did you decide to leave 14th Street?
The business reality is that the lease was up. It's a typical New York story, like Soho in the '90s and the Meatpacking District in the 2000s. At some point, areas that are funky, gritty, and perfect for restaurants turn into high-end real estate. In anticipation of the lease expiring, we wanted to look to the next journey. This location, in the James Hotel, gives the opportunity to create multiple experiences under one roof.
How so?
Scarpetta 14th Street was my baby, love, and joy, but it was only dinner. Now we have breakfast and lunch, and we'll be able to host wedding receptions; it's a broader scope. That's fun!
Have you ever moved locations before?
We haven't, but it gives the opportunity to push forward and evolve. I was 27 when we opened Scarpetta, and the world was in a different place. The NoMad area was still mostly filled with perfume dealers and wholesalers.
Does this cement the NoMad area as the neighborhood du moment?
I remember signing a lease in 2005 when the Meatpacking was a mix; NoMad is on the cusp of becoming this dynamic neighborhood. It already is, but there's so much more happening here.
Is this a rejiggered take on Scarpetta?
There are six locations, but this is our flagship and home. We've tried to maintain and preserve that high/low balance, and it's a natural evolution. There's raw and organic materials and a certain, accessible warmth to it, but it's refined and elegant. In this location, we've worked with designer Thomas Juul-Hansen, and he pushed us toward higher-end, custom furniture. It's more elegant, but the feeling is equally inviting. We have the same chef, Jorge Espinoza. We're reacting to the realities of the marketplace, so there's gluten-free pastas and vegetable-centric, easy sharing plates. It's not about chasing trends. Healthier diets are real, and we've tried to accommodate that. The location is bigger; we have a private dining space, and there's a breakfast/lunch feel in the front.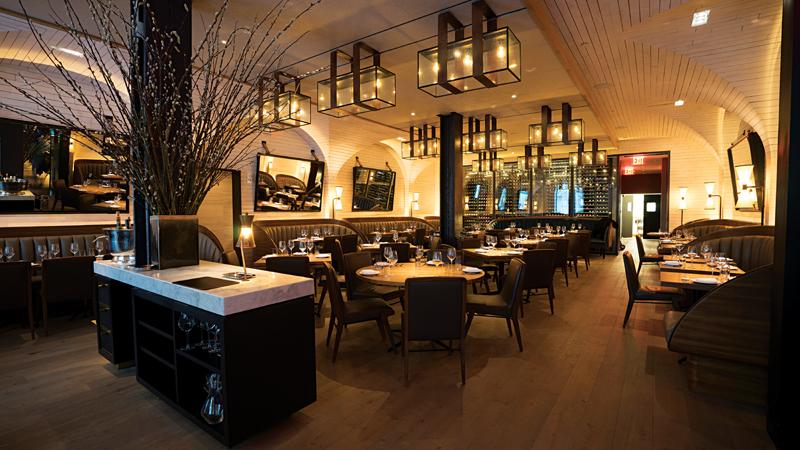 What's on the menu for lunch?
The world's dining habits for lunch have changed. How do you offer salad with a protein, but make it feel like Scarpetta? It's a lighter, vegetable-heavy offering at lunch, and the same thing is applied to breakfast. At the end of the day, people want poached eggs, but how do we make them Scarpetta poached eggs? With a beautiful stewed tomato sauce that relates back to what we do at night. At its core, it's a New York restaurant with Italian ingredients.
What else is new?
One thing that's fundamentally different is The Seville lounge downstairs. You can have a proper dinner on a Saturday night, and go downstairs for a drink. It makes for an evening of dining and entertainment. I'm at the point in my life where I have kids, and if I have dinner at 8 p.m. and finish at 10:15, I'd love to go for one drink, but I'm not going to a nightclub.
Why did you originally call it Scarpetta?
Scarpa means shoe, and scarpetta means little shoe. There's a phrase in Italian [fare la scarpetta], which means to take the piece of bread that looks like a little boot, go into grandma and mama's pot, and scoop up that last bite of goodness. It's comfortable and indulgent. All things Scarpetta go back to that high/low balance, which is why we've been successful.
What's your favorite thing on the menu?
For 10 years, I've eaten at Scarpetta more than anywhere. Every single time I always have the yellowtail crudo or tuna crudo. They're both fresh and vibrant. It's a wonderful expression of simple, quality ingredients. I love the spaghetti, our signature dish. It's the most precise example of the fundamental philosophy of amplifying goodness. Believe it or not, we also have an amazing roasted chicken.
Which wine would you recommend?
Bunello di Montalcino by the glass. It's an elegant, softer wine that pairs well with our food.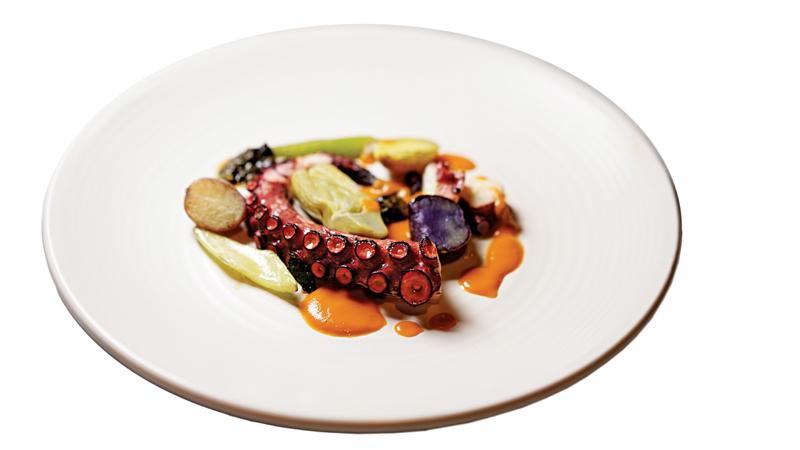 What's your relationship like with customers—do you make the rounds, table to table?
I don't. I try to be polite, and I hold the door for everyone. I have a wonderful relationship with our repeat guests and I engage with all of them, but every project is different. With 25 outlets, you can't play host like [Da Silvano former owner] Silvano Marchetto, the consummate professional. I take my personal connection to the staff members, and connecting to them as humans, seriously.
Your team came along to the new digs!
When we closed the 14th Street location, it was emotional for me. What was fascinating about this transition was seeing the same staff. A restaurant is about the people. We don't have many actors or models chasing something else [professionally]; this is their life.
How'd you end up in this business initially?
LDV Hospitality [Meadow is the founder and president] stands for La Dolce Vita; Fellini's Rome was very much my grandfather's world. I looked up to him. We'd always have family occasions at the Plaza Hotel, and I was always smitten by it. My parents were educated New Yorkers who moved to California and were hippies. There was no steak, just macrobiotic cooking. My grandfather would wear a tie on Sundays and say, "You never know who you'll see in the elevator." I was smitten by New York restaurants. I love food and beverage, but it was the people coming together that was the driver.
What else is keeping you busy?
We now have Scarpetta locations in Miami, Las Vegas, and, most recently, at Gurney's in Montauk, which is one of the most exciting locations we've had. It's the only liquor license on the beach in all of New York state, and it's a Scarpetta experience at a Montauk beach club with an outdoor fire. It's almost like adult summer camp; it's such a special place. We also get to engage with our New York guests when we lose them in the summer. It's a wonderful place for people to congregate. I love our steak house, American Cut; you feel the American character and grit. We also have Dolce at the Gale hotel in Miami—I could eat off of that menu for the rest of my life. The beauty of this business is you get to create these experiences. Where do you want to eat with your family? Where do you want to go with your friends on a Saturday night? It's always starting with something that precise, and then you build up around that.
How do you explain your success?
I have good taste. If I'm proud of one thing—I've always historically been good at motivating our team to evolve. We don't have the most defined corporate structure or mantra; there are no corporate retreats. But on a daily basis, I'm a passionate person, and I've instilled that passion into a lot of our team. Customers come out for that human engagement. Why do we go out? For the perfect duck confit and spaghetti? We can have that at home. It might not be as good, but it's in the comfort of your own home and costs nothing. You come here for human engagement.
What's next for you?
Since 2016, LDV has opened 10 restaurants in six cities. Only one of them was in New York. That's crazy! To be able to focus on this is such an absolute luxury for me. We're going to take a pause to nurture this restaurant. I'd really love to do Scarpetta in London someday; we're very close.
We understand you're a chic dresser. How important is fashion to you?
I like the classics, on today's terms. I have a suit made, but then I like a white lapel with jeans. I love clothing. I'm not wearing the new Balenciaga sneakers—I love the artisan art and effort that is clothing. It's one of my greatest joys, a pure passion. The most fun I have every day is when I walk into my closet; I share it with my wife and I occupy 90 percent of it. It's my personal, sick addiction. To me, fashion is a wonderful way to engage in someone else's craft.