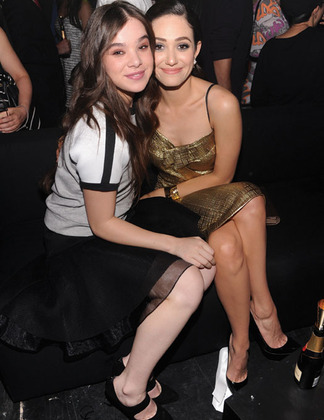 Funny Talk At The Tents!
There's plenty of humor (sometimes delirium-fueled) to be had in the runway-going marathon that is NYFW. So,What makes you laugh uncontrollably, darlings?
"The Vine video of Cookie Monster eating a plate of vegetables to the song 'Same Love' by Macklemore." —Chrissy Teigen
"The app "Heads Up." it's kind of like a charades thing with categories. I've been playing that with my family and crying on the floor from laughing so hard." —Hailee Steinfeld
"When somebody here tonight asked me: 'Are you that girl from Shameless? You poppin'." —Emmy Rossum
"I laugh at really stupid things that you can't even describe." —Franca Sozzani
The Daily Front Row
Seating you front row, taking you backstage & catapulting you into the world of fashion. Stalk us on twitter @DailyFrontRow, follow us at FashionWeekDaily.com and always be seated front row.