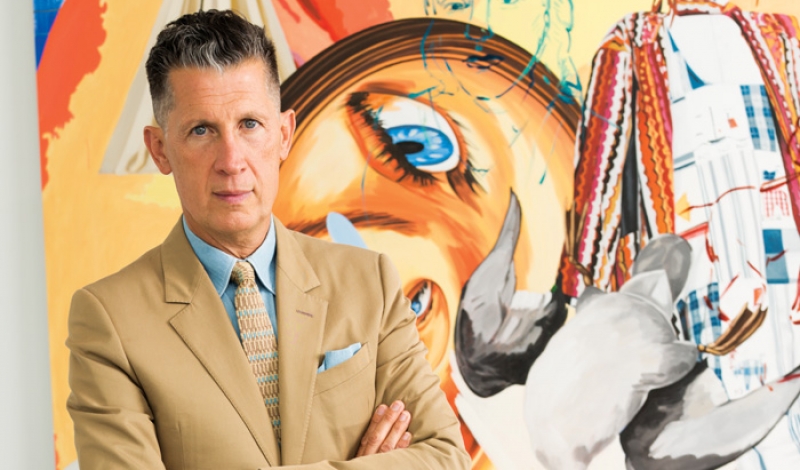 Photography by Giorgio Niro
FMA Winner: Stefano Tonchi, W, Best September Issue
|
With model-of-the-moment Gigi Hadid on the cover and a slew of eye-popping fashion stories—Adriana Lima and Joan Smalls in Cuba! Amber Valletta and Eva Chow in…a bathtub?—there was no doubt that W's September issue was the year's best. Here, editor in chief Stefano Tonchi and his team tell us how it all came together.
Why is the September issue the most important?
There are always great expectations around the September issue. They're usually the fattest issues. In the last three months of the year, you make a lot of your big numbers—as a retailer and as a magazine that benefits from advertising. It's not only more advertising pages—a thicker issue means more editorial pages. And that makes it more fun to work on a September issue. When you have more pages, you can have a larger vision and tell more stories.
When do you start planning the September issue?
Usually on the way back from the [fall] shows. And after March you start to think about what you will do.
So when did you decide to put Gigi Hadid on the cover?
That was much earlier. Actually that goes back to The Daily's [Fashion Media] Awards, when I started talking about Gigi.
Yes, she was the host last year.
I really loved her onstage and I was like, Oh, she's more than a model. She actually has a personality, and she is a great entertainer. We introduced ourselves to each other, and then I saw her at some other events and we started the conversation. For every single cover, especially the September cover, you have to put down your stick very early. With Gigi, we wanted it to be the only cover—her first W cover and one of her first [major] covers.
Was it important to you to have a model on the cover this year?
I think it goes a little beyond the fact of putting a model [on the cover]—it's putting somebody on the cover who is the conversation at the moment. So I think about Cara [Delevingne], who covered the September issue in 2013]. With Cara, there was a lot of talk about who is Cara: Who is this girl that is too short to walk the runways, too particular, special, eccentric, to be a real model. She actually has too much expression. And it's the same with Gigi. She doesn't fit the profile of a model, even if she's incredibly good-looking and tall. I think we pick all the covers to illustrate a larger concept. With Gigi, the idea was "the post It Girl." And clearly it's post It Girl, and it's the girl who posts a lot. It's a double entendre.
Are you saying the It Girl is dead?
There are so many It Girls, you don't even know why they are there, and many are there because they post a lot. They have a very large social media profile. Many of these girls, you don't know exactly what they've done, but you know they have a million followers. And that's really what defines this new generation. They're not your typical model, they're not your typical It Girl—they're somebody who has an incredibly strong group of connections and who appeals to so many different kinds of people. It's a social media phenomenon.
Lynn Hirschberg's story on Gigi is fantastic.
That piece really goes to celebrate my great staff, starting with Lynn, who has been with me for a good 10 years. She has this capacity to understand pop phenomena and to see the changes in society, and she always comes up with great large-picture ideas. She's an incredibly important part of the W identity. At the same time, I have somebody like Edward [Enninful, the fashion director], who is so great at transforming something that may be a little lowbrow into something that is very sophisticated. He brought in Steven Meisel [to shoot the Gigi cover], and Steven Meisel's team really transformed Gigi into something she's usually not.
What's your conversation like with Steven Meisel when you're working on this kind of story?
We go to Edward a lot because Edward is really more than a fashion director. He works so closely with all the photographers. Usually we talk about how we see her, what we should do. We all put one word here, one word there, and then Edward puts together all his boards and the clothes, and he talks to the photographer. I like to leave a lot of freedom to the photographer and Edward. When there is a great relationship of trust, the only way you can have surprises is to have positive surprises. I mean, this is Edward's cover. It's his cover, Steven's cover, Gigi's cover. I kind of made it happen and published it, but sometimes I feel like I'm the facilitator. I think a lot of times editors in chief are the ones who try to connect the dots. I think a good editor in chief should try and create the best condition for his staff and the contributors to create the best work.
The rest of the issue is just as exciting, especially the "Back in the Limelight" story shot by Mert Alas and Marcus Piggott. That looked like an amazing party.
Actually, many people were like, "Why were we not invited to this party?" And I'd say, "It was fake!" I mean it was—but so many people in Los Angeles kept calling me, saying, "I keep seeing this Instagram of Amber [Valletta] in a very irreverent pose"—because there were some pictures where it looked like she was giving blow jobs—"and then Eva Chow in the bathtub. Why was I not at that party?!" It's fun—and this is very W—when life becomes fiction or when fiction becomes life.
Inez and Vinoodh also shot a gorgeous story for this issue, "Mourning Glory."
Yes, they actually went to an island off the coast of Holland. We tried to have a lot of different voices, and a lot of photographer's personalities, and the trends of the season. You have the black Victorian story by Inez and Vinoodh, you have the masculine/feminine/androgynous story, you have a very colorful story that we shot in Cuba. We don't do it in a very literal, academic way. It's never like, Okay, this story's about the white lace, this story's the flower print. There's always a little bit of context. So you take a story like the bright dresses, but it's also a story about Cuba, and Cuba is a great conversation starter right now.
This is your sixth September issue at W. Do you have a favorite?
The first one is really one of my favorites because it was the first cover ever of Jennifer Lawrence, and the first cover of Jessica Chastain. We featured eight girls, and out of these eight girls two were nominated for an Oscar in five years, which I think is pretty good.
How do you feel about W's place in the media landscape right now?
W is living this magic moment. On one side, it's in a very good place in print, because it serves a very specific audience and it's a very beautiful object. Because of its quality it avoids a lot of the problems print has today—and numbers are on our side in that sense. But what is completely new—without investment or even strategy and marketing—is that we saw this explosion of our social media platforms, and it is incredible. We are suddenly really appealing to a completely different generation who probably don't even know that W exists on paper; they only link it to social media. It's not difficult to understand why, because social media is all about personalities, it's all about wanting to be an insider, it's all about that kind of voyeurism that is at the core, the DNA, of W. So we are somehow in the present, but we are very much in the future too.
How many more September issues do you have in you?
Oh, God. I think the life expectation is 120? So I have a good number to put out. It's very fun—to have so many pages to fill, to tell stories, to inspire. That's the beauty of the September issue.