Ready for the latest installment of Fitness Dossier, an endorphin-addled exploration of all those super-chicly branded, sometimes quizzically named boutique fitness haute spots around town? This week, we're getting a bit intense with The Fhitting Room. Known for their high intensity training workouts, their Flatiron and UES outposts have become haute spots for those looking to get toned and work hard. Founder Kari Saitowitz gives us the dish on how to get your FHIX, which goes far beyond the perfect kettlebell swing and repetitive sets of burpees…

The Fhitting Room in three words: Personal, addictive, fun.
The Fhitting Room mantra: HIT it hard, so you have more time for everything else in your life.
Before The Fhitting Room…My last job was at Pepsi-Cola as a marketing executive, but in between bubbles and kettlebells, I spent time with my sons. I would use the term stay-at-home mother, only it's the worst misnomer ever.
Recommended workout gear: Sneakers are required, but we recommend anything that makes you feel strong and good about yourself.
Typical threads spotted in class: Lots of Lululemon, but Nike and Onzie are giving Lulu a run for their money, at least when it comes to fun, printed tights. Brands and apparel choices have become more diverse since we opened our doors two years ago. Loud, colorful prints on tights and looser fitting tops on women seem to be on the rise, as are pants with mesh cutouts. The men on my team are big fans of the mank, otherwise known as the men's tank. Other team favorites include Fabletics, Spiritual Gangster, Bandier, and Reebok. I personally love Michi, and find Carbon38 to be an awesome resource for one-stop shopping when it comes to fitness fashion. They curate from designers globally, so I don't have to.
Pre- and post-workout style M.O.: It runs the gamut from hoodies to Hermés.
Famous Fhitting Room devotees: Liz Lange has been a client pretty much from day one. Chris Wragge, Carl Quintanilla, Emmy Rossum, and NFL Commissioner Roger Goodell and all gotten their FHIX as well.
Cult fave instructors: We have a co-instructor model, so there really is no I in team at The Fhitting Room. If you're looking to snag a class with El Capitán (Eric Salvador), sign up early, but his aren't the only classes with long wait lists. All our FHIT pros bring something unique and coveted to the table…not to mention lots of abs!
Song on loop: "Drop this Kitty" by Ty Dolla $ign, a remix of "Four Five Seconds" by Rihanna, "I Want You To Know" by  Zedd featuring Selena Gomez, and "Fireball" by Pitbull.
Newest addition to The Fhitting Room lineup: Our business is built on our Signature FHIX, but we also have an Advanced Kettlebell class, and a FHIXtreme class for overachievers. We'll likely be announcing some additional variations on our Signature FHIX in the weeks and months to come. Stay tuned…
Ideal après-class snack: For me, it's dark chocolate covered graham crackers, but that's my ideal snack anytime. Note, I'm not a nutritionist or a trainer.
Biggest misconception about The Fhitting Room: People think they need to be ready to take a class, but anyone can walk through our front door and have an amazing workout. Our format allows us to scale and modify exercises for all fitness levels. Just book a class and show up!
Advice for a first-timer: Just come; we've got you. And remember that everyone in the class is being pushed out of their comfort zone and is focused on getting themselves through the workout. Nobody is judging you or your fitness level. Our job is to encourage you and help you feel great about what you accomplish at our studio.
Major mistake newbies make: Not flagging down one of our FHITpros with questions. We have an awesome client-to-instructor ratio; take advantage of it.
Earliest fitness memory, ever? Going to the Smithtown YMCA for a gymnastics class when I was two years old.
Go-to workouts beyond The Fhitting Room: The Fhitting Room classes sufficiently kick my a** and keep me entertained. That said, many of the city's best spin instructors are clients and/or FHITpros at The Fhitting Room, so I love taking their classes and watching them execute their craft, which takes me to SoulCycle, Flywheel, and SWERVE.
We'll never find you…long distance running due to bum knees caused by chondromalacia. It's the only thing you'll never find me doing.
Classes clocked weekly: 3 to 4
The Fhitting Room's draw for the fashion set: Our workouts torch calories, build lean muscle and are fun!  As an added bonus, our classes are crazy time-efficient because our workouts generate a cardio response through strength training, so you don't need to find time to lift weights after your cardio workout or vice versa.
If The Fhitting Room was a fashion house, it would be…Alexander Wang. His designs are conscious of structure and form and his clothes are utilitarian and always have a sporty edge, which makes them fun and functional, which is similar to our classes.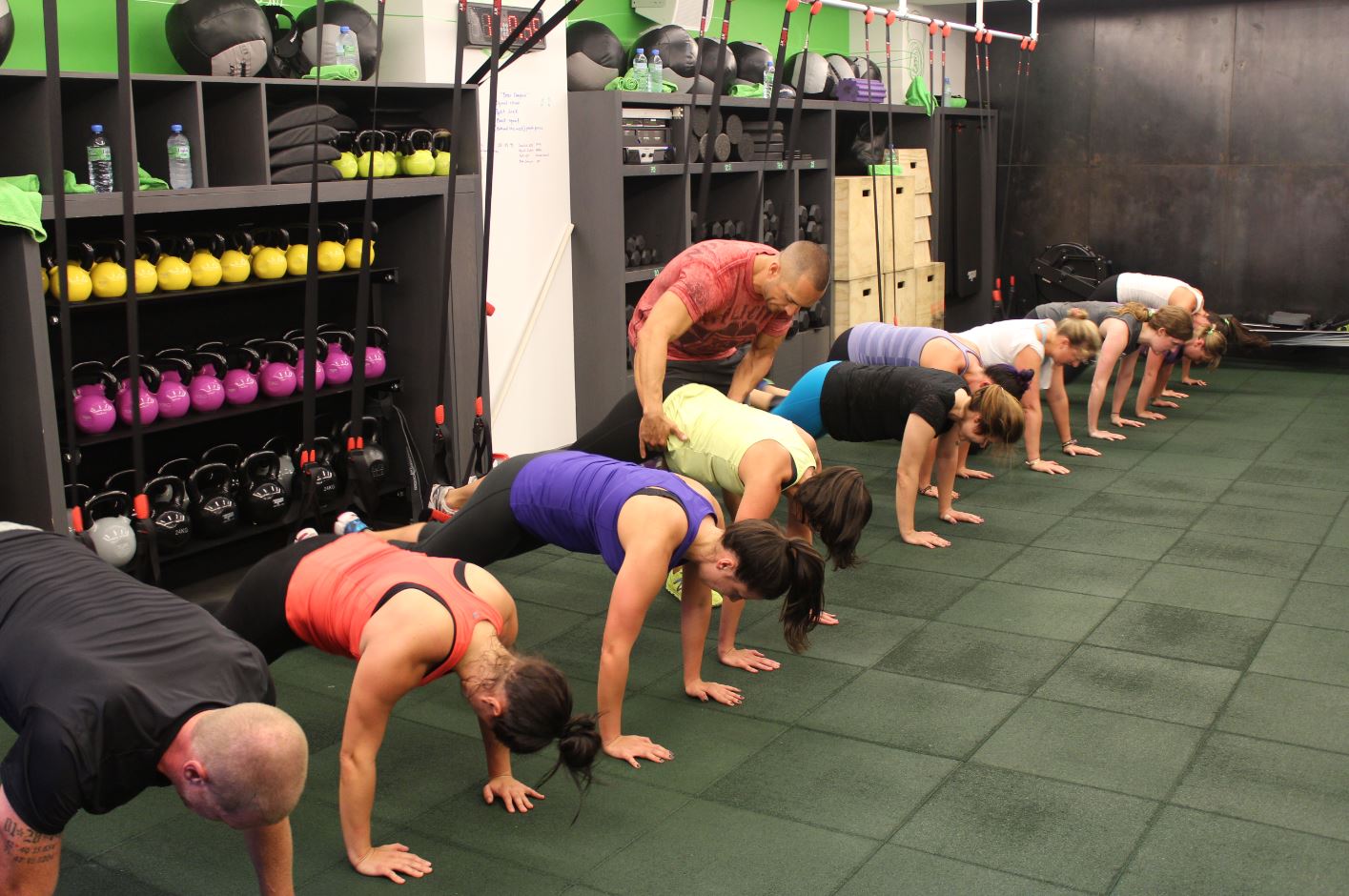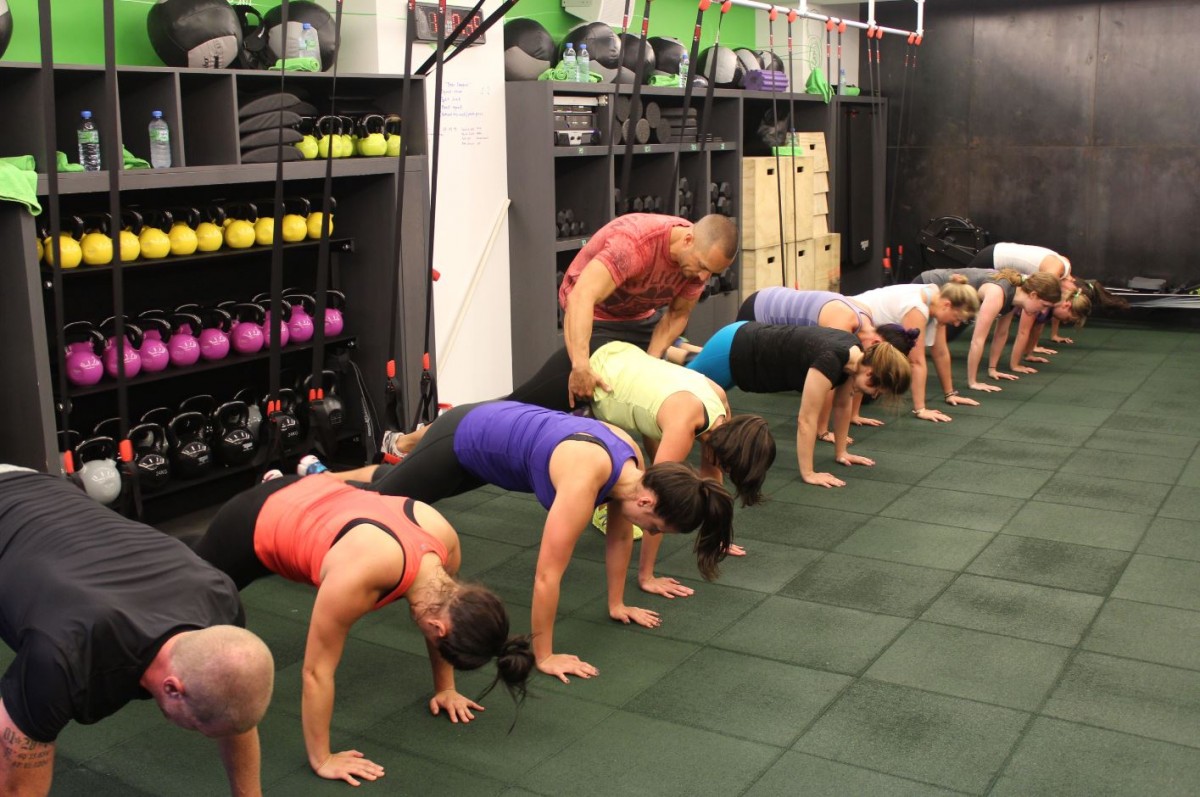 PART II: The Daily weighs in…
Location and logistics: The Fhitting Room is located at 1166 Lexington Ave. (at 80th Street) and 31 W. 19th St., between Fifth and Sixth Aves.
What you'll shell out: First time FHIXers will get two classes for the price of one; a single class will cost you $35, five classes is $170, 10 classes is $320, 20 classes is $600, and a monthly unlimited plan is $550.
Stroll-right-into-a-meeting or absolutely-shower-necessitating? Between the intense reps of squats, pushups, and rowing intervals, nearly every FHIXer is sweaty post-class. Which is fine at the Flatiron location, which boasts three showers. Those who prefer to shower with plenty of privacy are in luck; each shower is located inside a little room, which gives you the chance to rinse off and change in complete solidarity. Additionally, there are lockers located upstairs by the main studio and downstairs near the smaller studio, so finding a place to stash your stuff is never an issue. However, the Uptown location (which is also much smaller than the one in Flatiron) is sans showers, so plan accordingly.
It's worth it if…You want to squeeze in as much weight training, hard work, and calorie burning as possible in 50 minutes. Each class is split into three sections: warm up, circuit, and the FHIX. You'll use nearly every muscle (including ones you didn't know you had) in each class. But the nice thing is that each instructor has their own schtick, and you'll never get the same workout twice at either studio. However, prepare to feel at least a little bit sore for a day or two after you take your first class. Some of us at The Daily had a hard time walking and/or sitting following our very first Fhitting Room tryst.
Best tidbits from Rate Your Burn (aka Yelp for the fitness set):
"Although class is very difficult, you feel like the instructors always have your back and will push you with tough love, not by scolding/shaming like some bootcamp-style instructors do.  They both seem genuinely happy to do their jobs and kept their energy up all throughout class." – BurnFan
"Fitness PROFESH. You need form help? Farouk is your man. He's got a crossfit background and was taught by some seriously intelligent peeps over at EVF, which means that he is going to make sure your form is absolutely the best. He even told me to keep my back upright during rowing on the way out (even tho my form is almost perfect, but DANG YOU, yes, it can be more perfect)" – SweatPump
"So I fear my fellow burners will disagree with me but let me preface this with a couple key points (here I will all-caps it to emphasize how much I mean it) – FHITTING ROOM WORKOUTS ROCK/WERK/HURT/BURN/AWESOME and if I had more money or were pretty/young/firm enough to attract one of 'dem hedgefund hotties, I would totally buy the unlimited." – Miss Behavin