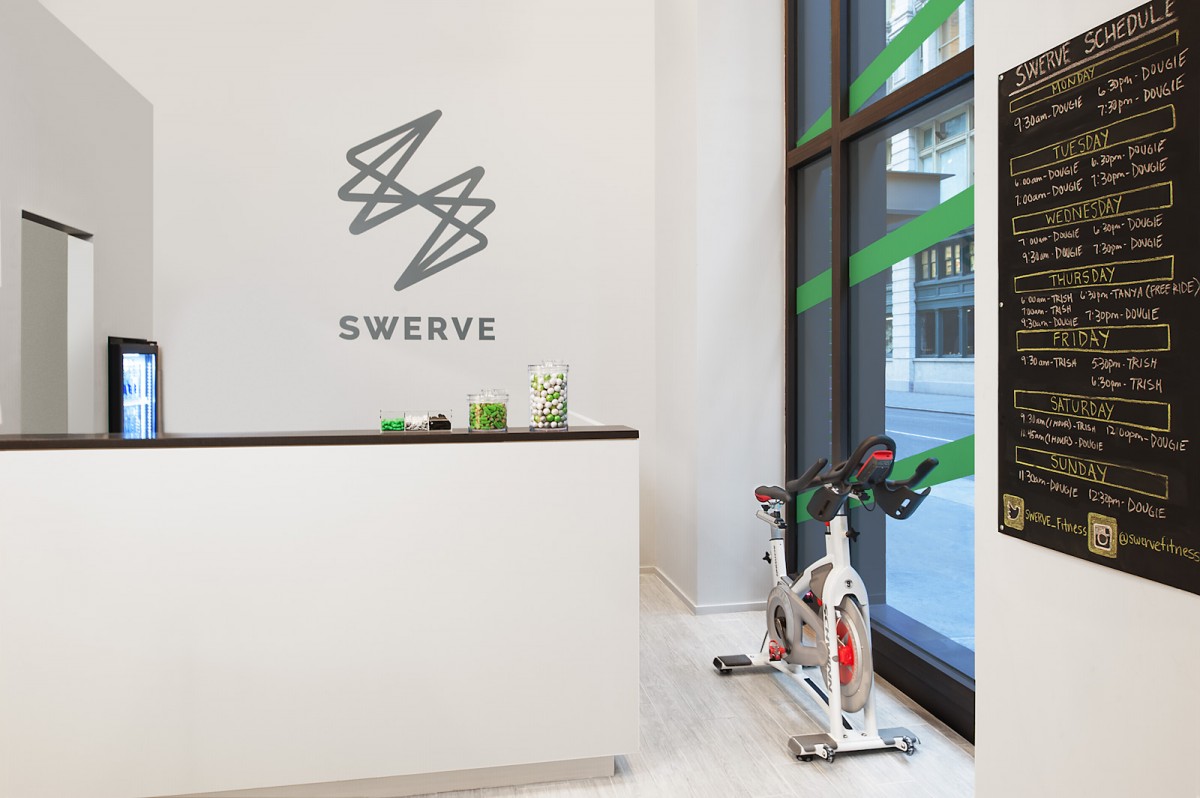 Our Fitness Dossiers—endorphin-addled explorations of all those super-chicly branded, sometimes quizzically named boutique fitness haute spots around town—hopefully get you through that mid-week malaise caused by "hump day" . This week, instead of a Wednesday dose of exercise inspiration, we've got a special TGIF edition of the series. Who doesn't need a little motivation to squeeze a workout into that busy weekend? Calling all team sports fiends and supremely competitive chicettes: We're sweating it out this time around at SWERVE, a sleek Flatiron spin studio that divvies up each class into three teams—red, blue, and green. Lights that correspond to each team's color flash on to flaunt who's in the lead throughout class, and you can check out your team's progress on a screen overhead. The spot, which opened a year and a half ago, has got some chic regulars; just last week, Aritzia hosted a ride there for fashion folks to toast their new activewear line, ParkLife. Come along for the ride as SWERVE c0-founder Chelsea Kocis fills us in…

SWERVE in three words:  Innovative, competitive, motivating…with a little bit of swagger, of course.
Before SWERVE… I was working on the trading floor at Bank of America in an Equity Sales role—so, you know, not a complete 180 at all…

SWERVE mantra: Together we ride.
The hard sell: SWERVE is the first and only team inspired indoor cycling workout. You compete as teams in class, creating this group energy that brings riders together and motivates them to push past their limits. The best part is that you get an intense, full-body workout in 45 minutes—it's all about efficiency.
If SWERVE was a fashion house, it would be… Stella McCartney: innovative with a bit of swagger.
Typical threads spotted in class: Lots of Lululemon for the guys. For the women, it's a mix of Lululemon, Onzie, Michi, and Zara Terez. Most riders at SWERVE opt for cropped leggings and loose tanks that show off colorful sports bras. Bright colors, patterned leggings, and mesh accents are also all the rage right now.
Recommended workout gear: Form fitted bottoms are a must! I prefer cropped-length leggings over shorts, because they are so much more versatile. Recommended gear would be a good sports bra and any top that helps wick moisture and keep you cool!
Pre- and post-workout style M.O.: Depends on the class time but most people come to SWERVE in their workout gear, ready to ride. Lots of "athleisure" (street-to-workout pants and a cute sweater or jacket allowing for a quick change pre and post class). Our riders freshen up after class and leave decked out for work or a night out with that perfect post-SWERVE glow.
Ideal après-class snack: I love our "Cinna" Smoothie: kale, pineapple, vanilla protein, cinnamon, almond milk.
Biggest misconception about SWERVE: That you need to come with a team—false! SWERVE is where indoor cycling meets team competition, so riders often think they need to come with a team, but that's not the case. The class is broken up into three preset teams, so when you sign up you can choose a bike on any of them—it doesn't matter if you're coming alone or with friends. But hey, if you want to bring your own team and ride together, go for it! We've hosted lots of group rides for companies like Spotify, Warby Parker, and Rent the Runway. Google vs. Amazon was one of my favorites.
Advice for a first-timer: Come to class at least 15 minutes early and let the instructor know you're new. That way, they can give you the attention you need, help you set up your bike properly, and explain what to expect.
Major mistakes newbies make: Improper bike set-up. So many new riders set their seat height too low or too high, which either doesn't give you the power you need or causes your hips to shift side to side, which can cause major "seat rub". If you don't know how to set up your bike, definitely ask. We always have our team there to help!
Earliest fitness memory, ever: Both of my parents played lacrosse, so I grew up with a lacrosse stick in my hands. I can remember being really little, running around my backyard trying to keep up with my brothers.
Song on loop: "Ghost (Oliver Nelson remix)", by Ella Henderson.
Go-to workouts beyond Real Pilates: I like to mix it up with a combination of yoga, strength training, and Pilates.
Workout we'll never catch you doing: An old-school Jazzercise class.
Classes clocked weekly: When we first opened, we were taking up to three or four classes a day, because we were getting ready for launch and training new instructors. But now, I try to stick to three SWERVE classes per week.
Real Pilates' draw for the fashion set: The fashion industry loves a little competition, and that's what SWERVE brings to indoor cycling. Working out as a team is more fun and it motivates you to push harder, which is why people get amazing results at SWERVE. It's the best indoor cycling class out there, so for the fashionistas who love to look and feel good, it's the perfect fit. The team format also makes it a really social atmosphere, so it's a great studio to bring your fashion friends or colleagues. (It's also a great way to determine who's picking up those post-class drinks.)
PART II: The Daily weighs in…
Location and logistics: SWERVE is located at 30 W. 18th Street, between 5th and 6th Aves. Cancel at least 12 hours before class sans penalty.
What you'll shell out: First-time riders can buy one class, get one free (two classes for $30); one class is $30, five rides is $145, 10 rides is $270, 20 rides is $520. Newbies can also do an Intro Unlimited Swerving package: $150 for one month of unlimited riding; unlimited classes for existing riders will run you $325 for one month.
Stroll-right-into-a-meeting or absolutely-shower-necessitating? It's a spin class, so yeah, a shower's pretty much mandatory if you need to look remotely presentable post-workout. (Unless you're one of those folks who merely reddens instead of perspiring…lucky you!) The locker room situation: three showers, so you might have to wait, but there are pretty cushy digs to clean up in. Bonus points for the L'Occitane products. There's also a spate of lockers located right in the locker room, thus eliminating that awkward exercise of fumbling around for your clean clothes while clutching a bag of sweat-drenched clothes and struggling to keep your towel on.
It's worth it if… You're a competitive person and/or really get revved up by team sports—this will likely be your go-to spin spot. Some of us at The Daily couldn't get enough of the competitive factor, which translates to very frequent call-outs (verbally and via bright colored lights flashing on) to the leading team, and even of the leading rider in the bunch, plus there's a screen where you can check out how the trio of teams are faring. However…if you'd rather tune out a little while sweating buckets, this might not be your top spin pick. You'll also need to check out your gear and RPM numbers throughout class. Those aforementioned bright colorful lights, though fun, proved too intense and distracting for some of us. Nonetheless, it's worth a try even if you're not crazily competitive—great facilities and location, and a different spin on, well, spinning.
Best tidbits from Rate Your Burn (aka Yelp for the fitness set):
"The saddest day so far of 2015 was…when my unlimited monthly at Swerve expired…"—IHateYoga
"Dyan is the head trainer over at Swerve and she doesn't disappoint. She's got a spunky fun attitude and for being so petite, she truly demands the room! Overall her class was challenging, upbeat and fun."—StopDropSquat
"I'm extremely competitive and have played sports all my life, so the team aspect is right up my alley. Jason was an extremely motivating instructor and his music rocked. At some points he called out the regulars for kicking ass, making me want to become a regular! Note: this is not a leisure ride. Come ready to sweat hard, push yourself and have fun!"—Burner1991