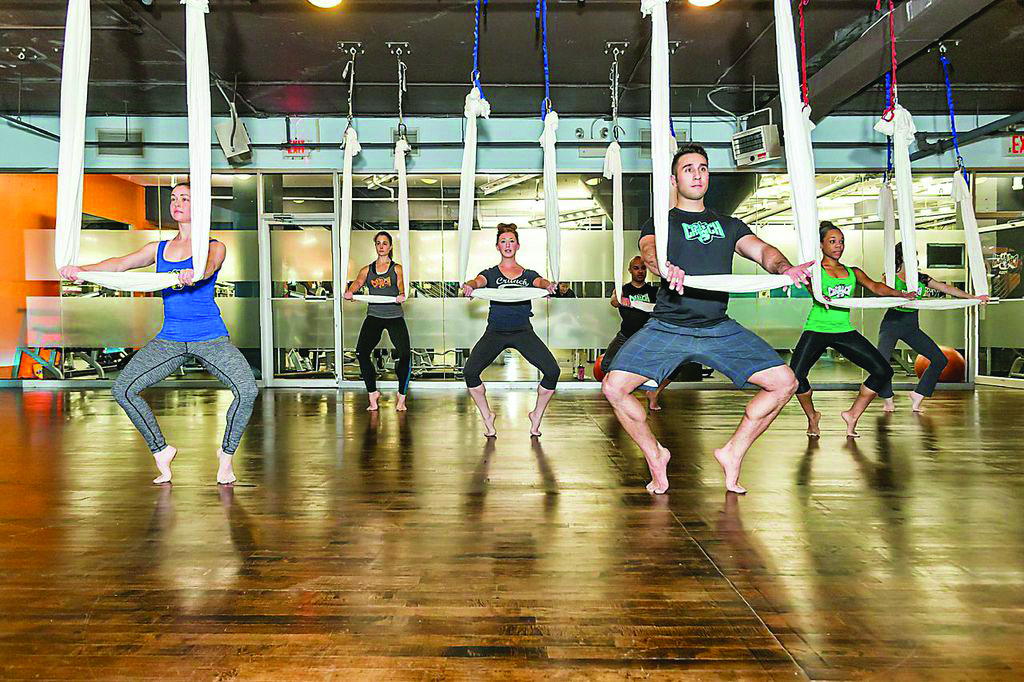 Ready for the latest installment of Fitness Dossier, an endorphin-addled exploration of all those super-chicly branded, sometimes quizzically named boutique fitness haute spots around town? Some you've heard tons about and others might not be on your radar yet, so we're sweating it out for you and getting the scoop from the talents behind these hip perspiration palaces. This week, we're hanging out upside down in AntiGravity AIRbarre at Crunch. The class' blend of aerial yoga and those ever-popular barre offerings has been at Crunch since October, and it's currently offered in Fort Greene and Bowery. AntiGravity master instructor trainer Lorianne Major, gave us the full, gravity-eschewing lowdown on the very fun, quite exhilarating (and potentially height-increasing!) means of getting your sweat on…
AntiGravity AIRbarre in three words: Uplifting, fun, freeing.
AntiGravity AIRbarre mantra: We raise the barre and make aerial dance conditioning exercises accessible to the everyman. Be AIRful!
Backstory: I've been a dancer since the age of four. After getting my BA in dance from Dean College, I moved to NYC and was dancing professionally. Shortly after moving here, I took this brand new class that was just launched at Crunch 59th Street called Antigravity "Wings". The rest is history…
The hard sell: It's effective! The ability to stabilize your core muscles in 360 degrees makes it different than a stable bar workout. The result: full body muscle recruitment, targeting both large and small muscle groups. It gives you a beautiful body: With long bodylines via toning and lengthening muscles, AIRbarre gives users sculpted dancer bodies while also developing balance and agility. It's for everyone: People of all different shapes, sizes, and fitness levels love AIRbarre. It's fun: You'll smile and laugh throughout the whole workout!
If Crunch was a fashion house, it would be… Alexander Wang: Accessible, sleek, wearable, and athletically inspired.
Recommended workout gear: Wear workout wear with sleeves that cover armpits and legs. Cotton or cotton blend fabric is best—it's non-slippery. On top, females should wear sports bras, and nothing too loose for guys. Remember, you will be upside down! On the bottom, if you're wearing tights make certain they are opaque so they're not see-through. If wearing sweats, ones that are tight around the cuffs is best. No socks, unless they're sticky and you may need sticky gloves if you have weak grip.
The skinny on those inversions (a.k.a. hanging upside-down): Zero-Compression Inversions relieve back pain and get the kinks out of your back utilizing reverse traction. By creating space between your vertebral discs for the nerves of your spinal cord, you also hydrate the soft tissue, which often helps relieve pain in your very first session. After class you'll be stretched to your maximum height, varying between ¼" to 1 ½" taller. It's also a smart anti-aging technique—you're only as young as your spine is flexible and your mind is open.  When you open up space in the body, you open up space in the mind. Additionally, sending fresh blood to your face brings your complexion to a glow. It also increases your brain power. Moving freely in all directions of open space creates new neural pathways and synaptic connections, which increases neuroplasticity, your ability to learn. Surprise your body and mind with something new and fun and you stave off the aging mind.  It's an uplifting experience, the second meaning of AntiGravity is anti-grave, with a major emphasis on fun. When you refresh the systems of your body by inverting you also trigger the release of happy hormones, like endorphins and serotonin, into your system. AntiGravity reinvented the childhood playground and made the joy of swinging and flying accessible again.
Most memorable class: In over five years of teaching Antigravity Fitness, I have had many rewarding experiences getting students from 5 to 75 years old inverted for the first time. However, the most memorable would have to be the first time my mom came to one of my classes and hung upside down for the first time. Seeing the surprise, relief, and pure joy it brought her was truly amazing.
Quelling the fear factor: Any time you walk into a new class for the first time, it's normal to feel a bit apprehensive. Hanging from the Harrison Hammock isn't any different. We always ask our students at the beginning of class to suspend their disbelief and assure them the hammock is rated to hold over 1,000 pounds. You will always be safe in an Antigravity Class.
Music currently on loop: Music as inspiration is so important! I'm constantly making new playlists that motivate and keep us moving in class. There are always a few classical or Broadway inspired pieces thrown into the mix too to honor the technique of dance. Right now, "My Sister – Original Mix" by Weiss , "Ooooooh" by Super Flu, and "Carmen – Les Toreadors Remix" by Volker Barber are on my playlist.
Ideal après-class snack: I love a little hummus and Mary's Gone Crackers. The pureed chickpeas give you both carbs and protein and the crackers, which are organic, gluten free, and vegan, are the slow release energy that can help keep you fueled for a few hours.
Biggest misconception about AntiGravity AIRbarre: You do not need to be an experience aerialist, dancer gymnast or yoga buff to enjoy the class. It's for people of all fitness levels.
Advice for a first-timer: Everyone leaves the class a success! Since this is a suspension class with deep philosophy, there is no competition. You work at your own pace.
Major mistakes newbies make: People think they need to come on an empty stomach to avoid nausea, but this can cause dizziness. Don't eat a huge meal, but do have a healthy snack before class.
Earliest fitness memory, ever: I remember doing the Presidential Fitness Challenge when I was in middle school—and not being able to do one pull-up. Wow, that was a long time ago!
Go-to workouts beyond AntiGravity AIRbarre: I like to change up my workouts and try new things as much as possible. I truly believe that you can learn something from every instructor. Right now I'm into Pilates reformer work and hot Vinyasa yoga.
Workout we'll never catch you doing: You'll probably never find me at a CrossFit gym—I'm sure they're great, just not for me.
AntiGravity AIRbarre's draw for the fashion set: It's no secret that dancers have the best-looking legs, toned without bulk. AntiGravity AIRbarre targets all the muscles of the body, but supercharges the legs, with intense plié sets. Perfect for fitting into your favorite pair of jeans or rocking hot pants or a mini.
PART II: The Daily weighs in…
Location and logistics: AntiGravity AIRbarre is currently offered at Crunch's Fort Greene location on Thursdays at 10 .m., and at the Bowery location on Thursdays at 6:30 p.m. Beyond AntiGravity AIRbarre, Crunch has 14 locations throughout the city—check out their full spate of classes online.

What you'll shell out: Non-members can pay $35 for a daylong guest pass; month to month memberships run $85 to $105 per month. Daily readers can try out a five-day guest pass HERE.
Stroll-right-into-a-meeting or absolutely-shower-necessitating? You might get sweatier than expected, but you can definitely clean up just fine post-class.
It's worth it if…You've always dreamed of being in Cirque Du Soleil, just dig trying all sorts of new fitness classes, and/or want to get in on all that back pain-relieving, seriously stretch-enabling action. All in all? So fun and so novel, it's absolutely worth trying once!