It's time for the fourth dose of our Fitness Dossier: an endorphin-addled exploration of all those super-chicly branded, sometimes quizzically named boutique fitness haute spots around town. Some you've heard tons about and others might not be on your radar yet, so we're sweating it out for you and getting the scoop from the talents behind these hip perspiration palaces. This time around, we're feeling the burn at SLT, where Megaformers are the tricked-out tools of choice (yes, they look a bit like torture contraptions), the tagline is "If cardio, strength training, and Pilates had a baby…", and Karlie Kloss has been known to drop in. Founder and CEO Amanda Freeman filled us in on the soreness-inducing sweat sesh…

PART I: Amanda gives us the scoop on SLT…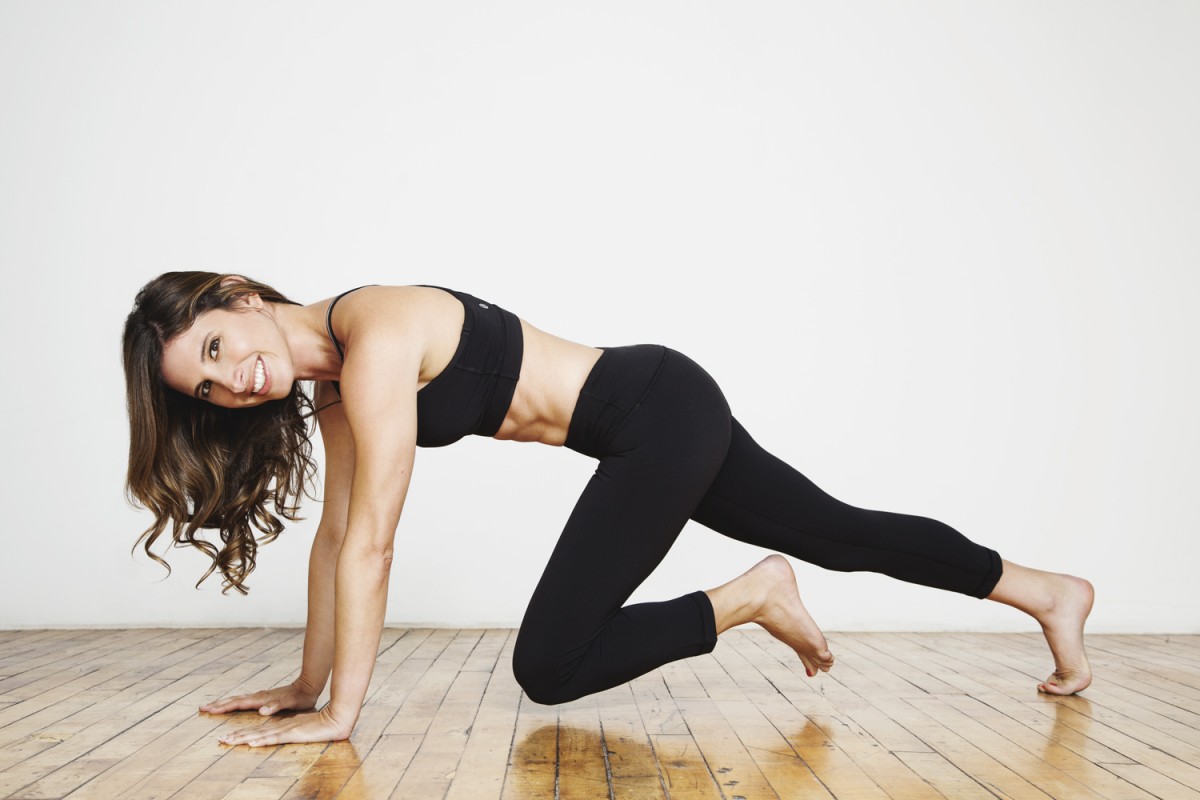 SLT in three words: Strengthen, lengthen, tone.
SLT mantra: Better sore than sorry.
Before SLT… I began my career as a trend forecaster and found my passion shifting to the wellness world. I co-founded a healthy living daily email called Vital Juice.
If SLT was a fashion house, it would be… Celine.
The hard sell: There's nothing out there quite like the Megaformer, the equipment we use for our classes. The combination of pilates, cardio and strength training makes it the ultimate full body workout. By working out slowly and working muscles to fatigue, the results are amazing: a strengthened, lengthened and toned physique.
Typical threads spotted in class: Our clients wear the latest, chicest workout gear they can find! We are still seeing tons of patterned pants, sexy and visible sports bras, loose tank tops, and sexy-sporty mesh and cutouts. In the cold-weather months, we've seen lots of leg warmers. You'll definitely spot some branded SLT gear, too. We're launching a great new collection next month which we're very excited about.
Pre- and post-workout style M.O.: They tend to wear the same outfits before, during and after class…just with added layers before and after class.  The only folks who change in the bathroom before and after class are those who have to head to work in a more formal work environment.
Recommended workout gear: I love my 15Love black exercise pants, fun patterned or colored sports bras, and sparkly grippy socks.
Chic regulars: Karlie Kloss, Sofia Vergara, Lo Bosworth, and Kyra Sedgwick.
Ideal après-class snack: An apple and Justin's almond butter single-serving packet.
Biggest misconception about SLT: That it's only a workout for women.  While it is harder to get them in, once they try the workout, men love it.  More and more men do SLT every day.
Advice for a first-timer: Come with a sense of humor, as you'll be somewhat humbled and very sore.
Major mistakes new SLT goers make: Beginners tend to perform each move much faster than the recommended slow four-count we use throughout class. They think the faster, the better, but it's actually the opposite. For best results, go super slow.
Earliest fitness memory, ever: I am still traumatized by being personally responsible for a town softball team loss in the championships. I'll never get over it. Ever.
Song currently on loop: "Hideaway," by Kiesza
Go-to workouts beyond SLT: I prefer to workout outside when not at SLT: running or walking, paddle boarding, or playing tennis.
We'll never find you doing…Anything very high impact with heavy weights.
Classes clocked weekly: I take SLT 3 to 4 times per week.
SLT's draw for the fashion set: It's all about the results.  The fashion crowd is seeking long, lean and toned muscles and that's what SLT delivers…no bulking, so you look great in clothes.

PART II: The Daily weighs in…
Location and logistics: There are currently four locations in NYC—Flatiron, Soho, UES, and Midtown—plus outposts in the Hamptons, Roslyn, Westchester, and Short Hills. Cancel up to 12 hours prior to your scheduled class.
What you'll shell out: $40 for a single class ($20 for a first-time rider); five classes for $190; 10 classes for $360; 20 classes for $680; 40 classes for $1,280; $375 per month for a monthly unlimited pass.
Stroll-right-into-a-meeting or absolutely-shower-necessitating? You can definitely skip the shower, and you'll have to, as there are no showers at SLT—this workout's grind is measured in the sore-everywhere, possibly hobbling, day-after situation, not in a deluge of sweat during the class. Bonus points for the well-stocked bathrooms for cleaning up a bit after a class (body and make-up remover wipes? Oui!).
It's worth it if…You dig Pilates but want something much more intense—something that will make you ache places you didn't know could ache. In a good way, of course. Despite the tagline, it feels more strength- and Pilates-centric than cardio—good for days you're not looking for a hardcore cardio-fest. Just heed friends' warnings of just how sore you'll be the next day (…and the next), and maybe don't tack on a cardio pit-stop at the gym after SLT, like your Daily aggressively did. Otherwise, good luck moving the next morning!
Best tidbits from Rate Your Burn (aka Yelp for the fitness set):
"Megaformer. Oh, sweet megaformer. How I daydream about thee and imagine having penmanship skills to calligraphy your beauty all over the net. … wait what? Aight bitches. Here's the deal. We all know that megaformer is the ultimate shiz when it comes to shredding your body into its fittest version. I like to taste that burn all over like a virus. My membranes are flooded with megaformer lust.—Sweat Pump
"I hadn't been to SLT for OVER A YEAR, and did not look at the schedule, and ended up in the turbo charged class for hot SLT psychopath fembots only…Three minutes into the class I was projectile sweating onto the floor…this is one of the harder classes on the market"—Lactic Addict
"First of all Danny is adorable. Like so cute that I wanted to kidnap him and take him shopping with me at Rag and Bone and then back to my place for skinny margaritas and Modern Family reruns.  His class was intense and fast paced.  I loved every single second of it."—SweatyBettie