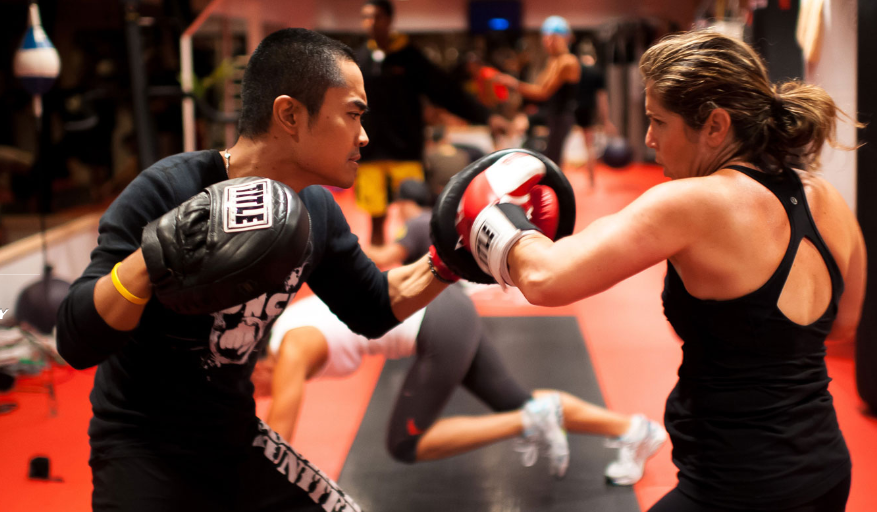 Ready for the latest installment of our Fitness Dossiers, those endorphin-addled explorations of all those super-chicly branded, sometimes quizzically named boutique fitness haute spots around town? The gloves were on for our newest adventure: PUNCH Fitness Center's founder, Adelino Da Costa, gave us the scoop on his boxing-centric, high-energy workouts, taught as classes or private one-on-one sessions.
BY ALEXANDRA ILYASHOV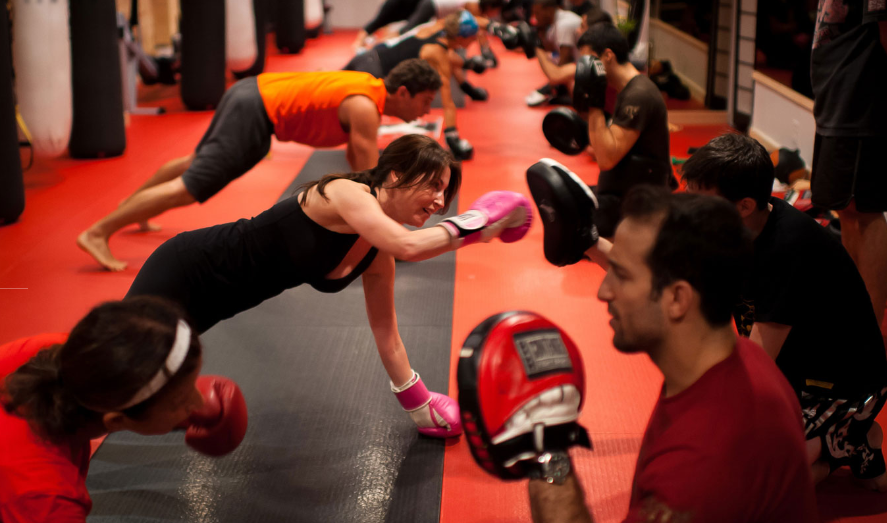 PUNCH Fitness Center in three words:  Power, balance, and confidence.

Before PUNCH Fitness Center…I was born in the West African nation of Guinea-Bissau and raised just outside of Lisbon, Portugal, and it feels as if I fought my way out of poverty. I took up kickboxing and Thai boxing in my teens, trained using cinder blocks for weights and sand-filled cement sacks for punching bags. In 1999, I became the Portuguese national kickboxing champion and then later moved to the United States in 2002 where I studied English, and maintained a rigorous training schedule to win the NYC Middleweight Thai boxing championship. After the win, I knew I wanted to train others and worked hard to eventually open PUNCH Fitness Center in 2006.
PUNCH Fitness Center mantra:   "It is a shame for a man to grow old without seeing the beauty and strength of which his body is capable."-Socrates
The hard sell: A typical PUNCH workout is anything but typical.  It includes an hour of consistent movement that engages all the muscles in your body using calisthenics and specialty machines such as Jacobs Ladder and the Curve treadmill, pad work, sprinting, and, of course, sparring either with punching bags or a trainer. Where PUNCH differs from many fitness studios is the fact that the weight of a client's success is placed on the trainer, not on the client.  A PUNCH Trainer is dedicated to not only the physical wellbeing of the client, but their emotional wellbeing as well. Throughout a workout, our trainers, also known as "Sokumasters," make sure a client is 100 percent focused on the work out, offering personalized, therapeutic mantras, and even tough-love self-help advice.

PUNCH Fitness Center's backstory: It was my training in martial arts and Thai kickboxing that gave me the discipline, confidence, and mental endurance to deal with challenges in my life and to rise above any kind of circumstance, and I wanted to share this with others.

What sets PUNCH Fitness Center apart from other boxing studios: Unlike most workouts, the PUNCH experience is both emotional and physical. Trainers go beyond their scope of work to read each client, understand who the person is, and work with them to execute a unique workout that is equal parts emotional and physical. From personalized mantras, to self-help advice that's more tough-love than anything else, PUNCH trainers are therapists and guides.  They will not allow you to leave feeling like you could have done more; you will leave accomplished in knowing you have done enough.

If PUNCH Fitness Center was a fashion house, it would be… Hermes: not only did it start in a field of sport (equestrians); it is one of the oldest fashion houses today, and it continues to emphasize its strength by continuing to be a leader in innovation and quality in the fashion industry. Similarly,  PUNCH has certainly played a role in the growing appeal of boxing as a form of exercise.
Ideal après-class snack: Peanuts, cashews, and a bottle of water.
PUNCH Fitness Center's soundtrack: The PUNCH Fitness Center soundtrack is mainly Afrobeat music, incorporating elements of African music, jazz, soul, and funk. The rhythm is perfect for punching and jabbing. On Saturdays, we have DJ Abdul come spin at our Harlem location, which really motivates the clients and gets them working hard.
Biggest misconception about PUNCH Fitness Center:    That it is like any other boxing gym or martial arts studio. A client comes in to gain physical and mental strength, using the techniques of professional fighters. This ranges from the different way in which they perform a sit-up to how to throw a jab and duck.
Advice for a first-timer: Don't consume anything heavy before your workout.
Major mistakes newbies make:  Forgetting to pace themselves; coming in expecting to be the best.  Allow your body to see where and what it is capable of, and then allow yourself to evolve.
Why PUNCH Fitness Center is located in Harlem and on the UES: I've always followed my clients, catering to them and opening locations to best serve their needs. When I first began working as a personal trainer, many of my clients were from the Upper East Side, so opening a PUNCH location there was a natural first step. In Harlem, we have more space and can offer larger group classes, which allow a larger demographic to experience PUNCH while tapping into midtown west and Upper West Side clients as well.
Next locations on the horizon: I think a downtown Manhattan location would be a great next move for PUNCH to tap into downtown and Brooklyn residents.

Earliest fitness memory, ever:  My first real fitness memory is being in Europe, playing sports with my friends.
Famous clientele: PUNCH Fitness Center draws boldface names from the world of fashion, finance, and entertainment. Dylan Lauren and her husband are regular clients, as well as several Victoria's Secret models.
Go-to workouts beyond PUNCH Fitness Center:  Nature is my best gym! When not doing pad work in the gym, I'm running early in the morning or jumping rope in the park.

Workout we'll never catch you doing: Anyone physically capable should try any physical challenge at least once.
Workouts on the horizon next: Swimming. It's a total body workout, and I don't get to do it as often as I'd like.

Classes clocked weekly: I like to be around when classes take place, even to just analyze the class and see what we can do to make it better, but I'm constantly going back and forth between the six locations.
PUNCH Fitness Center's draw for the fashion set: The fashion industry is notorious for grueling work hours and attention to aesthetics, and I think a PUNCH Fitness Center workout allows for individuals in the fashion industry to look and feel great.  Additionally, the PUNCH workout develops the long and lean body physique that the fashion crowd so strongly reveres.
Boxing is so haute right now: discuss!  Boxing is a workout that keeps you long and lean as opposed to bulking up, so in addition to being a great way to blow off steam and release tension, it keeps you looking great. That's important to many people, both in and out of the fashion industry.  Fashion is like boxing; it never lets you get bored.
PART II: The Daily weighs in…
Location and logistics: There's an UES location at 1015 Madison Ave., a Harlem location at 111 Central Park North, and a Greenwich, Conn. location at 321 Greenwich Ave.
Stroll-right-into-a-meeting or absolutely-shower-necessitating? Expect a proper sweat bib and to be quite out of breath after a PUNCH session. But that's what you came for, right?!

It's worth it if… You're curious about boxing and also want to be totally wiped out from a series of short stints of cardio, toning, and, yes, punching it out a bit. Also excellent if you get your best workouts when there's an element of surprise: You really never know what your PUNCH trainer will throw at you next, be it a rigorous rowing session or a whole lot of jumping rope. Head to the Harlem location for group classes if that's more your speed (or budget).