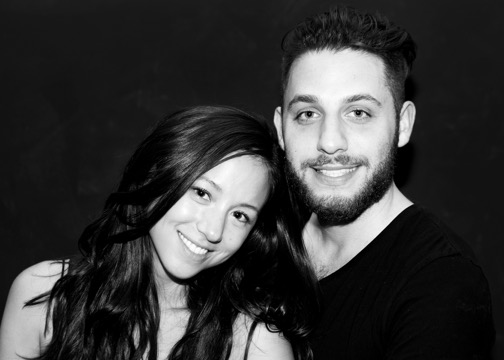 Ready for the latest installment of our Fitness Dossiers, those endorphin-addled explorations of all those super-chicly branded, sometimes quizzically named boutique fitness haute spots around town? We went with the flow at Y7, which serves up heated yoga classes in dark, candlelit rooms with phenomenal, hip hop-inflected soundtracks, founded by husband-and-wife duo Sarah and Mason Levey. Sarah filled us in…

Y7 in three words: Heat, music, darkness.

Before Y7… I was in fashion. I was an account executive at a multiline showroom. I worked in contemporary womenswear.

Y7 mantra: We flow hard.
The hard sell: The combination of the heat, candlelit room, and moving one breath to one movement.

If Y7 was a fashion house, it would be… Alexander Wang.
I got hooked on yoga because of… My husband! When we were still babies dating right out of college, he took me to my first heated Vinyasa class.
Y7's backstory: It came out of a personal need. We were not able to find a studio to practice at that provided the benefits of yoga and a good sweaty workout.
Ideal après-class snack: The Joyful Almond smoothie from Juice Generation.
Biggest misconception about Y7: That because it's heated, it's Bikram.
Advice for a first-timer: Don't worry about how beginner or advanced you are…its dark and we don't have mirrors for a reason…this is YOUR practice, not anyone else's.
Major mistakes newbies make: I see so many people doing cobra/up-dog wrong. Thighs and knees should be lifted! You do not want to dump all your weight into your lower back.

Earliest fitness memory, ever: Soccer practice as a 5 year old. I was on a small, all-girls team called the Swans. We were the only all girls team in the league—our uniforms were silver and we got to wear pink socks over our shin guards.
Y7 soundtrack: It begins with FKA twigs, Sigur Ros and Inc then picking up with sounds from Odesza, Jay Z, Drake, J Cole, Kygo, Big Sean, then slowing things down with The Weeknd and Sam Smith. Our sequencing is made up of peaks and valleys and we use the beat of the music to bring the intensity of the movement to the forefront.
Why you'll be downward dogging to Drake: Instead of using the traditional nature/healing inspired arrangements, we use contemporary music that motivates people in their everyday lives.
The scoop on Hip Hop Wednesdays classes: Hip hop is an essential part of every class and we thought it would be fun to have a class centered around a specific artist. It lightens the mood and just makes the class really fun. Yyoga shouldn't be so serious! And let's be honest, it's a lot easier to hold plank for a minute when Kanye West is playing.
Go-to workouts beyond Y7: SoulCycle. I can't help it—I love me a good tap back.

Workout we'll never catch you doing: Crossfit. Because, ouch.
Workouts on the horizon next: I really want to get into boxing! It looks like so much fun and a great full body workout.
Most frequently-asked question: "How do I get abs?"

Classes clocked weekly: Between four and five classes, or sometimes more—it just depends what we have going on. I try to take all of our instructors as much as possible . Consistency is super important to us.
Why you'll find Y7 in Williamsburg, Soho, and Flatiron: Williamsburg is where we live—that studio is only a couple blocks from our apt—and Soho came about through friends in the industry. Once we got into the city, it became apparent that Flatiron was going to be our next stop. It's the fitness capital of the city!
Y7's next frontiers: We definitely want more locations in the city (Upper West Side, Union Square, etc) but in the future, we hope to go to LA, Miami, Austin and Chicago—all are young cities with a huge focus on fitness.
Y7's draw for the fashion set: It's a great one hour workout where you sweat but also clear your mind. Coming from the industry I know what its like working those long hours during market weeks and buying trips.
PART II: The Daily weighs in…
Location and logistics: Y7 has three locations—in the Flatiron (25 W. 23rd St.), Soho (182 Lafayette St.), and Williamsburg (240 Kent Ave.).
What you'll shell out: Newbies can snag two unlimited weeks of classes for $45, or one month unlimited for $99, while a single class will run you $22. Want more Y7? Snag $99 for five classes; $169 for 10 classes; $229 for 15 classes.
Stroll-right-into-a-meeting or absolutely-shower-necessitating? Certainly expect to get, ahem, dewy—the room is heated to 80° to 90°, after all. Though there aren't showers you can definitely clean up a bit in the stocked bathrooms, which also have hairdryers. Head to the Soho outpost, housed inside Monster Cycle, if a rinse-off is necessary.
It's worth it if… You like the idea of yoga but feel too restless and definitely not sweaty or challenged enough when you're actually in a class. The fairly fast pace combined with the killer soundtracks (James Blake with our warrior poses? Yes, please!) keeps the energy high. At the same time, the very warm, very dark environs feel like the coziest cocoon imaginable. Consider us hooked.