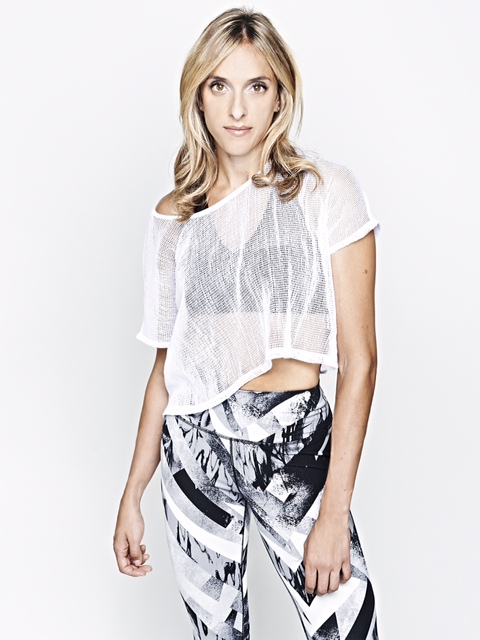 Ready for the latest installment of our Fitness Dossiers, those endorphin-addled explorations of all those super-chicly branded, sometimes quizzically named boutique fitness haute spots around town? We're sweating it out this time around at Brooklyn Bodyburn. The MegaFormer classes are available at the chic spot's Williamsburg and Cobble Hill outposts, and as the name indicates, you'll feel the burn, profoundly so, that next morning. And probably long after that. Founder Tracy Carlinsky gave us the full soreness-inducing rundown…

Brooklyn Bodyburn in three words:  Pilates on crack.

Before Brooklyn Bodyburn… I was an account executive in the fashion industry doing sales on the wholesale side.

Brooklyn Bodyburn mantra: You don't need more time, you need more intensity
The hard sell: Our classes offer a low impact, high intensity, full body workout all done on a state-of-the-art M3S MegaFormer machine. Each and every exercise that we do on the machine is full body, and we focus on muscle synergy; at times we are working hundreds of muscles in one single move. We focus on working for 55 minutes with zero periods of rest and recovery, while working with and against resistance. Exercises are sequenced in a way to achieve effective muscle fatigue. We work at a high intensity in a safe and resistance based environment. This method is extremely effective and unlike anything you have ever done before!
If Brooklyn Bodyburn was a fashion house, it would be… Alexander Wang. Clean, cut, and high-end.
Typical threads spotted in class: We see a lot of mesh and cut-out leggings and printed pants, soft tanks and colorful patterns. Lots of mix-and-match with a play on colors!
Pre- and post-workout style M.O.: It really depends! We have clients who travel from all over to take our class, regulars who live right down the street usually come in workout gear and clients coming to and from work take advantage of our Malin + Goetz bathroom products to freshen up after class!
Biggest misconception about Brooklyn Bodyburn: "Is this Pilates?"This is not Pilates; there are similarities in a few exercises and we utilize resistance training to focus on slow and controlled movement, but we do not lay down. Also, the MegaFormer takes the workout to a whole new level! We are a high intensity, low impact total body strength and conditioning class.
Advice for a first-timer: Come back! The more you come, the more familiar and confident you will be on the machine and in the exercises. Everyone (regardless of their level of fitness) is challenged by this method! "It never gets easier, you only get stronger."
Major mistakes newbies make: Not trusting themselves and the machine.
Funniest first-timer reactions to the MegaFormer: It has often been referred to as a torture chamber.
Why you'll feel that sore for day(s) after a Brooklyn Bodyburn class: It's a result of delayed onset muscle soreness (DOMS), which generates inflammation in your muscles after a really tough workout.The response is a series of events that happens over a few days after your burn as your body works to heal your inflamed muscles. The healing process tends to kick into high gear on day two as a flood of cells reach your muscles and continue the healing response.  If you're new to the method, then you can expect to feel the burn for a few days after your class. It's the burn that keeps on giving…!
Earliest fitness memory, ever: My very first ballet class.
Brooklyn Bodyburn soundtrack: We really include a mix of everything! We love remixes, but our playlists vary across the board to appeal to everyone. We tend to include more upbeat tunes and remixes; varying from top 40s to EDM, rock to R&B, hip hop, rap, and even client requests!
Go-to workouts beyond Brooklyn Bodyburn: Running—outside or in my gym—and in a hot yoga class.
Workout we'll never catch you doing: Crossfit. It's just not my thing.
Classes clocked weekly: Right now I teach around 20 classes per week, and I take class approximately five days per week.
Teaching vs. taking a class: It's very different! In class you are solely focused on yourself. When I take class I am in the zone. Teaching this method requires a lot of multitasking. We focus a lot on form and fast transitions so we are consistently correcting people, watching for errors, cueing the class, monitoring time per exercise and per class and keeping our energy up to keep the class motivated and engaged. It's intense but so much fun! I love watching people get stronger!
Brooklyn Bodyburn's next frontier: We're currently searching for our next Brooklyn location, and we're also scouting a location on the West Coast. We'll see!
Brooklyn Bodyburn's draw for the fashion set: The workout and method lead to a lean, toned, and fit physique as well as a deep and powerful body-mind connection, which activates self-awareness of internal strength and self-confidence. The fashion industry can be a tough environment, so it's important to feel strong and powerful both inside and out.
Ideal après-class snack: Our fave smoothie—the BBB PB smoothie!
1 cup almond milk
2 scoops vanilla protein powder
1/2 banana
1 date
1 tbsp. peanut butter
1/2 cup spinach (optional)
1/2 cup ice
Blend and enjoy!

PART II: The Daily weighs in…
Location and logistics: Brooklyn Bodyburn is located at 32 N. 6th St. in Williamsburg and 296 Court St. in Cobble Hill.
What you'll shell out: First-time riders can buy one class for $18; a five-class intro package will run you $79, and expires 30 days after the first class. One class is $35, five rides costs $170, 10 rides is $320, and 20 rides is $610. Unlimited monthly rates are $349 per month, which will get you one class per day.
Stroll-right-into-a-meeting or absolutely-shower-necessitating? You'll get sweatier than you might expect—the movements might be tiny, but the muscle-singing soreness factor could have you dripping on the Megaformer. But you can get away with a thorough clean-up in the nicely-stocked bathrooms. That post-class hobble is another story.
It's worth it if… A) You've always wondered about this whole MegaFormer thing. B) You're fond of Pilates but want something a whole lot more intense… C) You want to really ache—especially in the derriere and abs regions—aka, know all that shaking and wobbling is worth it. To wit: A Brooklyn Bodyburn regular situated on the MegaFormer next to your Daily had full-on cursing tirades throughout class during particularly trying moves. Amusing and scary that a frequent goer was still feeling the burn so badly…
Plus! A killer Yelp review…
"When I first heard about BBB, my initial thought was that I'd never attempt something that sounded so difficult. Not only was I certain that I didn't have the strength or stamina for it, I was uninterested in group fitness and I was scared sh*tless about how silly I'd look.
However…I was dragged to BBB, after much resistance on my part, on a Wednesday night last year, where one of the amazing instructors, Keisha, kicked my butt. Throughout the intense workout, I wondered how someone could get through this on a regular basis. As I was struggling through the exercises, I was convinced that I'd never do it again. Then it was over, and I felt amazing and accomplished. Then two days later, I felt (good muscle) pain in places I didn't know I could work out. I felt amazing, and I wanted to go back.
That was last November. Since then, I've attended over 125 classes & I fully intend to continue for as long as I'm able.
As someone who has struggled with weight, body, and fear of fitness, I still find it hard to imagine that an exercise which so many deem "the hardest thing [they've] ever done" is now something that I look forward to and excel in.
At the risk of sounding super-dramatic with kool-aid stains on my lips (I've def drunk the Bodyburn kool-aid, and I'm not ashamed!), this studio has changed my life.
I've never felt so confident that I'll have the body I've always wanted. I've never been stronger in my life. I've never been presented with more of a physical challenge (while enjoying it). And I've never looked or felt better in my entire life. It's made me a happier person, a fitter person, a healthier person, and even a better singer.
This workout never gets easier. And that's one of the most amazing things about it. It's an @ss-kicker. And it challenges you to push yourself.
Then there are the instructors. Oh, the instructors. Aside from the fact that they're all gorgeous, they're also kind, motivating, helpful, supportive, challenging, smart, caring, corrective, concerned, present, energetic, and they push clients to be their personal best.
When I read negative comments here re: the instructors, I was sort of shocked. They're all incredible. I've never seen such a consistent level of excellence in a team like this. Really no weak links.
Tracy Carlinsky, the owner, has cultivated a very unique studio and taken this very challenging exercise to a whole new level. I've experienced this exercise elsewhere; this studio is notoriously above and beyond its peers on every level: the intensity, the professionalism, the care for its clients, and the effectiveness of its crew.
If you wanna change your body, your perception, and quite possibly your life, you must go to Brooklyn Bodyburn.
If not, that's cool. But you're certainly missing out."