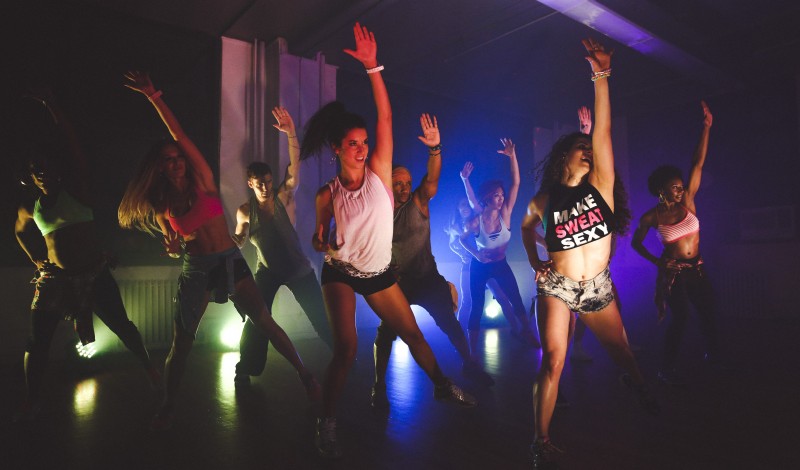 Fitness Dossier, Vol. 1: ((305))
|
Welcome to our new series, Fitness Dossier: an endorphin-addled exploration of all those super-chicly branded, sometimes quizzically named boutique fitness haute spots around town. Some you've heard tons about and others might not be on your radar yet, so we're sweating it out for you and getting the scoop from the talents behind these hip perspiration palaces.
First up, meet ((305)) Fitness founder Sadie Kurzban, a Brown University alum who started this crazy, rave-y dance cardio party of a class right out of college. Before there was ((305)), there was BodyRox, the name of the class Kurzban taught on campus, where Emma Watson was a regular. In 2012, she renamed it after the area code of her hometown, Miami, raised funds via a Kickstarter and friends and family, and taught at various NYC dance studios for two years. ((305)) got its own chic West Village digs last year.
PART I: Sadie fills us in…
                                                                                                        Sadie Kurzban 
((305)) in three words: Irreverent, bold, mind-blowing
The hard sell: There is nothing like this class on the planet. Forget everything you think of when you think of "fitness." This is more like an epic night out at a rave with your best friend, one of those crazy nights where the time flies by and you are sweating and hooting and hollering the whole time. You gotta come see it for yourself!
((305)) mantra: Face yourself. Unleash the beast. Attitude is everything.
If ((305)) was a fashion house, it would be… Isabel Marant meets VFiles.
Required workout gear: I'd say something to cover your nipples if you're a female and some kind of bottom. Come as you are, people! If you like to show skin, go for it. If you prefer to cover up, you do you! I usually wear shorts and a sports bra.
Recommended garb: I recommend running shoes or cross-training shoes that can handle high impact. Nike just came out with a great Flyknit Zoom sneaker that's wonderful for this class.
Typical threads spotted in class: Our clients love to wear neon because we part of the class is bathed in blacklight. That glow is unbeatable! Also, I am loving Nike's spring line.
Pre- and post-workout style M.O.: A lot of clients wear ankle-length leggings and men's slashed tees.  Also, I see a lot of clients coming to class in sneaker wedges and switching for a more practical running or cross-training shoe for class. Sneaker wedges are a great, simple way to throw some style to your workout gear. Adding an old flannel tied around the waist is another simple way to add flair.
Latest class additions: I recently added ((305)) Arms and ((305)) Legs to our schedule. We have a short toning section in each class, ((305)) Arms and ((305)) Legs helps clients choose which body part they'd like to focus on before they sign up. I recommend everyone try one of each every week for kick-ass results.
Ideal après-class snack: I'm a big fan of hard boiled eggs—yes, with the yolk, it's just too tasty to give up! I sweat so much in class—seriously!—that I like to add salt to my food after to replenish electrolytes.
Biggest misconception about ((305)): That the workout is a silly, easy dance workout. Forget "dance." This is the hardest, most effective workout in the world. I have athletes who have run marathons who think ((305)) is harder!
Advice for a first-timer: Let go of your inhibitions and keep an open mind. This class is so fun, this might just change your entire view of exercise—and, in turn, your life! Also, I recommend a good pair of sneakers that will support higher impact moves. Many people don't expect this class to be such a challenge so having appropriate gear that will support your joints is essential.
Earliest fitness memory, ever: Watching my mom do aerobics in the '90s. She'd stick me in the corner and I would dance in my diapers. Duh!
Go-to workouts beyond ((305)): Ha! I don't need to work out much when I have such effective, addictive classes right here! If I want to switch it up, I'm a big fan of yoga and I will occasionally try strength classes like The Fhitting Room or SLT.
Workout-wise, we'll never catch you… Swimming. I know, I know. It's great for the joints and a wonderful cardio workout but there's just something about my head being underwater…I can't deal.
Classes clocked weekly: I teach six classes per week, and I take an additional two or three classes. And yes, I can and do eat whatever I want!
((305))'s draw for the fashion set:  We have taste without being pretentious. We embrace art and movement. We celebrate the human body, color, contours, interesting sounds and textures. We re-invent and rediscover constantly. And at the same time, we offer a highly effective, full-body workout that many models and designers need to stay in tip-top shape. Not to mention, it's a lot of FUN and SEXY as hell.
Song currently on loop: We have a live DJ in every class, so I can't say any songs ever get overplayed. My favorite current song to dance to is "Lips are Moving" by Meghan Trainor.
PART II: The Daily weighs in…
Location and logistics:
18 W. 8th Street; there's also a D.C. outpost. Snag your favorite class at
305fitness.com
 or call (212) 475-0425 beginning on Mondays at 10 a.m. for the following week. Cancel at least 24 hours prior to class.
What you'll shell out:
 $32 for a single class; $39 for an intro package of three classes, to be used in a three-week period; five classes for $149; 10 classes for $259; 20 classes for $469.
Stroll-right-into-a-meeting or absolutely-shower-necessitating? You'll definitely want to shower off post-class; you've got to change out of all that neon before work, anyway…
It's worth it if… You dig Zumba or cardio dance but want something more intense, which ((305)) delivers thanks to HIIT (High Intensity Interval Training), plus a bit of sculpting. Also excellent if you've sorta aged out of clubbing but still want to break it down. Still hitting the dance floor on a regular basis? You'll pick up some new moves for your next night out. Uncoordinated types will catch on by class two or so, so amateur dance types shouldn't be scared off. (No, really…) However, if you completely loathe dancing and/or ample EDM jams, then yeah, sit this one out.
Best tidbits from Rate Your Burn (aka Yelp for the fitness set):
"I don't even know myself anymore. If you told me before today that I would [enjoy] a zumba-ish dance class I would have been like 'psssht'….I really don't love dance classes and it sounded kinda like 'woo rah, let's put on rhinestones and hump the air'. But knock me over with a feather, I LOVED IT."–BeFit
"I promise you will need a towel. I didn't heed this advice at my first class and let me tell you, having your tank top double as a towel is not the best call. You will sweat more in this class than any spin or treadmill based class out there."–BurnBabyBurn
"I was literally lol'ing and smiling the entire time. Also, I sweated my ass off.  The whole thing was…empowering."–User201
((305))'s NYC studio