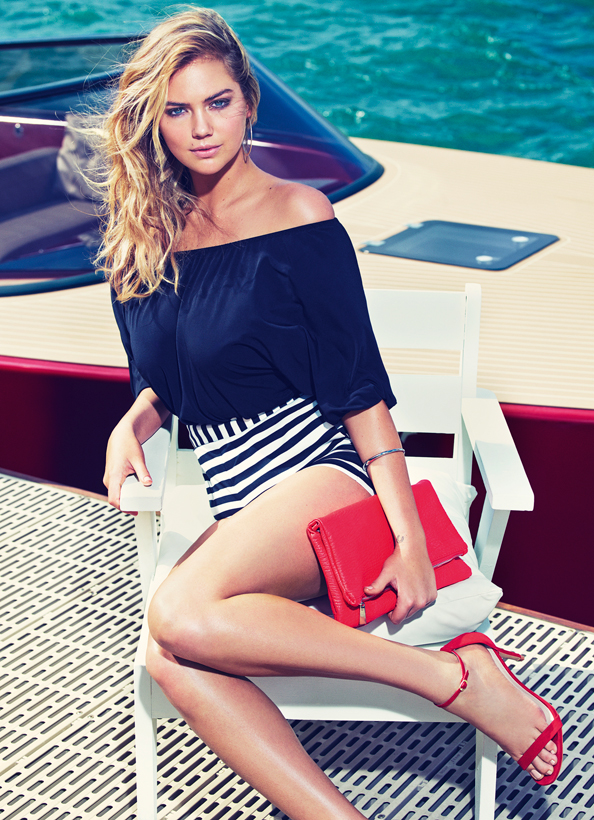 Catching up with stunner Kate Upton about her latest campaign for Express…
What was it like working with Mario Sorrenti for your fifth Express campaign?
It was so much fun! I actually started modeling in Miami, so it was great to be back and working with a fabulous photographer.
What was the vibe like on set?
It was very Miami—a relaxed, nice day at the beach. It was really windy during some of the shots, but that was about as adventurous as we got.
How is Mario as a photog?
He explains exactly what he wants, so everyone's on the same page. It really feels like teamwork being on a shoot with him.
What do you think of Express' new threads?
They're perfect! After the shoot I got to take a few pieces from the campaign—I wore them the entire time while on vacation in the Bahamas. I love to be stylish but also comfortable, and Express has that down. Their denim is really soft and fits great; all their button-downs have this breezy, casual, cool "I woke up and I don't care" kind of look.
Express is in so many malls. What are your best mall memories?
I mean, that's what we did growing up in middle school! We'd go to our movie theater in the mall, and then go shopping. That was our Friday night.
How is 2015 treating you thus far?
On January 1, I went shark feeding, and that set off my year on a very adventurous note.
Do you set New Year's resolutions?
No, I don't. I don't set myself up for failure! I've made [resolutions] like, "Create a journal," but I don't have a journal. Or "Don't bite your nails." I have no nails…