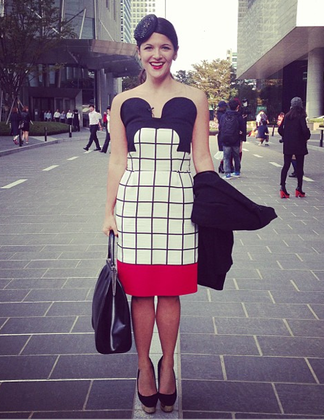 Expat Intel: Meet Cali-Bred, Korea-Based Chicster Sarah Kate Watson-Baik
|
More from Seoul Fashion Week! We spotted chicly gussied-up, chapeau-sporting Sarah Kate Watson-Baik at show after show, interviewing all the front row folks the crowds got into tizzies over (and being interviewed and photographed aplenty as well). Finally, curiosity took over and a between-shows chat was in store. Turns out, Watson-Baik is a West Coast-bred expat, hat designer, stylist, and TV host with some intriguing insights on becoming a Seoulite.

You've been bopping around myriad SFW shows. What's your story?
I'm originally from Northern Cali, I studied arts and design in London, and I'm married to a Korean architect, Ji Won Baik. He designed Club Octagon, which is #12 on DJ Mag's Top 100 list. He's really fashionable as well! So I'm a little mixed up—my accent is kind of weird. I've been in Seoul for seven years, I'm a hat designer, I lecture on fashion culture, and when I have time I do some styling. I also shoot for a TV show, K-Style, about Korean beauty, fashion, and lifestyle. It's aired nationwide in America and South Asia on cable channel MNET America.

An expat's read on Korean style, please.
Korea is ever-changing. Previously there wasn't this kind of crazy showmanship, but there's this energy right now. It's a playful sensibility with a lot of experimentation. Fashionable people here are really into street style, and magazines like Cracker. So much has happened over the past few years.

Have you actually experienced these changes?
When I first moved to Korea seven years ago, it was difficult to find tampons, deodorant, or shoes that fit.
How'd you deal?
Before Zara arrived, I'd have to special-order shoes. Or buy only designer, which is so expensive with the import tax. Like, $1,000 or $1,500 for a pair of shoes.
That's crazy. Do you ever get homesick?
I do miss California sometimes. I miss driving and dry heat.
Got any stateside foodie cravings?
Whole Foods!
Would the Whole Foods concept work in Korea?
Absolutely. There are a lot of companies trying to copy Whole Foods, like the department store Shinsagae's food market. But it's not as organic—and it's incredibly expensive.
Who are your style muses?
When I'm 90 years old, I'd like to be like Iris Apfel. She's a fashionista with an amazing closet, so she's my "when I'm old" idol. And I love Michelle Harper. She's got real guts when it comes to style.