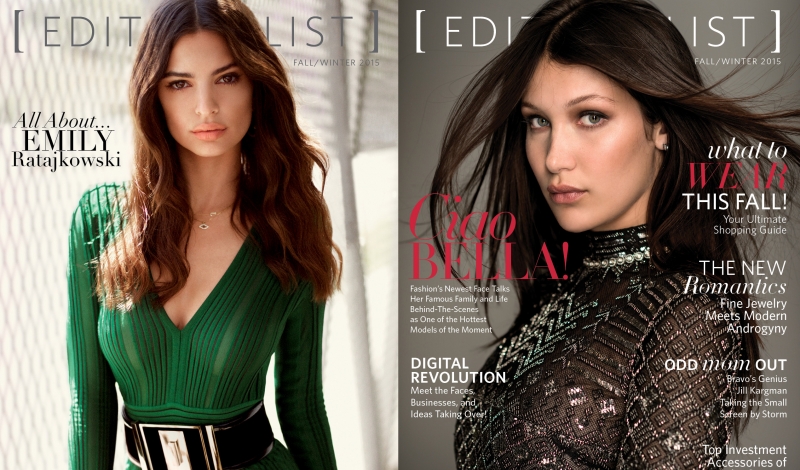 Alison Brod PR
Exclusive: Editorialist's Dual Cover Featuring Emily Ratajkowski & Bella Hadid
|
Editorialist Magazine's fall/winter issue is celebrating "new faces" with not just one gorgeous cover star, but two. Enter Bella Hadid–her first solo cover!–shot by Gilles Bensimon for the newsstand version (Barnes & Noble and Hudson News) and Emily Ratajkowski, shot by Derek Kettela, who fronts the subscriber edition. Both of the gorgeous brunettes have been quite busy as of late, Hadid with her new Samsung campaign and Ratajkowski with her silver-screen gigs, so the duo makes for quite a chic combo. On the outfit front? Hadid stuns in a Valentino gown, a Phyne by Paige Novick ear climber, and Jaipur diamond necklace, while Ratajkowski rocks a pop of color via a Balmain jumpsuit and belt, a Letters by Zoe pendant, Sydney Evan necklace and cuff, and a Khai Khai Ring.
Below are some of our favorite quotes from the two interviews, which will be available in the nationwide issue starting tomorrow, August 21st.
Bella on her style icons: "I eventually want to act," she muses. Her Hollywood role model: doppelgänger Jennifer Lawrence. "It's funny, people say we look like each other but I really admire her as an actress because she has so much range," she says. On her style icon, she cites Kate Moss. Or more specifically, "The no makeup, Johnny Depp phase with slip dresses and nothing underneath – just mellow."
Emily on getting into the biz: "It was never so much about being in Hollywood. I really enjoyed doing theater as a kid. I was obsessed with Cats and would put on shows for my parents when I was five-years-old. Every home video turned into a musical theater performance."
Bella on social media: "I used to post a lot of me and my friends but it got really personal," she explains. "Now I just try to base it off of work." On social media propelling her career, "It's such a big part of so many things right now. Back in the day, you really had to hustle, but these days you don't need a portfolio. You can just look up someone's Instagram."
Emily on her red carpet style: "I evolved out of the 90s floral dress and lace up boots era. It's all about being a little sexy but also being comfortable. I like how men's stuff looks on me and I play with that a lot."
Bella on Manhattan: "In Malibu, you can't really walk places but here you can stop and get a juice or a slice of pizza," muses Hadid, whose favorite activity is strolling through SoHo and nibbling on avocado toast at Café Gitane with friends.
Emily on her next movie: " It depends on the story and character. Complex and dynamic female roles in my age range don't come around that often. If I could choose anything for my next movie, itw ould be someone who has nothing to do with being pretty or attractive. I'd love to play a role that surprises people."
Bella on what she misses about home: When asked what she misses most about home, she cites her mom's spaghetti, the beach and "just being a kid."