After founding two contemporary lines, Cynthia Vincent stepped away from the scene to work on her new namesake creation, CV Creative Agency. Now, the designer has signed on as creative director for Three Dots, bringing a fresh, elevated, and innovative aesthetic to the brand. We chatted with Vincent about her first full collection for Fall 2016 and what she has in store. 
How did your role at Three Dots come to fruition? 
After taking a break from my namesake, I was given the freedom to create new and unexpected challenges. By forming CV Creative Agency, I'm able to pick and choose between different endeavors. When Three Dots approached me to consult, I did my research and quickly realized that not only is it a fantastic company, but there's a strong, experienced, dedicated team behind it. The brand has been around for 20 years and it's core is so of-the-moment. It's time for a comeback, and that's a great challenge, creatively. I feel as though at the heart of Three Dots' DNA (quality, American made, wearable knitwear) are elements that consumers care about today. This is a brand with real "heritage"…they've sold the same iconic, essential T-shirts since day one!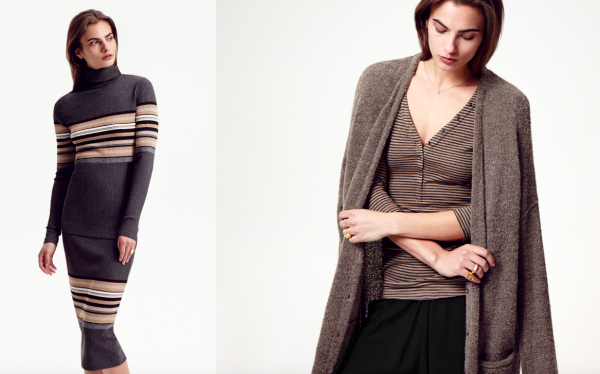 What's the brand's backstory?
Ultimately, Three Dots was founded to create the perfect T-shirt. Today, we're taking the classic styles the brand was built on and reinterpreting them into slightly more modern fits and fabrics. Our woman values comfort, style, and quality above all else. There isn't a specific age range, as each piece is interpreted by the wearer to be made her own. Although Three Dots offers the perfect T-shirt, that's not all we do. Everything from cotton ribbed jerseys to brushed sweater knits can be found in all styles. Prices vary from $42 for a classic crew neck tee to $248 for a sweater coat.
What are you looking to bring to Three Dots?
I'm taking a very thoughtful approach to real clothes, and I'm focusing on elevating the brand. We'll introduce exclusive online product, and new and exciting marketing campaigns.
Were you nervous to debut your first full collection?
I'm used to it, but it's been very exciting and rewarding to see the positive reaction surrounding it. That always feels great!
What was the inspiration behind your Fall 2016 collection?
I was inspired by our history. I began by researching our archives, and even searched eBay for old pieces. For me, the '90s was a big influence, which was only natural since Three Dots started in the '90s.
Will we see any specific colors, patterns, or styles?
Beautiful Italian fabrics, an elongated twinset and lots of knit layers as a nod to the '90s, and a neutral palette with muted plums, vibrant blues, deep bordeaux.
Was the design process for Three Dots similar or different from your own brands?
For me, it was and is about staying true to the brand, understanding the customer, and delivering a vision that's in line with just that. The last thing I want to do is to create a bohemia for Three Dots, or to simply put my stamp on it—that would have been the easy thing to do as a designer. However, I'm not just designing. As creative director, I'm interested in aligning a vision, or in this case, creating and refocusing the core vision.
Three Dots features a lot of classics and basics—is this what women are wanting more of today?
Absolutely! Women are more focused on quality pieces that will last. Think of your wardrobe- your go to pieces, or the things in high rotation, are most likely your favorite essentials. That's my approach to Three Dots. Beyond the essentials are those special pieces- the cozy cardigan, or cool knit pant that can take you from the airport to your meeting.
What's been a highlight of transitioning into this new role?
One of the biggest rewards is being able to spend most of my time creatively. That, and building and executing a brand vision, have been hugely rewarding.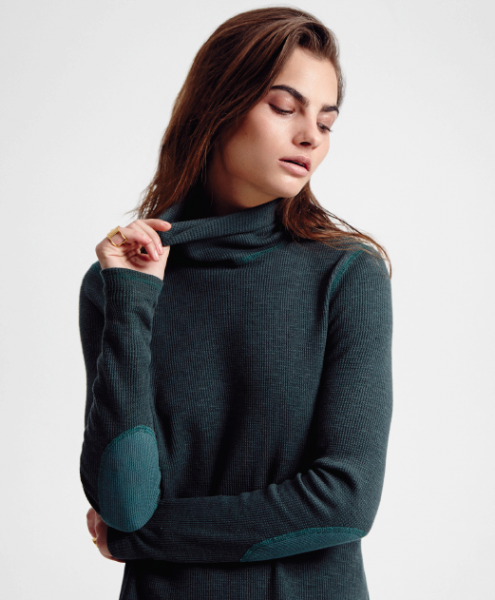 What are three things you're loving right now?
The scent of palo santo, desert camping, and Olafur Eliasson's work with mirrors and colors. It's mind-blowing.
That's a mix!
Wait, can I give you four? The Ice Hotel in Sweden for New Years–my last epic trip.
What's up and coming for the brand?
We have several initiatives planned for the brand, but here are a few. One, for the consumer, is our 20th anniversary campaign. Take a look at our Instagram to see our first launch, which features 20 women in 20 tees. Secondly, we'd like to become more customer centric and really give them what they want, which is online exclusives. Third, our plus-size capsule collection is launching with Spring 2017, which will be previewed online.