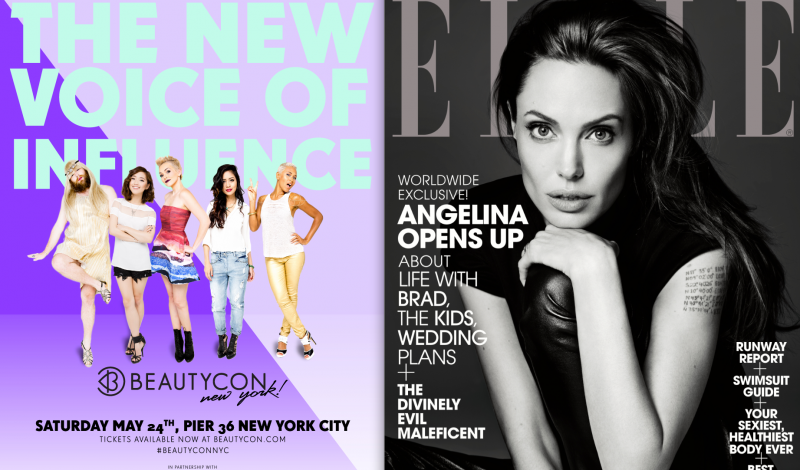 Courtesy ELLE
ELLE Partners With BeautyCon On Its Debut NYC Summit
|
(NEW YORK) Attention, beauty fanatics: ELLE is partnering with the inaugural New York-based iteration of BeautyCon on May 24th to Pier 36, The Daily can exclusively report. The all-day event, held at Pier 36 deep in the LES from 10 a.m. to 6 p.m., will lure in beauty and fashion folks like Whitney Port (plus beauty bloggers aplenty) and project junkies of all stripes for a day's worth of talks, demos, loot-dabbling, and networking.  Following BeautyCon's NYC debut, the summit will make stops in Los Angeles, Houston and London later this year. ELLE will be involved with BeautyCon's stateside round of events.  "As a leading multi-channel content brand, ELLE continues to align with strategic partners that not only extend our core editorial equities in beauty and fashion, but also offer relevant experiences for our readers and users. And we are excited to work with BeautyCon, a first-mover in the important blogger/vlogger space," said Kevin O'Malley, ELLE's SVP, publisher, and chief revenue officer. Financially speaking, the partnership also entails an investment of an undisclosed sum by Hearst Magazines in BeautyCon. Other sponsors for the Gotham go-round of BeautyCon include makeup brands like Maybelline New York, Tarte, Too Faced, Bareminerals, and Pucker (also supporting the event, befitting of its vid-happy crowd: YouTube). Tickets run from $45 to $145 for the Memorial Day weekend beauty bonanza; BeautyCon started in 2012 with an L.A. conference, followed by events in L.A. and London last year. ELLE's longtime beauty and fitness director, Emily Dougherty, filled us in on what you'll face at BeautyCon…
How were you involved in this pair-up of ELLE and BeautyCon, Emily?
One of my favorite people in the world, Kandee Johnson, raved about the BeautyCon event in Los Angeles last year, so I was psyched for ELLE to be involved this year with the very first BeautyCon New York. We've had a great time collaborating with the BeautyCon team on all the different panels and experiences fans will get to have at the event.
What's sets BeautyCon apart from other industry conferences out there?
So many beauty obsessives in one place! The ELLE beauty team, plus our favorite social stars, plus all of our readers hanging out and playing with products on a Saturday? So. Much. Fun.
Do you expect lots of beauty-obsessed ELLE readers to show up?
Definitely! We've got some pretty amazing fans, and it's always awesome to get to hang out in real life.
In your many years helming ELLE's beauty coverage, has beauty become more important to the magazine's coverage mix over time?
Our editor-in-chief Robbie Myers has always believed beauty and fashion are what she calls "chromosomally linked," so she's been a huge supporter of the beauty section since my very first day. As the magazine has gotten bigger over the years and the website has expanded and the iPad app launched, Robbie has always made sure beauty stays a central part of the mix. 
BeautyCon sounds a lot like ComicCon, where costumes are pretty much de rigueur. So, what would be a fitting ELLE-worthy costume for you to don at BeautyCon?
ELLE editors have actually crashed ComicCon in costumes before—one made quite a lot of fan boys happy in a tight skin-tone Margiela cat suit. For BeautyCon, I'm more excited to see people come as themselves. I can't wait to see everyone's best beauty looks—whether that's a major lip or intricate smoky eye. BeautyCon is about celebrating your own beauty, but just turning up the volume a bit.
ALEXANDRA ILYASHOV