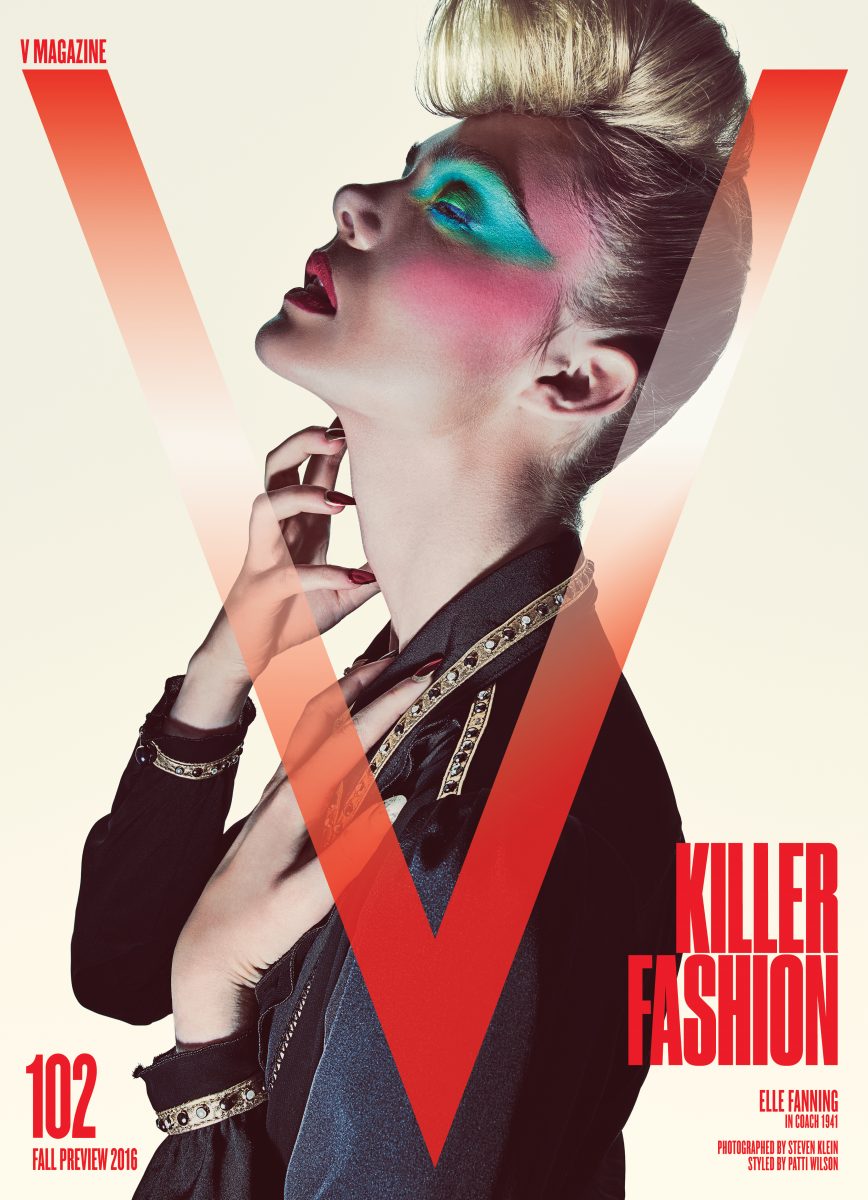 Elle Fanning is "killing it" with her hautness on her first solo fashion cover for V Magazine's pre-fall issue. V102 honors the actress' role in the Cannes breakout film The Neon Demon, a psychological thriller about an aspiring model and the "darker side" of the industry. Steven Klein shot the cover and photo spread, where Fanning channels the film's character in a sheer black Preen dress and bright, colorful makeup, for a summer-meets-edgy contrast. Bella Heathcote and Abbey Lee Kershaw co-starred in the film and were photographed alongside Fanning in a second cover for the glossy, both releasing July 14.
We've rounded up some of our favorite quotes from Fanning's interview, below:
On how the film opened her up to the fakeness of social media…
"We realized, as we were filming, who the Neon Demon was. I thought it was L.A. or the models, but actually it's kind of…me. But it's also beauty. Beauty can be your demise. And this is so prevalent now because of social media and apps that make you look a certain way. People really care about the way they look—all the time."
On moving to LA at a young age like her character…
"I was born in Georgia. My sister [Dakota Fanning] started first, so she went out with my mom to test it out. Me and my dad stayed behind. Then my sister got all this stuff and was doing movies and we were like, I guess we have to move to L.A. We just stayed. That's my home. I mean, I was so young. I'm a California girl."
On speaking to her co-star model Abby Lee Kershaw…
"In a weird way I kind of idolized [Abbey Lee] when I was young because I loved fashion. She had to teach me how to do the walk for the casting scene. I thought she was just walking, and she was like, 'No, there're rules to it. You can't move your arms. Lean back. Make your legs look longer.' It's so intense."
__
Catch Elle and Abbey Lee on Amazon's Style Code Live tonight at 9PM!