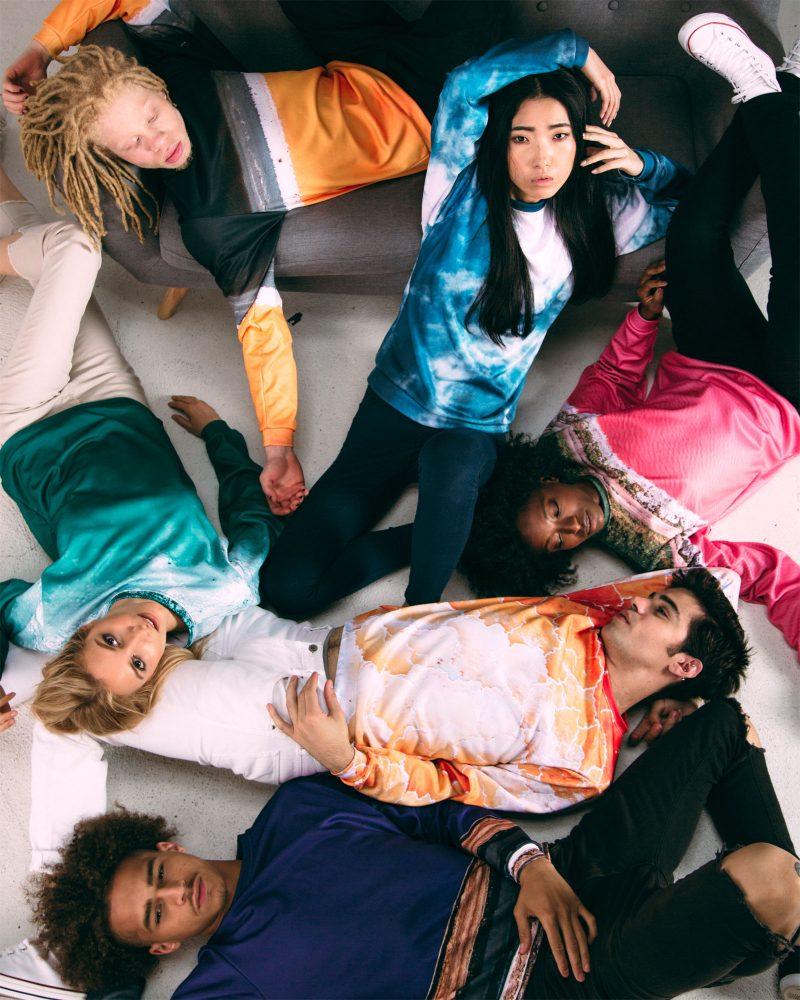 A new eco-inspired apparel brand that pushes fashion and art in the name of philanthropy is launching today, spearheaded by fashion vet Justin Stankiewicz, who's worked on the business side at top houses like Carolina Herrera, Max Mara, and Giambattista Valli. The company, called EIWIL (Enjoy It While It Lasts), will release collections, each of which is a photo-print of a photo by a regional/national photographer, with the subject benefitting from the sale. Stankiewicz fills us in on everything you need to know…
What sparked the idea for EIWIL? 
I'd worked in the fashion industry for nearly 10 years, and while I was grateful for those extraordinary experiences, I had always felt like something was missing on a personal level. A part of me yearned to help people in a tangible way, to unify in a time when we need it, to do something good for the environment and each other, and to make a positive impact that would benefit an underrepresented community, which in this case was the artist community. I took all of my savings and put it into something I would be proud of, that would 100 percent authentically be a reflection of who I am and what I care about: humanity, the planet, art, fashion, and philanthropy.
Tell us about your background.
As a child I used to tell people "I am from Lemont, Illinois, do you know it?" My brothers would make fun of me because clearly Chicago was the go-to point of recognition. I'd always had a soft spot for nature. I remember seeing a global warming commercial on TV in the '80s, like so many others I've come to find, that scared me so deeply, it left an indelible mark on me. In sixth grade I was my school's ecological commissioner, and I installed recycling bins and planted a tree in the school atrium or something. It was something I cared about.
Where was your first job?
It was in retail at American Eagle Outfitters in high school, and though I went to college for psychology at the University of Chicago, I'd always worked retail while interning because I enjoyed the people. It was a liberal and fun crowd where I felt both accepted and motivated. I moved to New York to work on Wall Street, but after a few early failures in misidentifying my career path, I ended up walking the streets of Soho with my resume and by a stroke of luck, I was hired at Louis Vuitton as a sales person in shoes. I worked my way up in designer retail in New York, taking a couple of years to work in corporate business in between, and I have had the unique privilege of working with some of the most prestigious names in the industry, from Akris to Giambattista Valli to Carolina Herrera. I would not trade that experience for the world.
What's the concept of the EIWIL?
EIWIL, which stands for "enjoy it while it lasts," means different things to different people. For me, EIWIL is a voice acknowledging the ephemerality of life in its most precious and fleeting nature, a nod to the environment and the state of our planet. To me, it signifies unity, togetherness, strength in community, those who may feel scared or disenfranchised, who want to stand behind support important causes but don't know how or need an avenue through which to do this. In tactical execution, this manifests by partnering with talented visual artists and photographers and sublimating their work over garments in the name of philanthropy. The images represent a vast gamut of visually inspiring everyday, real-life scenery, from ferris wheels at the carnival to aerial photographs of unique San Francisco Bay terrain to a flock of birds flying over Rehoboth Beach in Delaware. All contribute partially to the artist community and an associated nonprofit.
Who are some of the photographers you're working with?
I suppose, somewhat ironically, my store director from Louis Vuitton 10 years ago is one of my launching photographers. He has gone on since then to work for some esteemed houses like Chloé, Lanvin, and beyond, and his eye for photography is luxurious, sophisticated, and fashion-forward. I found another participating artist through discovering his book online. His name is Professor Charles Benton from Berkeley University who took aerial photos of the San Francisco Bay by flying a kite with a camera attached. My third designer, Angeliki Jackson (@Astrodub), hails from Greece and lives in Queens and is a marvelous and gritty urban photographer with a very elevated New-Yorker sensibility. Her work is really laser-focused and graphic and it works wonderfully on garments. It's an honor to have her onboard.
Why was it important to include a charitable element?
This is elemental to the brand. I hope this will always be a component of everything we sell because just buying clothing is so uninspired these days, almost meaningless. This part of our business rejuvenates the excitement behind buying, in some ways. It's not just about something hanging in the closet but feeling a sense of belonging and community in addition to aesthetic.
What has working for houses like Giambattista Valli prepared you for this venture?
Mr. Valli is one of the most incredible visionaries in this industry and one of the rare artists who materializes fantasy in couture and ready-to-wear. I think that experience was formative in terms of developing my aesthetic and appreciation for relevance in a relentlessly competitive industry, uncompromising romance, and unbridled imagination. Every designer for whom I have had the honor of working inculcated and pertinent industry experience, whether from impeccable customer service standards to integrity of design to commercial viability to growth strategy and beyond. All of this together is a reflection of what I tried to create with EIWIL, but at a far more affordable price.