Read today's dose of chic intel right here…
Edun to Cease All Operations (WWD)
LVMH is divesting its 49 percent stake in the eco-conscious made-in-Africa brand, which was founded by Ali Hewson and her husband Bono in 2005. They are selling their shares back to the founding couple and, for now at least, all business operations for the brand will cease. "In light of a joint review of the business, Edun is restructuring its operations in preparation for its next chapter and LVMH will transfer its shares back to the founders," said LVMH in a statement.
Away Raises $50 Million in Series C Funding (Forbes)
The smart-luggage start-up plans to use the money to expand their product line, open six new retail stores, and establish new markets around the world. Established in 2016, Away has already reached profitability thanks in part to their millennial-friendly marketing campaigns. Forbes estimates that the company has pulled in more than $12 million in revenue to date.
Melania Trump's Zara Parka Is Causing a Bidding War on Ebay (Washington Post)
Remember the jacket Melania wore to visit the children forcibly removed from their parents and interred in dog cages and tents? Of course you do. Who could forget? It said "I really don't care, do u?" There are now multiple listings for the jacket on Ebay, including one from a longtime seller in Chicago that is currently going for $895, with 39 bids and over 100 watchers. If you care.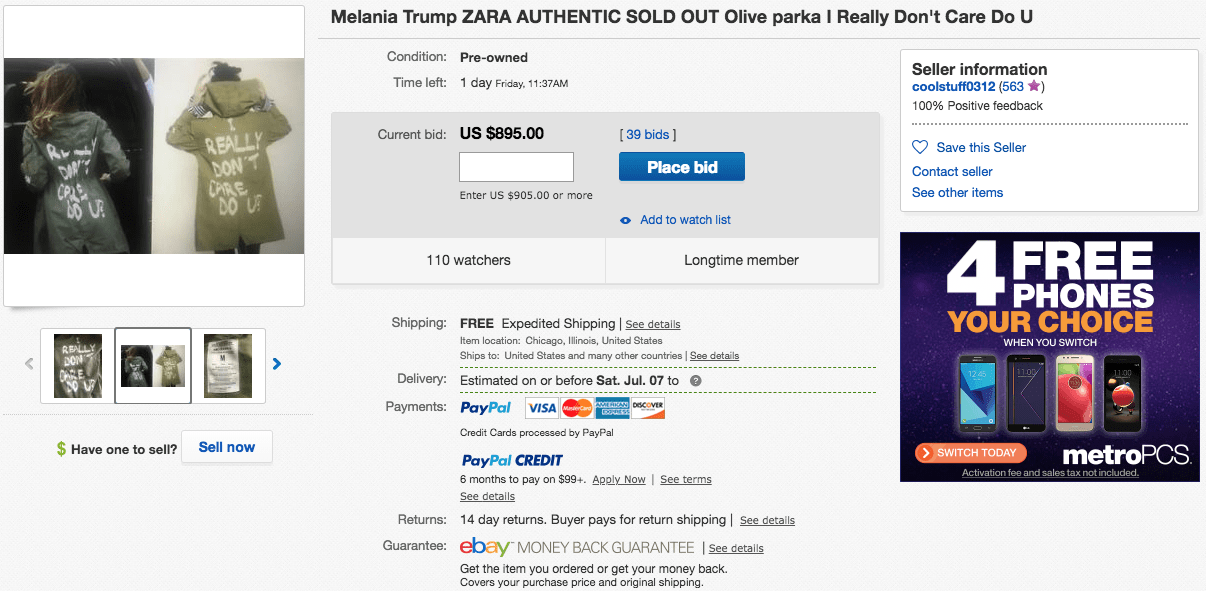 Kim Kardashian Made Tristan Thompson Unblock Her on Instagram
Looks like Tristan Thompson is out of the doghouse with the Kardashian klan, despite him cheating on Khloe multiple times during her pregnancyThompson, Kim, Kendall, and Kylie gathered yesterday to celebrate Khloe's 34th birthday, with Kim asking Thompson to unblock her on Instagram. "All right guys, what do you think? It's Khloé's birthday, should I ask this guy to unblock me?" she said in a video posted to her Instagram story. Thompson replied, "For Khloé's birthday it's only right. I got you."
Kim Kardashian's Event Designer Is Auctioning Off Items From Her Wedding to Kris Humphries (People)
In other Kardashian news, today and tomorrow, Premiere Props in Los Angeles will be auctioning off over 50,000 items from the collection of event designer Rrivre Davies, including pieces from the ill-fated Kardashian-Humphries wedding of 2011. The auction also includes pieces from events for Khloe Kardashian, Kaley Cuoco, and Jesse Tyler Ferguson.
Cinema Society Fêtes Ant-Man and the Wasp in New York
Last night, the Cinema Society, along with Synchrony and Avion, hosted a special screening of "Ant-Man and the Wasp" at the Museum of Modern Art. The follow-up to 2015's Ant-Man, the film stars Paul Rudd as the titular shrinking man and currently has a 90 percent positive rating on Rotten Tomatoes. Paul Rudd, Michael Douglas, Gina Gershon,  and more attended the screening before heading to the afterparty at The Water Club where they enjoyed specialty cocktails inspired by the film, including Quantum Realm, Ant-idote, and Wasp's Potion.
Subscribe to our newsletter and follow us on Facebook to stay up to date on all the latest fashion news and juicy industry gossip.