What happens when you take four male models to an art class to try their hands at figure drawing? We enlisted Parker Hurley, Henry Watkins, Toby Sandelman, and Bart Grzybowski from Soul Artist Management for a private lesson at the Artful Bachelorette. The boys took their education very seriously! 
Parker Hurley
What was your reaction when you got the call about this?
I wasn't sure if I was coming as a model or as an artist. I went to school for fine arts, so I got really excited about the idea. I brought my own supplies. I could have stayed for hours! I might give one to my girlfriend.
Would you ever pose?
Years ago, yes. Now? Not unless I got paid a good chunk of money. I have a lot of friends who are artists, and I'd pose for them, but I don't think I'd do it for strangers, because I don't know what they'll do with the image.
Have you ever been to a bachelorette party?
I haven't. I was telling my girlfriend yesterday that I've never been to a strip club or Hooters or anywhere like that. Apparently, I'm missing out.
You were recently in People's Sexiest Men Alive issue. How did they find you?
I got hit by a cab and had a full arm cast with a broken wrist. Every time I saw someone in the city with the same thing, I'd tell them I feel their pain and wish them well. I was at Grey Dog café and Jess Cagle from People magazine was there, and I told him I hope he feels better. We started chatting and then three months later my agency told me that I was chosen as one of the sexiest men alive. I was living in a cabin in the woods at the time and thought it was a big joke. That injury connected us. I doubt it would have happened if it wasn't for the injury.
What did your friends think?
They all said, "It's about time!" which made me feel really great.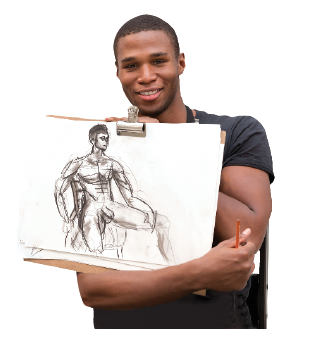 Henry Watkins
Have you ever done anything like this before?
Yes! At home. I've drawn female nudes. It's the same idea. We're living in a day and age where we should all be liberated with ourselves and be comfortable with ourselves. This is another step in that direction.
So no qualms?
I've shot nude before. I'm pretty comfortable in my body and around the male body in general. I'm always surrounded by a bunch of guys. I'm used to it. I was comfortable.
What did you think of the male model?
He was a cool guy. I was envious that he was out there in front of a bunch of straight dudes.
Toby Sandelman
How did you do?
I'm most improved! When I was in school, I got a B in art. That's decent, right? There's more of an artist inside of me now!
Cool with the nude dude?
Sure! You have to be comfortable as a model. Everyone's staring at you when you're walking down the runway.
Have you ever been to a bachelorette party before?
I haven't. I haven't even been to a bachelor party. Why aren't my friends getting married? That's the real question!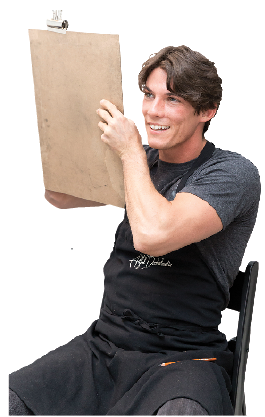 Bart Grzybwoski
Did you know what you were walking into today?
I knew we were drawing, but I thought I was going to be the nude! Then I found out, but I thought it was going to be a girl. Whatever!
How are you as an artist?
I used to draw a lot back in the day. I need some practice. That's for sure.
Have you ever posed nude before?
Not for an art class. Just for shooting.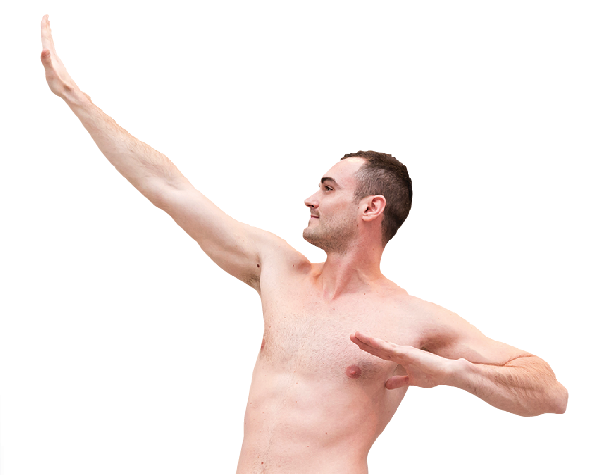 PLUS! Meet TJ Fink, The Nude Model
Interesting gig!
I love attention! I've been in the city for about eight years now and I've started acting and modeling. Fitness modeling is what I've tried to hone in on the most.
This is a little different!
It's not stripping. It's very much an art class. Every class has a different dynamic. Tonight is a hybrid! I used to be a mobile tech journalist! It's a very interesting form of self-expression and creativity and an outlet that I didn't expect to be comfortable with.
Do you go to nude beaches?
I haven't, but I wouldn't be opposed to it. I've never been around that environment. I've been to some European spas where everybody walks around naked. It doesn't bother me.
What's the funniest part of your body?
My skinny chicken legs.