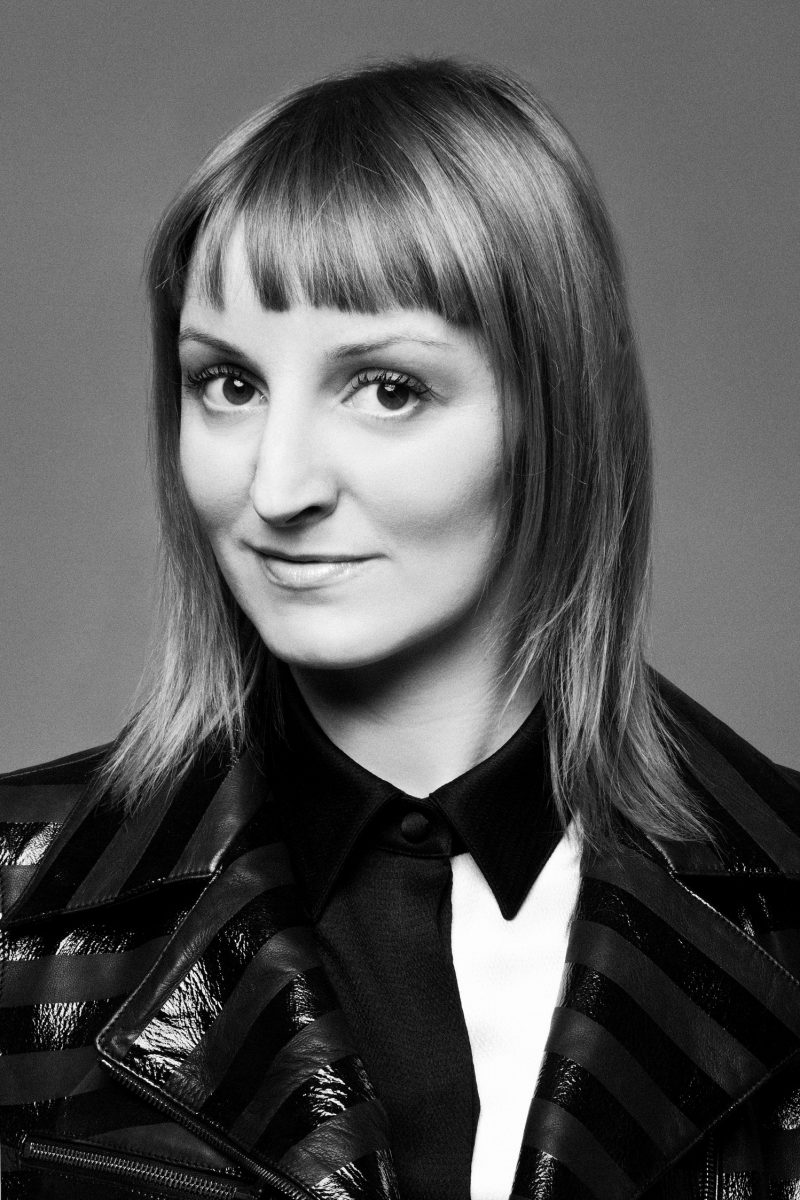 Marianna Rosati grew up watching her father, Ferrero Rosati, produce leather for everyone from Prada, Jil Sander, and Gucci to Neil Barrett and Fausto Puglisi. The latter two are produced under his current venture, Factory S.r.l., but it's Rosati's own label, DROMe, that is poised to be the next breakout hit. Founded in 2009, the label makes stunning sculptural pieces done mostly in leather treated in various patterns, textures, and vibrant colors. Since Rosati is working with her family business to produce the garments, the design, price point, and quality are a sweet spot. With major retailers like Luisa Via Roma in Florence, Selfridges in London, and Tsum in Moscow, Rosati already has the eye of fashion-forward consumers. In summer 2017, DROMe will open its first brick-and-mortar in Milan. Rosati fills us in on how it all started.
What made you want to become a designer?
I've always loved clothes and I've always been attracted to images and beauty. When I was little I used to dress up my dolls and give them different styles, names, and modify their haircuts or dresses. I guess it was my way of finding different personalities of myself and transferring them.
What designers inspired you before you began designing?
I love Balenciaga, for the use of materials, the study of silhouettes, and shapes, which to me are timeless. But I've loved learning about fashion and its history and to appreciate things in every designer or brand.
What was your foray into fashion design?
My father Ferrero started from nothing and built his own company—he always had big ambitions and dreams. He is one of my greatest inspirations. I studied a master course called "Concept Brand Image" at Polimoda in Florence, which is aimed at giving its students the possibility to create their own brand, starting from the mood, the name, the atmosphere, the collection, and its communication. It was very interesting! Then I worked for a brand called Santacroce. It was the company my father has owned from 1981 until 2008. Santacroce was producing its own brand and it was also producing leather for Neil Barrett, Prada, Jil Sander, and Gucci amongst others. Santacroce did partner with Prada in early 2000 and it was sold to the Bertelli Group in 2008, the year our new company called Factory was born. 
What does Factory S.r.l. do?
We are specialized in high-end productions and we give a great service to the customers. Factory owns DROMe and is now producing the licenses of Neil Barrett and Fausto Puglisi.
When did you decide to start your own label?
DROMe was born in late 2009 after my father and his associates decided to start Factory from scratch. I was given this incredible opportunity to build my own brand! I will always be grateful to everybody that believed in me and continues to recognize my work. This is an amazing opportunity that every day I try to honor. I decided to base the concept on what I knew best: leather. I thought that it is such a beautiful material that has not been used to its maximum capabilities, so I wanted to try to give it a different life and use my knowledge and my imagination to explore my vision through the material. I learned about leather mostly in the field. I've been working in material research, both leather and fabric, since I was 19, so I have collected a good amount of experience. When we decided to start DROMe I thought it would be interesting to focus on leather because it is a very unexplored material! I also want to expand DROMe into fabric and knitwear.
Why did you name it DROMe?
The name is mostly a sound that I love.  It doesn't have a precise meaning, but in the Scandinavian languages "drome" is associated with a dream. I also learned gypsy singing while studying theater a few years ago, and I learned that the nomad populations always used to sing during their travels. The continuous sound made of voices is called a "drom." They associate this word with a journey. That is how the name was born.
Where do you generally get your inspiration from?
I love observing the world around me and getting inspired by a woman talking, a man walking down the street, or by a dancer madly dancing her piece. I love dance and theater, so the energy that it creates is always a great source of inspiration to me.
Where did your love of theater and dance come from? Are you still involved in these art forms?
I have always loved the arts, performing art, and dance! I think it is something that comes from my heart. I don't have very much time right now, but I always try to use my free time to be involved in theater. I often work with theater director Firenza Guidi–she is from Italy but works mostly in England. She focuses her work on physical theater, circus, and performing arts, and I really love her work! I take part in shows and workshops as a performer or dancer.
Tell us about your recent collection. What were your references?
For SS17 I wanted to reinterpret a masculine silhouette, making it feminine and glamorous. I also looked at the '80s for detailing and atmosphere. I wanted to work with deconstruction and lightness.
Why did you choose to show in Paris instead of Milan?
Paris is the best platform for our collections. It is the most creative of all the fashion weeks. 
What is the price range of your collection?
$500 to $3,500.
Where can we find DROMe?
Luisa Via Roma in Florence, Selfridges in London, My Boon in Seoul, Reel in Shanghai, Tsum in Moscow, George & Lisa in Toronto, H Lorenzo in Los Angeles, and in NYC we are at Julian and Atrium.
You also do menswear.
DROMe menswear has existed since season one. It has always been a smaller collection, but it still has the essence of the brand that we are developing.
What's in the future for DROMe?
The future is very ambitious; we are about to open our first flagship store in Milan in Via Santo Spirito in June 2017.