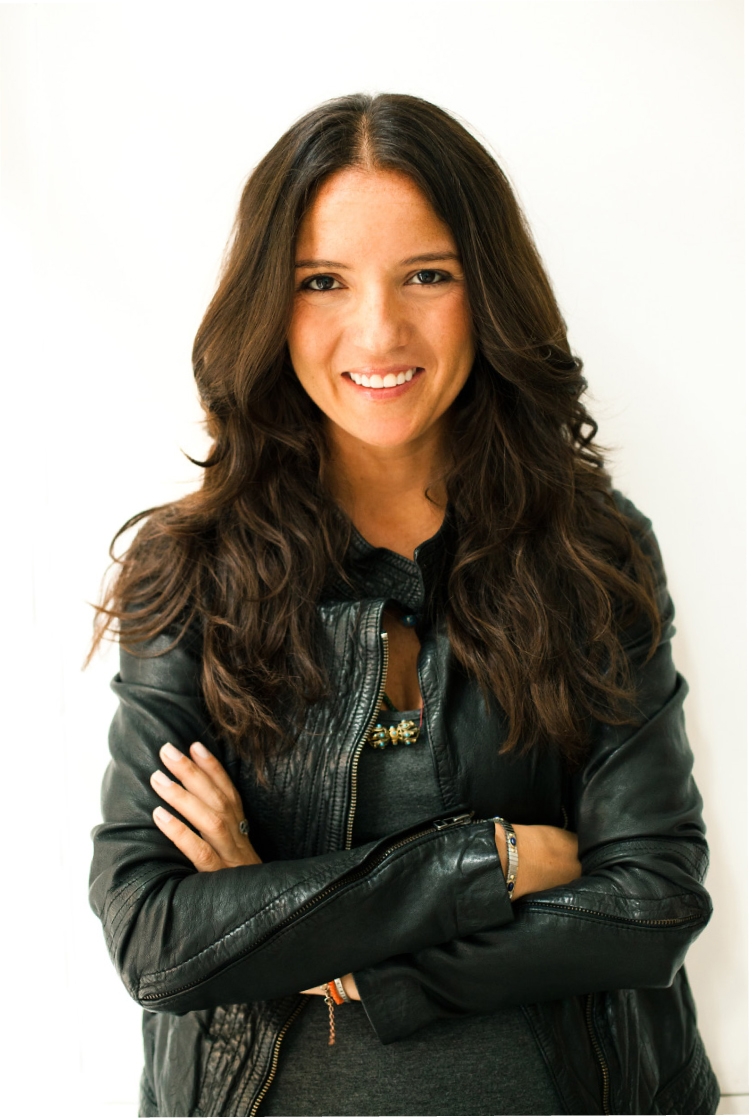 Khirma Eliazov, editor-turned-stylist-turned-accessory designer, is turning out It arm candy beloved by trendsetters like Sienna Miller, Blake Lively, Alessandra Ambrosio, and more. With her West Village boutique launching Khirma Collective—a seasonal pop-up collaboration with other designers—and with her brand's presence in 60-plus retailers, this fashion force has no plans of stopping.
Khirma, how did you find yourself designing handbags?
I used to be an accessories editor, and I freelanced at Vogue and Harper's Bazaar. Then I went into styling, working with with Heidi [Klum] on Project Runway, and I did brand consulting with Surface to Air and Levi's. But I always knew I wanted to create. I had a background in accessories, so I thought, how hard could it be? [Laughs] I had no background in designing or sales, or most importantly, production. Five years  ago, I walked into different tanneries on 38th Street and I was like, "I'm here to meet the owner." The owner would come out and say, "Do I know you?" I would tell them no, but that I wanted to make a brand and I needed to know about different leathers. Long story short, I picked all these exotics. I didn't know how to draw so I had a friend teach me. I found a sample maker in Brooklyn, but he never returned my calls, so I went to Brooklyn and rang his doorbell. Then came my first three bags.
What is your best-selling bag?
Our first best-seller was our Mignonne Pouch. The best-selling bag right now is the Herzog Clutch. Our buckets and the new saddle bag pre-sold out. I'm super excited about that one.
What has been the most surprising challenge so far?
When you're a young designer, and your idea isn't funded, you don't realize the challenges of cash flow and being an entrepreneur. You're an entrepreneur first and a designer second. I was surprised how it's much less glamorous than it looks. You have to really love being a designer to be a designer. Otherwise, there's very little reward.
What has been the brand's most exciting moment?
Getting into Bergdorf Goodman was one of my biggest dreams come true. Two years ago I was on the beach in Tulum, and I saw my bag on a girl I didn't know. It's really great when you meet people who are complete strangers wearing your designs. It reminds you why you're doing what you're doing.
The brand has a philanthropic aspect.
Melissa Kushner started Goods for Good over seven years ago, and a mutual friend introduced us. She told me about some projects that they have and asked if I ever wanted to donate a bag. I told her I'd love to go to Malawi and meet this community, and employ them to make a bag. So I went, and I designed a canvas bag that they could make there. They have 1960s Singers….like, pedal-pushers. So I taught their tailors how to make the tote; since they can't stitch leather on to canvas, I had to design a hardware mechanism that they could screw onto the bags. A large percentage of the proceeds went back to them.
What else do you have coming up?
The DeeDee saddle bag—I wanted to design a bag in all leather and see how it would be received. We're also going to launch The Leather Line at a lower price point—so no exotics, but it'll be textured.
What is your best piece of advice for aspiring designers?
It's important to have a point of view. Stick to it. You'll have a lot of people telling you, Do this, do that! You find your own way. I couldn't draw, I had never produced or sold anything, I had no funding, and five years later we have our own store in the West Village, we're in Bergdorfs, Saks, and we just got into Harvey Nichols Hong Kong and UK. It's totally do-able. You just have to believe in yourself.