New York gallerist Blair Clarke attended the Met Ball last night and writes in with of a few photos and memories of the event. Plus! Moskov creative director Khristine Catacutan reveals her inspiration for the gown and how that epic headdress came together. As we revealed last year, it takes a village! 
Dear Daily,
Time flies. I truly didn't think my dear girlfriend would invite me to this year's Met Ball…after all I wore a 20-pound floral arrangement on my head last year! Thankfully, she has a wonderful sense of humor and welcomed my walking bouquet. After the first Monday in May was highlighted with a neon yellow marker once again, I speed dialed the brilliant [creative director] Khristine Mejia Catacutan of Moskov and remained worry-free. I should have convinced her team to sleep over, as my hair extension "uninstallation" was intense!
The evening was magical, with silvery sensations near and far and historical eye candy in every gallery. The Temple of Dendur glowed with a brilliant purple tint as everyone melted into a Prince lyric. We ate royally and then danced and danced and danced before gobbling endless mini doughnuts and iPhone-shaped sugar cookies. Stepping down from the Met Ball's grand red carpet, we were welcomed with a fresh mist of light purple rain. I then went home to my apartment to take the extensions out of my head, uninstalling them myself, which took hours. Well worth it.
Time to run—I have Natasha Law's show to install in the gallery. Opening Thursday. No rest for the weary….
—Blair
Credits: James Coviello (headdress collaboration), Joseph Maine (hair), Rachel Shim (nails), Azra Red (makeup), Swarovski (crystal elements), Jimmy Choo (shoes), Rafe (minaudiere), and Eurotextil (fabric)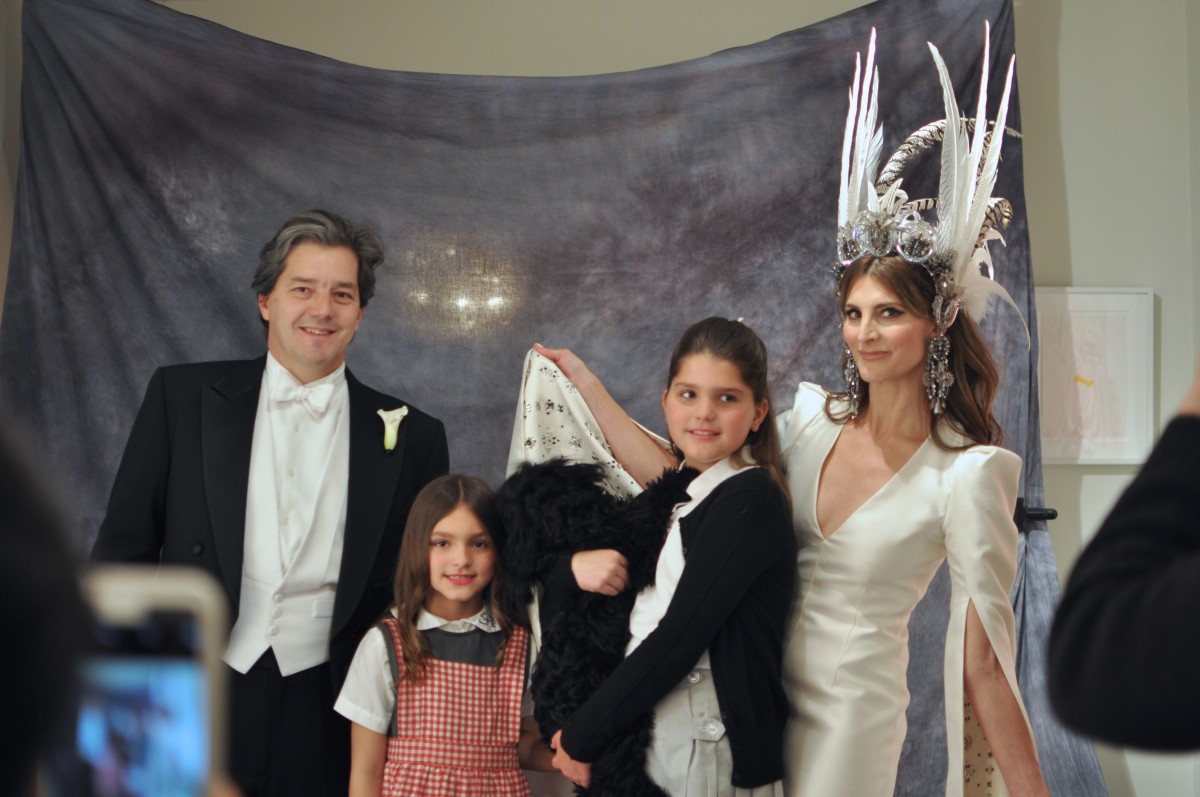 Inspiration, by Khristine Catacutan, creative director and designer of Moskov
The Costume Institute's exhibition "Manus x Machina" is a thought-provoking exploration into old techniques and new technology in dress-making—whether it be haute couture or ready-to-wear. We're lucky to have the talent, tools, and options to do almost anything in New York City.   The theme was exciting to think about, as I wanted to incorporate both hand and machine elements into Blair's gown. Blair is a dream to design for—she's sweet, gorgeous, sartorially adventurous, and appreciates the entire process. My initial thoughts went to Metropolis, Barberella, and of course, the Jetsons. Metropolis won out as I re-watched the epic silent sci-fi film. If you haven't seen it, it's a must—my favorite version is watching it with the rescore by The New Pollutants. Significantly relevant in many ways, it was the first film to be inscribed on UNESCO's Memory of the World Register.
Technology and the film's Art Deco, Bauhaus, and Cubist themes influenced the color, silhouette, and aspects of the dress design. I wanted to use a very specific white and had an idea about the structure, sheen, and hand for the dress. Naturally, I reached out to my friends, Leo and Luisa Tirado, at Eurotextil to develop and weave a custom-designed Italian silk shantung for me in Lake Como. It's the most sublime and sophisticated fabric—it's a shame people don't use it more often in evening. We went back and forth for months on the weave and dyes before settling on this white. Everyone thought I was crazy but I was comforted to learn there are more paint shades in white than any other color!
The multilinear set design and stark monochromatic colors really inspired me to create something dramatic. The dress incorporates a lot of the lines and art movements I found so compelling in the film. Working with Swarovksi last year, I was impressed by the range of shapes, styles and applications available. We were thrilled when they agreed to help out again this year. We are indebted to Swarovski for providing us with their special HotFix stones, sew-in, and fancy stone elements to make this dress sparkle. My team used a combination of techniques: computers to lay out the design, large press machines, and hand tools to affix the HotFix stones, and good old-fashioned hand sewing to create Art Deco design beading in the floor-length sleeves of her gown. The gown itself was sewn by both hand and machine.
Not surprisingly, when James Coviello and I met to discuss the jeweled and feathered headdress, his inspiration also came from Metropolis. We were in complete agreement about the feel and look of the headdress—a little old world, Art Deco, and modern. We wanted something organic to balance out the heavy gunmetal, silver, and tubing he created—there are white cranes and peacocks in the Eternal Garden of Metropolis—so we thought that would complement the headdress and give it the height it needed to balance the dress. He's an incredibly talented designer and I really wouldn't be able to pull off our red carpet looks without him.
Between other celebrities, Joseph Maine, who I have on speed dial, created Blair's soft wavy look and came back to expertly place the headdress into her hair. Rachel Shim is my favorite nail stylist—she crafted a white textured nail with a metallic line and Swarovski crystal highlights. The makeup had to be strong but subtle—Azra Red combined a beautiful nude and gray palette to play well with both the dress and accessories.
Last year I regretted not taking a more formal photo of Blair, so this year I enlisted my dear friends Alikhan and Radik to shoot a beautiful portrait. They are incredibly in-demand in Europe and Moscow so I wasn't sure if they would make it back in time. Luckily they just flew in and literally ran over to capture a gorgeous shot—it does not disappoint.
Finally, no dress is complete without amazing accessories. We were thrilled to work with both Jimmy Choo (the Lang heel is a modern classic and my go-to for the evening) and Rafe, whose Maryanne minaudiere is the epitome of style.
—Khristine