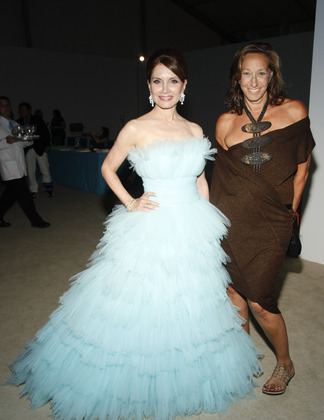 Dear Daily…Jean Shafiroff's Weekend In The Hamps
As we all wait patiently for this weekend to arrive, we can still hold on to the memories of last weekend's fun. Social Jean Shafiroff has written in with some memories and deets about the Southampton Hospital's summer party on Saturday night. Take it away, Jean…
Dear Daily,
This year marked the 55th year of the longest-running annual fundraiser in the Hamptons, for which I was honored to serve as Benefit Chair for the third time. Over 750 supporters of the Southampton Hospital joined Honorary Chair Audrey Gruss and I for the Forward to the Future themed party this past Saturday. We both coincidently arrived in aqua blue Oscar de la Renta dresses, but each had their own distinct look.
Once again the fashionable set came out in full force. Designers Donna Karan, B. Michael, Shoshanna Gruss and Marc Anthony all turned up to show their support for the Hospital and joined Jamee and Peter Gregory, Robert Wilson, Margo and John Catsimatidis, Somers Farkas, Yaz Hernandez, Kathy and Rick Hilton, Henry Buhl, Laura Lofaro Freeman, Howard Lorber, Sandra McConnell, Debbie Bancroft, Robert Chaloner and Jean Remmel FitzSimmons.
Together we helped raise over $1.7 million for Southampton Hospital, which will provide critical support for the new Audrey and Martin Gruss Heart and Stroke Center, and the Jenny and John Paulson Emergency Department.
Jean
The Daily Front Row
Seating you front row, taking you backstage & catapulting you into the world of fashion. Stalk us on twitter @DailyFrontRow, follow us at FashionWeekDaily.com and always be seated front row.