This weekend, luxury Swiss jewelry brand de Grisogono invited a group of editors and influencers from around the globe for a glamorous escape to the breathtaking Swiss town of St. Moritz. The trip celebrated Black Book St. Moritz, the latest addition to the jeweler's Black Book, which gives a unique look at everything that founder Fawaz Gruosi finds so magical about the Swiss Alps, from top resorts to secret addresses on the peaks to chic bites to art galleries to fashion trends. We got to experience all that the beautiful destination offers with de Grisogono, and documented our journey. 
Day 1:
Fresh from a flight to Zurich airport, we were transferred to Badrutt's Palace Hotel, a breathtaking and historic mountain resort in St. Moritz, where we stayed for the weekend. The property is so unique that it's hard to compare it to anything, but if we had to, it would be the Palace of Versailles in France, if we're talking architecture and decor. Suites overlook snow-covered mountains, and a gorgeous spa with a pool and hot jacuzzi make the low temps totally bearable. Upon checking in and ordering room service, we took a horse and carriage ride throughout the town, where we got a great glimpse of everything it offers—shopping like Louis Vuitton and Prada along with the "Intermixs" of the area, like Joy, hotels, landmarks, and the World Ski Championships site, which takes place in just a few weeks.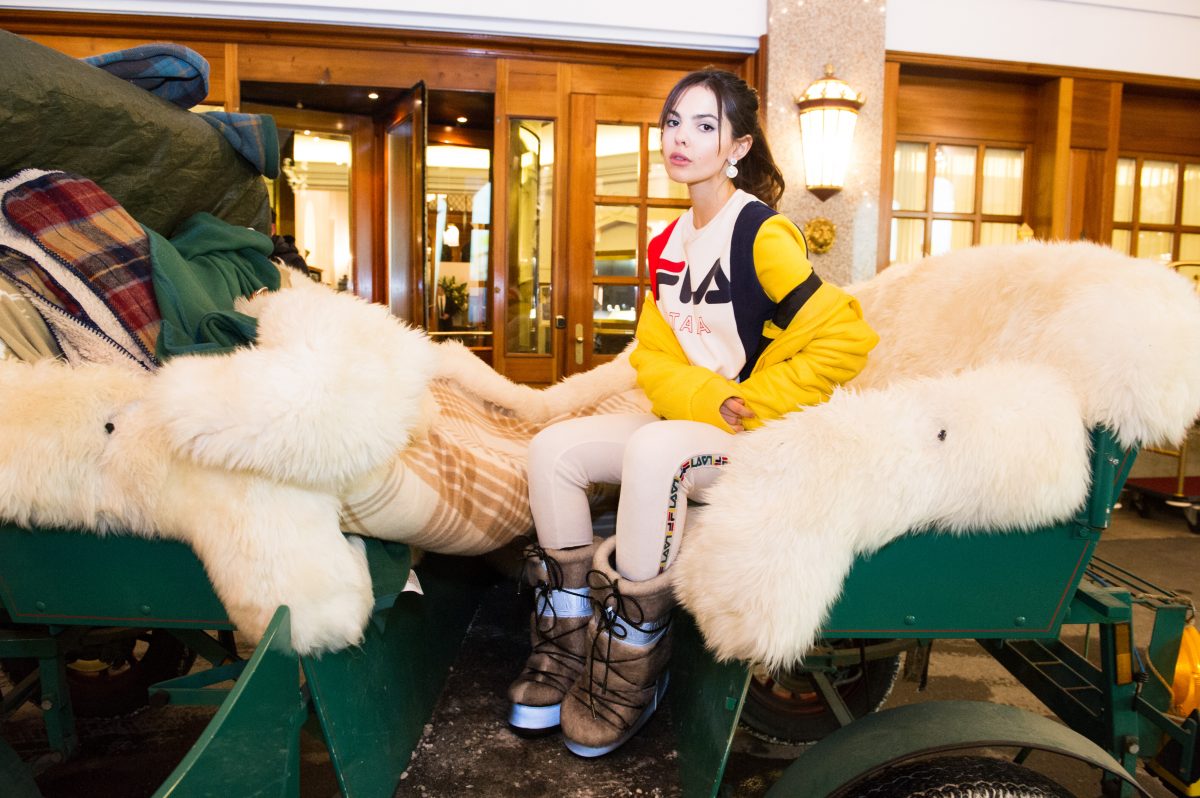 That night, we were brought to Vito Schnabel Gallery, which opened in St. Moritz in 2015. The gallery is currently exhibiting the work of American abstract painter Jeff Elrod, an exhibition of the artist's newest paintings, Figment, in which he employed both digi and analog processes. Blogger Tamara Kalinic and mod/influencer Doina Ciobanu, who were also on the trip, posed in front of the beautiful artwork in de Grisogono baubles. We ended the evening with a cozy and traditional Swiss dinner at Dorta, a local restaurant in a nearby village, including a spread of traditional sausage, lentil salad, beef and polenta, and yummy desserts.
Day 2:
Ski day! For some of the group, at least. While some hit the slope, others got some R&R at the spa before riding a ski lift to meet the rest of the group for a slope-side lunch at El Paradiso. On the menu? Fondu, traditional soups, the best bread we've ever had, and cappuccino, among other delicacies. Lunch was followed by a few rounds of the classic ice game curling. Afterward, we warmed up with hot chocolate and small sweet bites—how every afternoon should end!
Next came an evening of jewelry, jewelry, and more jewelry! De Grisigono has a boutique in the hotel, so we headed there for cocktails. We got to view and try on pieces from the new collection—as always, colorful, glamorous, elegant, and extravagant. The de Grisigono team allowed each editor/influencer to select a piece of jewelry to wear for the night, which was such a treat. We wore our selections for dinner at Igniv by renowned chef Andreas Caminada. The restaurant just opened a few weeks ago at Badrutt's Palace, and features a unique dining experience with what we felt like hundreds of little plates—yes, that's an exaggeration—of beautiful and totally delicious masterpieces, from start to finish. Post-dinner, the group danced the night away at Kings Club, the hautest nightclub in the Alps.
Day 3:
The trip was capped off with a morning cooking class at Badrutt's Palace, where we made Bündner Nusstorte, a traditional Swiss sweet caramelized nut-filled pastry with the hotel's pastry chef. Afterward, the group was transferred via helicopter to Zurich, where the amazing trip ended with even more gorgeous views and memories made. Many thanks to de Grisogono!
photo credit: Jeremy Spierer
photo credit: Jeremy Spierer