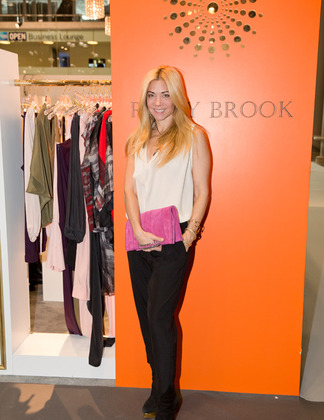 Daily Diaries: A Full Rundown Of Coterie + Sole Commerce
|
(NEW YORK) Last week, top-notch buyers scoured the floors of the Javits Center during this year's Coterie + Sole Commerce trade show. Over 150 new exhibitors rounded out the offerings, which included contemporary, evening, denim, bridge, accessories, TMRW, and Sole Commerce. There were more than 1,400 booths, featuring a chic global array of brands. "Also new for this season was the Coterie's debut of our digital platform, Shop The Floor," said Joanne Mohr, ENK's EVP. "[It] provided exhibitors the opportunity to present their collections and retailers to shop them before, during and after the Show." Your Daily got the scoop on emerging trends, fresh design talents, and how sales are going…
SCENE AND HEARD
Retail guru Andrew Rosen was spotted hitting the trade show floor. Scouring for the next Rag & Bone, perhaps?…Marchesa Voyage set sail for their very first Coterie, debuting a collection of colorful travel-apropos wares…Your Daily saw three booths showing their garb in yoga poses, including AG Adriano Goldschmied…Amour Vert was snap happy, thanks to the Coterie return of their photobooth! For every pic taken, the brand planted a tree. Needless to say, their booth garnered long lines…Those looking for networking opps or new talent visited the Fashion Jobs Lounge to post job listings and more!…Coterie was tech friendly with an ENK Social Media Lounge, where attendees shared what they were obsessing over this season…525 America is ringing in their 30th birthday this year. They plan to revive their men's collection, throw a party, and ramp up their social media activities. You don't look a day over 18, darlings!….Also celebrating a birthday? Ronen Chen is toasting their second decade in business with a spin on the runway at Tel Aviv Fashion Week…The New York-based Timo Weiland team joined forces with L.A.-based label Three Dots to present a bi-coastal collab. The shirts, which debuted at Coterie, featured a dark floral print…Les 100 Ciels made their Coterie debut with a splash. Their inventive and sumptuous cashmere pieces were lauded (and lusted after) by every retailer who stopped by…ENK's president Tom Nastos instilled some Coterie wisdom upon us: "We always want to have new brands, and ideally each year we add 10 to 12 percent to the show," he explained. "ENK's vision is always evolving, especially alongside the fashion marketplace. Every year, the show's becoming more global and on both the retailer and buyer side; we see a continuing expansion of people coming to the show from new markets…" Check out all of Nastos' industry insights here!

AND! Top Coterie Newbies to Know
1. Dark Level
Arden Wohl x Cri de Coeur
Dzojchen
Fabiola Pedrazzini
Frock + Frill
I. Madeline
Jill Haber
Katie Design Jewelry
Lan Jaenicke
Laveer
Loup
LoveShackFancy
Lucy Nagle
Marchesa Voyage
Nili Lotan
Pam & Gela
Pickett
Raw+
Sacha London
Theonne
Zynni Cashmere


PLUS! Brands Weigh In: The Scoop On Coterie Trends, Sales, And Much More…
Yamin Levy, Designer and President, Mystique: "We're doing some advertising [this season], as well as social media like Facebook, Pinterest, and Instagram. We also book appointments, but we have regular buyers who come here all the time; they know where we are."

David LaDuke, Founder, Laila Jayde: "We're proud to be 100 percent made in the USA. We're a vertical operation, so we own our own sewing plant and we make our own fabrics. We have a 100,000 square foot fabric facility and a 32,000 square foot manufacturing facility in Cerritos, California."
Ramy Sharp, President and Founder, Ramy Brook: "We're testing out some jewelry, in addition to bags. I see jewelry really fleshing out our collection. Right now we have some bracelets, but I'd eventually like to go into belts and really expand our accessories offering."

Denise Seegal, President and CEO, Magaschoni: "Our design team is inspired by what's happening on the runways and the fashions that are going on around the world. Trends come from everywhere; the art world, the music world. It's not just from fashion."
Liat Devr, President, Fabiola Pedrazzini: "There are tons of pockets in our bags and they're extremely light. And we don't feature any logos!"
–"We are now carried in over 450 boutiques. We've grown fast! And everything's knit, cut, sewn, and dyed in downtown L.A."
Andrew Gifford, Marketing and PR, 360 Sweater and Skull Cashmere: "Our prints tend to be our best sellers. Of course, skulls are in for us, but so are stars and stripes."
David Helwani, Founder, LaPina and Twenty: "My family owns a mill in Montreal, so we're able to use premium fabrics in both of the lines. The mill has been in the family for 35 years and we've produced for a number of top European and American designers for years. Based on the reputation of the mill and our use of the yarns, it really helped establish us in a different light."

Kim Failla, Account Executive for RTW, Josie Natori: "Our Ready-to-Wear customer is anyone who is in her late twenties and older. We're not pigeonholed into a certain age; there's something for everyone in this collection."
Chris Megale, Director of Sales, Woolrich White: "We've been around for over 200 years. Woolrich is known for being rustic and cozy. We do a lot of blankets, and we have the oldest operating mill in the country. It's important to keep that going."
Want to advertise in our next Coterie issue? Email Charles Garone at [email protected]. See you in September!