It was a couple of years ago that I first saw a Dagne Dover bag in the window of Bandier on the Upper East Side. Despite working in fashion, or maybe because of it, I'm not really much of a shopper, but I wanted this bag. It was blue and sleek and cute, but not in a twee way. It was made out of neoprene, so it had a great shape and sheen. The hardware matched the bag perfectly and the zipper was nice and thick. (I've been super into chunky plastic zippers ever since that Givenchy couture collection Riccardo Tisci did with all the blush pink gowns with the wide, neon zippers down the backs.) 
Flash forward a couple of years, and I feel like I see these distinctive neoprene bags everywhere. And rarely the same color or shape twice. This isn't the Mansur Gavriel bucket bag, which, despite coming in a rainbow of colors, I only ever seemed to see in black and, occasionally, brown. Sometimes the Dagne Dover bag I spot is an ash blue mini duffle. Other times, it's a grey backpack, or a moss green laptop bag. Whatever the color or silhouette, the monochromatic simplicity of the bags always makes them stand out, and, to me, makes their wearer look cooler and more polished just for having them. 
Recently, a friend of mine showed up to a class we were taking carrying one of Dagne Dover's neoprene backpacks. Despite loving the look of the brand's bags, I'd never actually handled one, so I took the opportunity to feel around and really examine the stitching and all the details. Eventually, I have to ask her to put it away because I was so into it that it was distracting me. "I'm so into this bag," I told her. "I gotta interview the designer." Cut to last week, when I found myself sitting on a couch in Dagne Dover's Soho popup shop at 419 Broome Street speaking with creative director and co-founder Jessy Dover about the brand she and her partners are slowly, but surely, building into a major player in the hyper-competitive accessories market.
It seems like your bags are everywhere these days. Where did you and this brand of yours come from?
Thanks! Well, I grew up in Colorado, but I moved to New York to study design and product development at Parsons with the dream of starting my own brand. I really didn't know at that point whether I wanted to do accessories or clothing or what would become of it. I just knew that I was good at building things and I loved to be creative and to help people.
So, how did you get into bag design?
I was a senior at Parsons and I decided to apply for the Coach Accessories Design Award. I didn't think I had a shot because I didn't have a lot of experience at that point, but I just did my best and ended up winning!
What did you do?
The project was you had to create a collection — not the actual products, because that would cost a lot of money — but sketches and a tech package; the kind of things you could then give to a sample-maker.
What was your collection like?
It was basically a dumbed down version of what Dagne Dover makes today — work bags made out of leather and canvas.  I still don't know how I won. I think it was because my stuff was very every-day and usable. That had been my goal.
What did you win?
Coach had this amazing program at the time where they would let you take that collection you had designed and they  would basically pay you to bring it to life using their fabrications. So I went in, created the collection, and basically spent the entire semester working with their design team and just kind of figuring out how bags are made. After that I was like "Bags are awesome. I love this!" Coach was a very successful company and until then, I had been hustling at fashion internships and, if I'm being totally honest, I felt discouraged because so many fashion brands were not making a lot of money. Everyone was sad and people were pissy because they had too much work and they couldn't afford to live in NY and it made me feel like maybe I should just go to business school. But then I graduated and I got my first job at Sam Edelman designing footwear and it was there that I met my partners: Melissa Mash and Deepa Gandhi, and we decided to start Dagne Dover. That was eight or nine years ago, now.
How did you actually get things off the ground? What was your physical work space like?
When I met them, Melissa and Deepa were both in business school at Wharton in Philadelphia, and so I would travel there and work remotely a lot. Once they graduated, they moved to New York and we worked at each other's apartments for the first four years until we finally, we got a small studio — probably 800 square feet — in the Garment District. We worked out of there until two years ago when we moved to our current space in Soho. It was definitely super scrappy and still is. We take pride in our scrappiness.
What products did you start with?
Our OG Legend Tote and clutch wallet were our first two products and we really only had those two styles for a very, very long time. Eventually, we got some traction, raised some funding, and started expanding the collection. Then, 2 years ago, we launched the collection that you are probably most familiar with: 365. That one is my baby because being from Colorado I've just always been very outdoorsy and loved sports. So even though I love design and fashion very, very much fitness and health are a huge part of my world and I wanted to create something that was conducive to those aspects of my lifestyle — something that was super-easy to carry, lightweight, and looked professional, but was sporty and performance-focused and just as functional as all of our other bags. So that's sort of where we are now. We also just launched our first baby collection, which we are excited about, and Fall/winter was just released, too.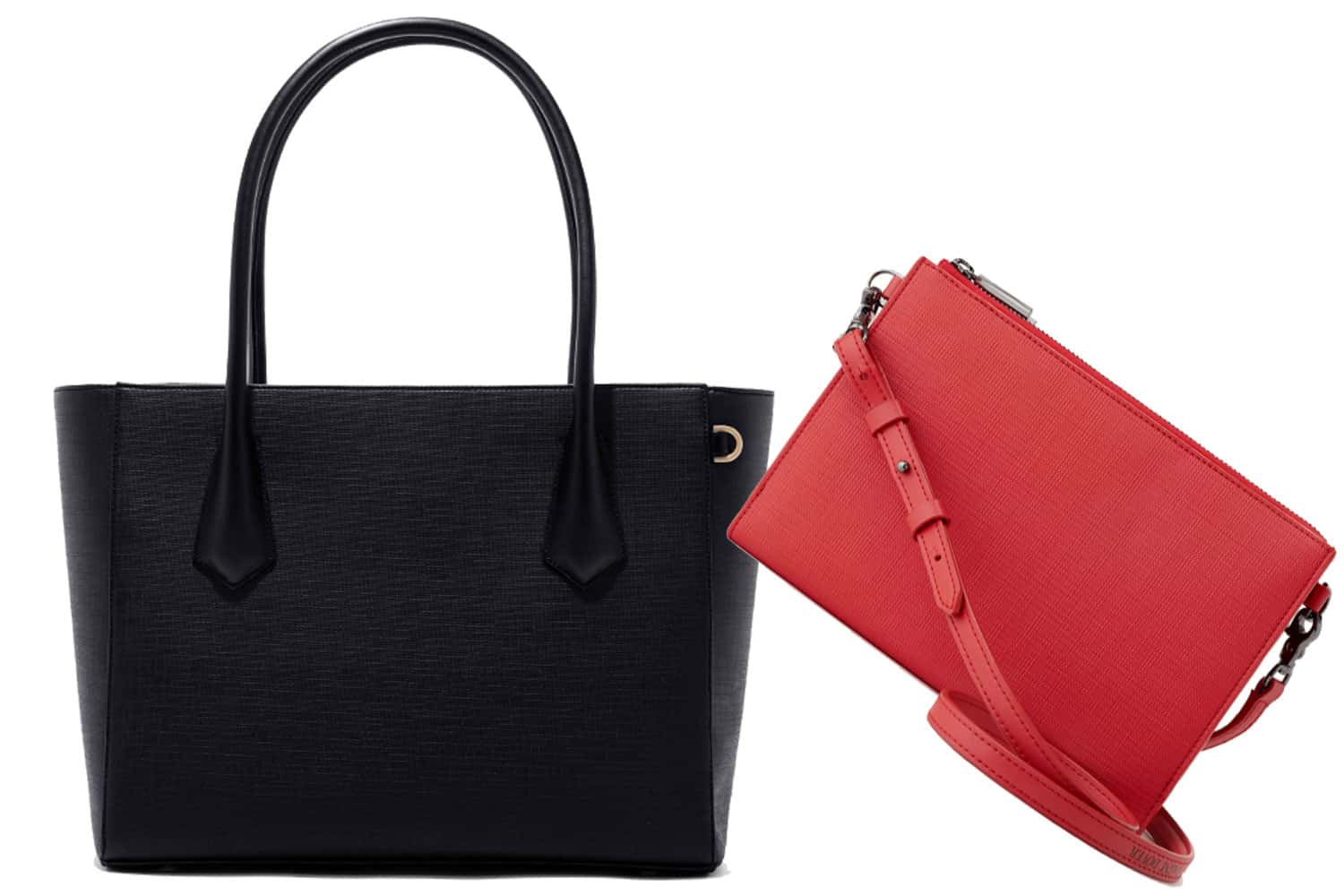 Legend Tote, DAGNE DOVER, $265; Essentials Clutch Wallet, DAGNE DOVER, $135
Where did the money come from those first few years?
Good question! As we were working on the business, we were also applying for every single award/grant/small-business anything we could get our hands on. We ended up winning a couple of awards those sustained us those first couple of years.
Wow.
It was really rough. I was bartending and the girls were doing other random odd jobs as well. I mean, It wasn't pretty at all. It's not like we surfed out of business school, raised 20 million dollars, and then started the business. It was more like, "Okay, none of us are independently wealthy, so let's build an amazing business plan and an amazing product, and then we'll raise what we can and go from there." Honestly, I wouldn't recommend doing it that way, because we really ran ourselves into the ground, but we didn't really have any other choice and we were at that stage in our lives were none of us had kids, we were just out of school, and we were like, "Now's as good a time as any."
We didn't even pay ourselves at that point in time, which was why we were all working other jobs and barely sleeping, barley eating, but we did it, you know? We got through it.
Were there ever moments where you were like, "Fuck, this is all about to fall apart!"?
Totally. Many moments like that. Especially when we were first trying to raise capital. Basically, we were selling our products so fast, we couldn't keep them in stock. But in order to grow, we had to pay for more inventory. But we didn't have the cash to do that, so we were meeting with all these investors, mainly dudes, who were like, "Well I don't get it. Why would a woman want a functional bag?" And we were like, "They are selling out! People want them. It doesn't matter if you get it or not; it's a great business opportunity."
It really felt like we were just banging our heads against the wall and there was definitely a time when we wondered if it was really worth it.
What got you through those moments?
Each other. We mentor a lot of other business owners and entrepreneurs now and the one thing I always try to impress on people is the importance of business partners and partnerships in general, because it's a lot to handle. Leading a business is like leading a family or a team. You go through hard times and you need someone there with you to be like, "Hey, it's okay. It's not a big deal. Let's just keep going." I feel like if I had been alone, I definitely would have quit, because it was a lot to handle, emotionally.
What do you think has been the secret to your success?
Again, our partnership. Also, I think we're super-duper persistent. If we launch something and people don't like it, we're like, "Okay, scrap it, let's do something else." Being able to see when something's not working, being really honest with yourself, and understanding that it's not you that's wrong, it's just that the thing you've created isn't working and that's okay. Sometimes it can be really hard to let go of things that just aren't working, but that's where I think having three people leading the company is so great, because you know the counterpart who can say, "I know you're really trying hard on this, but it's not working, so let's try something else." And then the important thing is just being mature enough to change gears.
It's also so important to produce a quality product, while still keeping the price low. You know, there's a sweet spot for every product and the value you're actually able to provide and if you're outside that sweet spot, it's just not going to sell, plain and simple. Look at how much money people make in a year, in general, in the United States, and just keep that in mind. Like, a lot of brands will charge $500 for a bag, but that is a lot of money for the average person it spend. And, yeah, it's difficult to produce a high quality bag for under $200, but it definitely can be done.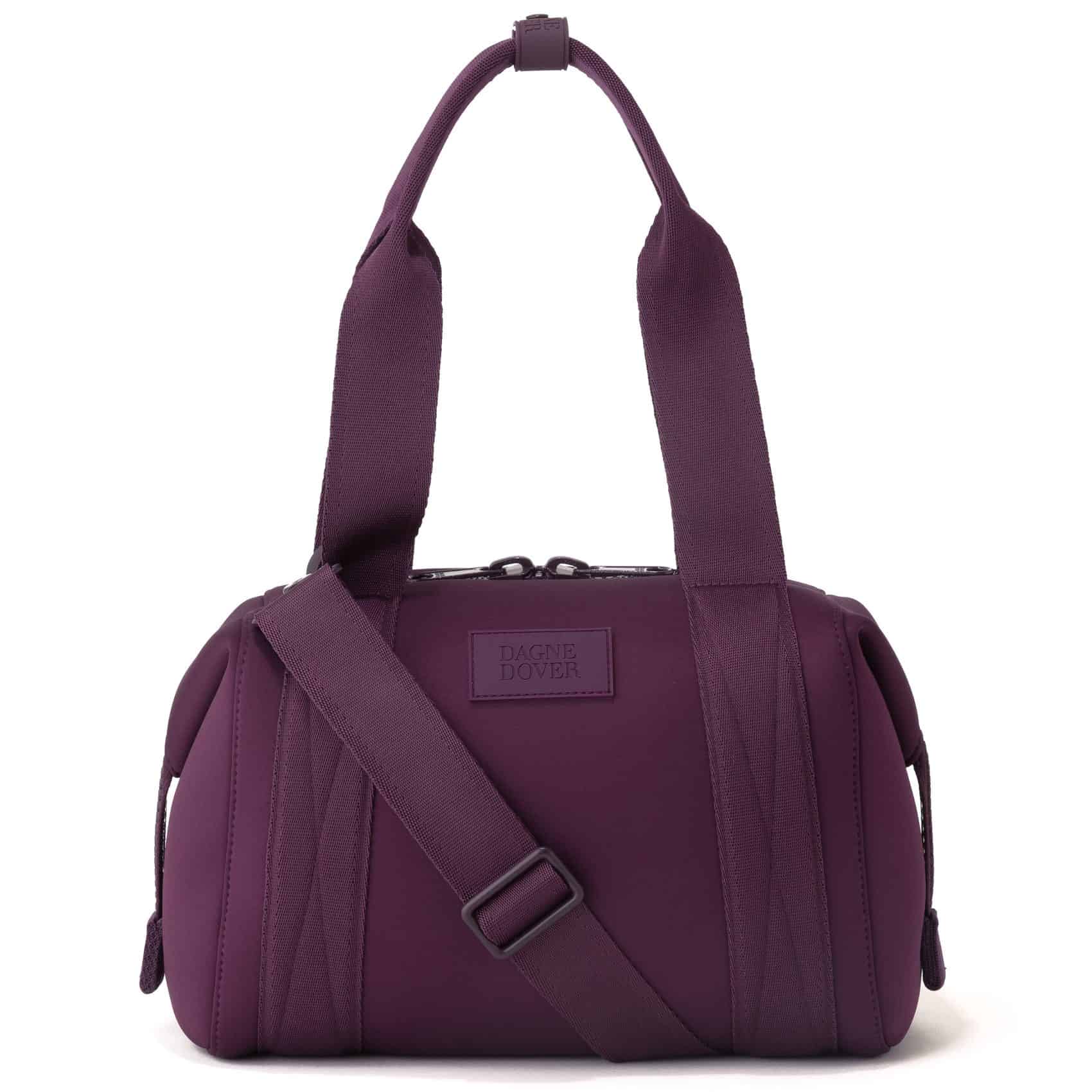 Landon Carryall Medium, DAGNE DOVER, $155
The colors of your bags are also pretty amazing.
Thank you! Color is really important to us. We pick our colors for the season and then we basically dye-to-match every single piece of trimming and every piece of hardware, which not many people do because it's expensive and it takes a lot of time, but I really think it makes a big difference to the overall appearance of the bag.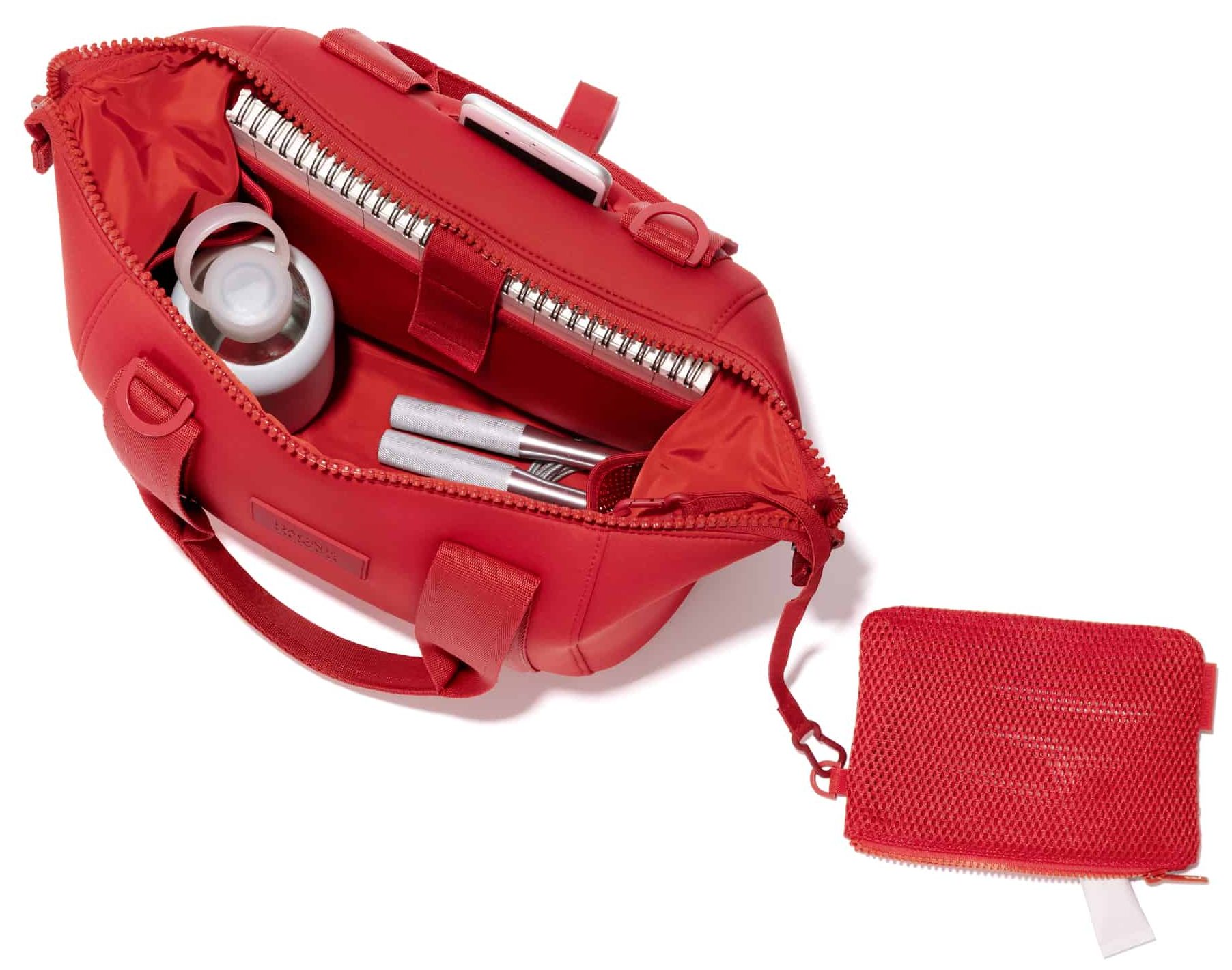 Landon Siren Small, DAGNE DOVER, $125
I also have to say that I love your zippers. They are so chunky and that move so smoothly.
Yes! We work with YKK. As far as zipper manufacturers go, they're honestly the best. They can create any color and it's always good quality. Nobody else will really do color with us, because we're not a huge brand — we're still only in the U.S. —so our volume is a lot less than, say, someone like Michael Kors. But they love us, so they're willing to work with us. It's hard, though. Everything is custom.
How long does it take to create a new bag, then?
It takes about a year, from ideation to the launch. Some things go faster, like wallets. Wallets are pretty classic, so there's not a lot of experimentation that needs to happen there, but for something like a tote with a lot of functionality — something that requires a ton of testing — that takes at least a year. Honestly, our baby collection took us two full years to design and the last six months were really just testing.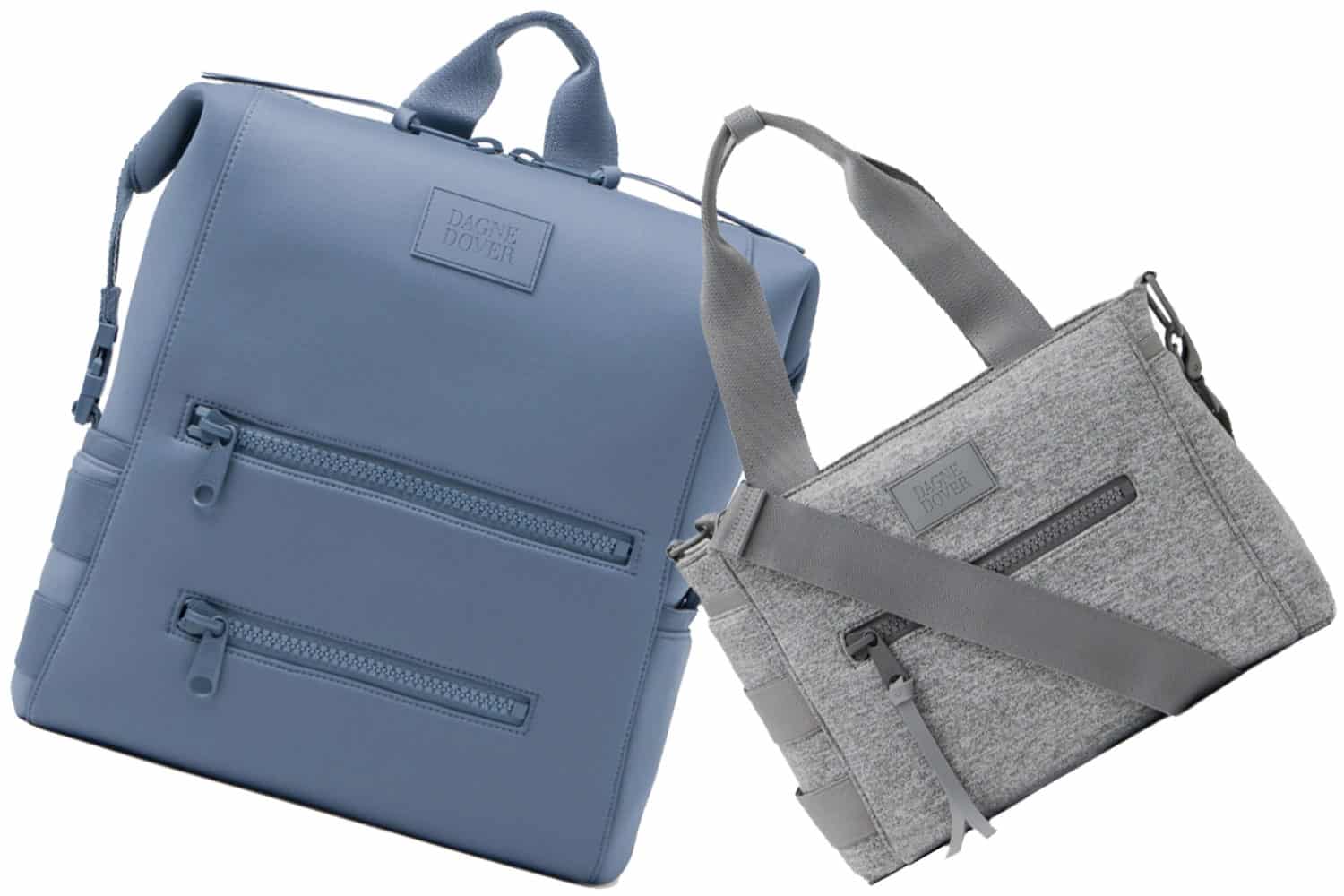 Indi Diaper Backpack, DAGNE DOVER, $195; Wade Diaper Tote Small, DAGNE DOVER, $155
Do you remember the first time you saw one of your bags out in the wild?
The first time, I was in a taxi and I saw one and I was like, "Oh, my god!" I rolled down the window to take a picture and as I zoomed in I realized it was my partner, Deepa. So, I was disappointed. But then, I was with my mom in Times Square and I saw a woman carrying one and I just kind of lost my breath. It was a very emotional moment, because, as a designer, looking at the numbers, I knew people were buying the bags, but seeing it on the street was different. Knowing that someone chose to spend their hard-earned money on something I created; it felt good. Now every time I see one of our bags I'm thinking, "Oh! We've got to create something new so people have something else to buy!" It's a beautiful moment, but very quickly I'm like, "Okay, time to get back to work."
When did you first start to feel like you had really made it?
I don't know if I've ever felt that way. I guess now I'm feeling like, "Okay, we don't have to push people to understand what it is that we're doing," which is great. But I don't know if I'll ever feel like I'm "done," really. It's more like, "Okay, what are we going to do next?" I do feel really excited that people are understanding the brand now and are coming to us and are excited for new launches and are super-stoked about our new colors, or requesting colors, or even requesting certain bags. That's actually why we launched the baby line. Everyone just kept telling us they wanted a baby bag.
I will say that my little brother — he's 27 — was always kind of like, "Your stuff isn't cool enough for me." But then this year he finally asked me for a backpack and I was like, "Alright, now, I've made it!"
Dakota Backpack Small, DAGNE DOVER, $135
What are your best selling pieces?
Our Dakota Backpack, the Landon Carryall, then our totes. Allyn is our classic work tote. And then all of our little wallets and things sell really, really well, too.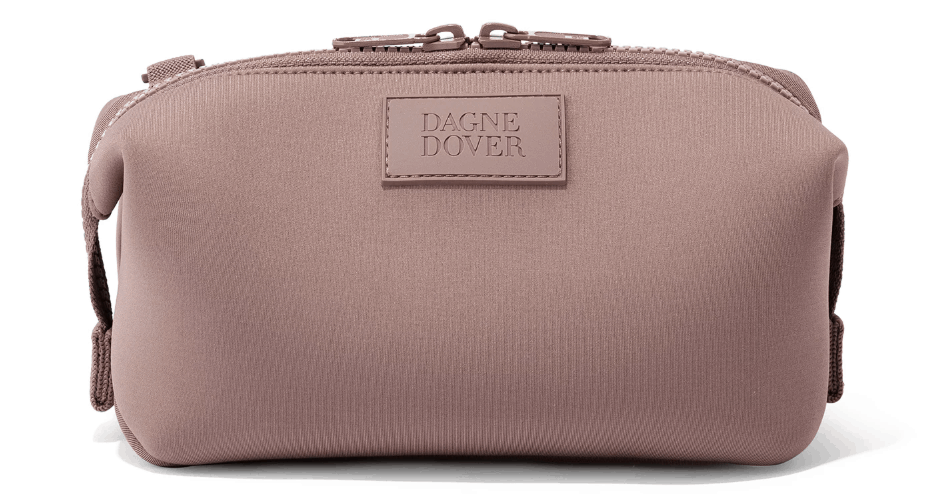 Hunter Toiletry Bag, DAGNE DOVER, $35
We're actually having a lot of success with our newest crossbodies. Crossbodies are notoriously really hard sell just, because theres just so many out there. Everyone makes a great one, to be totally honest, so we just decided to make a sport one and people are loving it.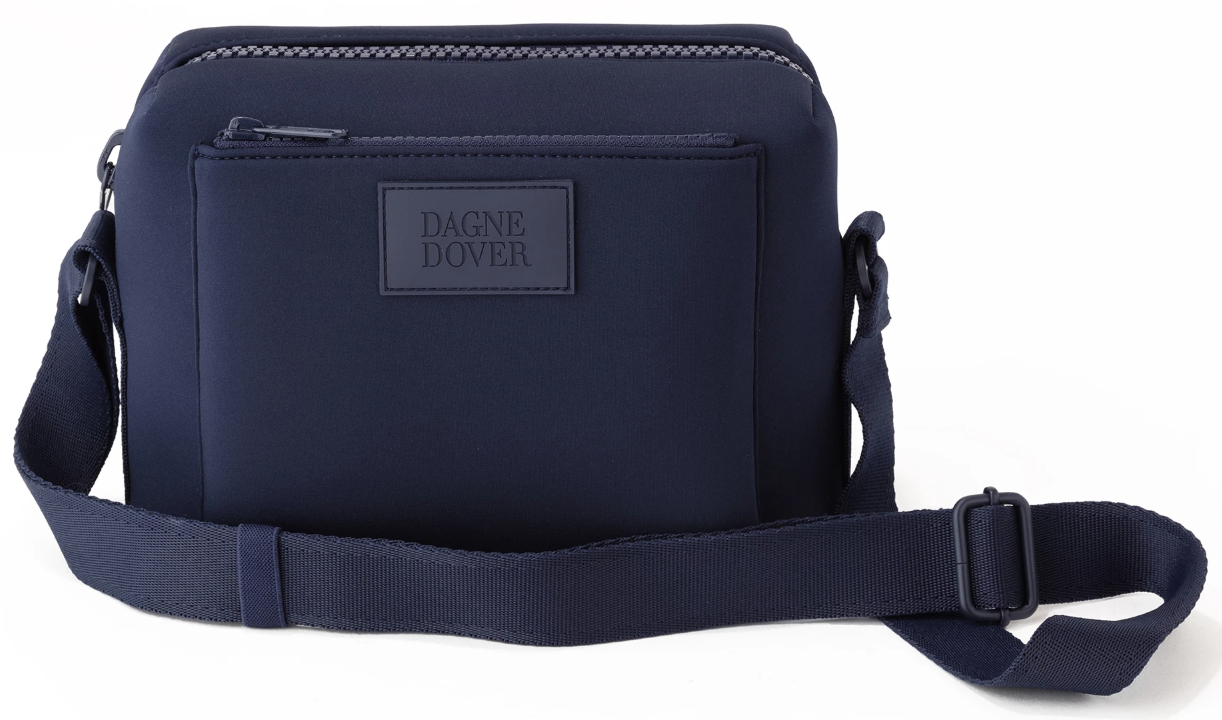 Micah Crossbody, DAGNE DOVER, $95
We also cannot keep our little tech pouches in stock right now. We did a partnership with Apple where we designed tons of product for them, but a lot of it didn't end up going into production, so after we had finished the project we were like, "Wait, these are actually pretty cool. Let's just finish them up and launch them ourselves." People just love them.
Arlo Tech Pouch Small, DAGNE DOVER, $35
You've already worked with Apple. Any other dream collaborations?
For me, Nike. Kith would also be really badass.
What was your first really big retail account?
For a long time, we wanted to be strictly B-to-C. A lot of people we talked to were like, "No! Huge retailers will kill you. They'll never pay you for your product. If it doesn't sell, they'll send it back to you." So we avoided it for a long time, but then I think our first retailer was Bandier. 
That's there I first saw it! At the Bandier on the Upper East Side. And soon I was seeing people carrying them all over the neighborhood.
Bandier was huge for us; probably bigger than we even know. And, obviously, Nordstrom has been incredibly impactful for us. Shopbop, too. And Stitchfix was great once we figured each other and what their customers really wanted. Because you know whats really interesting about these retailer? Their customers are just so different. And these buyers know what their people want, which is really cool for us, too.
Do you have any interest in selling your company ?
Not at the moment, no. I think, for the three of us, we started this brand because we love fashion, we love this industry, and we want to be able to work and be happy and create things we love. We're not ready to give it up. That said, you never know what's going to happen. Life changes and you can't always see what's coming. But, for now, my vision is to keep growing it and keep running it.
Subscribe to our newsletter and follow us on Facebook and Instagram to stay up to date on all the latest fashion news and juicy industry gossip.