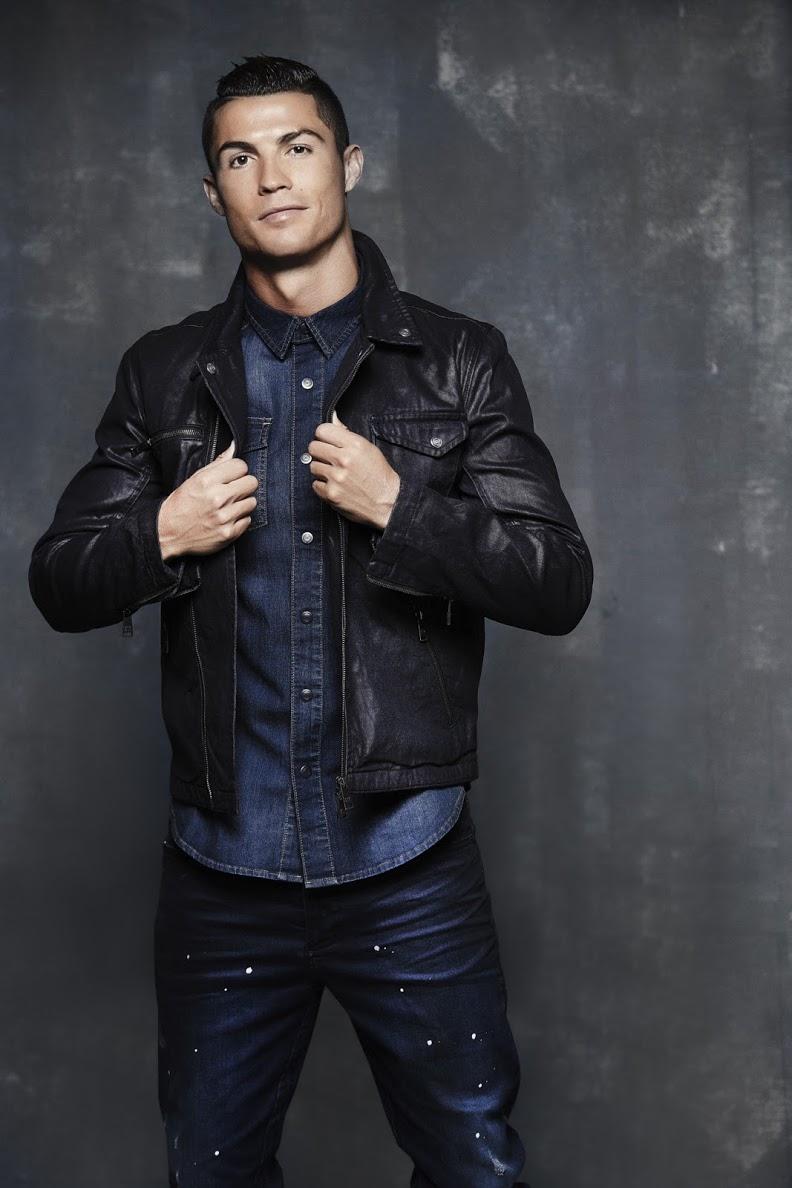 He's broken records on the soccer field and on social media, and now he wants to dominate on the fashion front, too. Cristiano Ronaldo, the forward for Spanish soccer club Real Madrid, is expanding his CR7 fashion label with the launch of a new category—denim—where he hopes to score just as many points in this venture as he does when playing soccer. He explains… 
Cristiano, what sparked your interest in expanding into denim?
I've always been a fan of denim—in many ways you could say it's my off-field uniform. A good pair of jeans are certainly the item I reach for most often from my closet. It was a natural progression for me to move onto denim.
How is your denim different from what's out there?
When I began exploring a denim line, there were two things I cared most about. The first was fit and comfort, and the second was price.  As an athlete, it can be hard to find denim that properly fits my build. I also live a very active lifestyle, and I would struggle to find denim that could keep up with that. With CR7 Denim, we use CR7 Flex, which enables movement and feels comfortable while keeping a stylish look. Price was the other thing that was important—I wanted to make sure that the collection was affordable and accessible while maintaining a high-quality design aesthetic. 
How involved were you in the design process?
I worked closely with the design team, and you'll see elements of my personal style in the collection, from color and fit to the finer aesthetic details. For example, white is my favorite color, so you'll see that throughout. While the collection is a reflection of me, it's not about looking like me. I personally like a skinny fit, but in addition to the Type-S, we have three fits for different body types. It's designed for a wide audience in mind.
When did fashion become an interest of yours?
I've always been interested in fashion. Just like any kid, I wanted to wear what was in style and cool. I've been very fortunate, in that as my career has progressed, I've had the opportunity to work with and wear a lot of incredible designer brands. That has only deepened my interest and understanding of the fashion world.
How do you describe your personal style off the field?
Casual and comfortable. Even when I have downtime, I am always on the move, so it's key to me that what I'm wearing allows me to move comfortably. When I'm not on the field, you'll often find me in a pair of jeans, a basic cotton shirt, and trainers.
Is your goal to have a lifestyle brand?
That wasn't the goal when we started, but certainly the philosophy behind CR7 Denim goes beyond jeans. It's designed for those who live a life without limits, who are constantly moving forward and progressing in life, working hard and reaping the rewards of that hard work, aspiring to live the best life you can on your own terms. These are my personal values, and I think CR7 Denim brings it to life.
Have you done any modeling lately?
I was certainly been busy modeling the CR7 Denim collection for the June launch!
You're the most-followed man on Instagram, and you even top Kim Kardashian. Why do you think so many want to follow you?
There's some level of celebrity that pulls people in, wanting to know what I'm doing at any given time. But on another level, I hope people are identifying with me as a person. I didn't get to where I am overnight—it's taken a lot of hard work and dedication, and I think that a lot of people share that or at least aspire to share that same work ethic. Maybe they also realize that at the end of the day, I'm just human and we're all similar and share many of the same values.
Who do you follow on Instagram?
I primarily follow friends, teammates, and family. My schedule tends to get very busy, very quickly, so Instagram is a great way to stay updated on what's going on with people.
Do you have a strategy when it comes to posting?
My strategy is just to keep my friends, family, and fans entertained and up-to-date on what's going on with me. I like to provide them all with a little glimpse into my life.
What have you been up to this summer?
Practice never stops, and I have some games scheduled, but I'll be taking some personal time with friends and family.