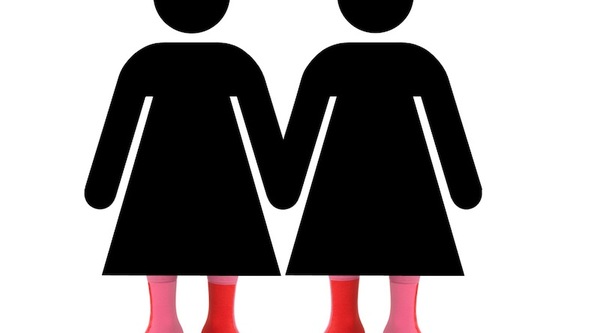 Correspondence We Actually Received: All About Socks
|
Straight out of Germany comes the most creative tribute to socks we've ever read. Coup Public Relations sent us this tribute to socks and a pitch for their Minga Berlin socks. We're sold!
Socks: the most underrated pieces of clothing ever to exist
For some reason, mentioning that you have to buy a pair of socks appears to sound as unsexy as saying you have to go wax your back hair. And speaking of sex, what was ever wrong with lovemaking in socks?
Well, we believe that socks do indeed have a very erotic purpose…
First of all, they're soft and warm. Like a hot baked cherry pie, like a soft pink tongue on a popsicle, like a fluffy moist cavity in between the legs… any noun evoking the two adjectives 'soft' and 'warm', should automatically equate 'sex' to any functional hormone possessor.
So that's why we have decided to challenge your perception of the smelly socks lying at the bottom of your laundry basket, because marketers never tell you this, but feet are far from being the only parts of your body that deserve your socksy affection – they are also the longest lasting clothing accessories to exist due to their easy recyclability in the magical world of DIY!
Since they are often undervalued, this allows you to stretch, cut, twist and knit the life out of your old socks to turn them into day to day household essentials. If you're not very creative, read on, as we have decided to do half of the work for you.
Here is a list of reasons why should never (and we really mean EVER) dispose of these little beauties just because they reek a little…
1. They make the perfect substitute scarf
Scarves are probably number one on the list of most forgotten items in restaurant & nightlife institutions.
We've all done it before. It's an accessory that's only bought for practical purposes, only adds more things things to take-off once you finally reach indoors, it's easily transferable which in other terms means, easy to steal, and its just a plain boring accessory anyway.
With a drawer full of socks, scarves will no longer be just a piece of clothing, but now a piece of art.
They could also remain around the neck once indoors to then make a substitute necklace. It will still remain an accessory made of your old socks, which basically means that no one in their right mind would even consider taking that away from you. Lastly, it could be added into any conversation with your friends about how you just found yourself a new hobby…
2. They make amazing pockets
If there is one fashion 'faux-pas' which actually manages to make croc shoes appear quite decent, it's trousers with fake pockets.
I just don't get it. What is the point. It's either they're there, or they're not. Period.
And come on let's face it, in this accessory fuelled day and age, pockets should surely be in higher demand – mobile phones, digital cameras, earphones, loyalty cards, chewing gum, condoms…if you don't want to carry a bag on you one night, you're pretty much screwed.
Well the good news is that, your best friend the sock is here to teach a hard lesson to all those sacrilegious jeans.
Just give two of your favourite matching socks a good iron (or two different pairs to show your amazing individuality) cut them to whichever length you want, (the longer, the deeper, the more it can hold) give the inner side of the sock a nice tight sew to the jeans, and "Oh my gosh, you now have pockets!"
3. They are a natural contraceptive
No seriously, it is do-able. When you really weren't expecting to get laid that night, and as a result forgot to shave, brush your tongue and pack a condom, there is always a last resort.
Ok, I know what you're all thinking – the fabric must itch like a bitch, but allow me to seriously sell this one to you. Some light organic fabric socks such as Minga Berlin, have a very delicate material which is thin enough to stick to the skin whilst moist. Do I need to say anymore?
Between an unwanted pregnancy and an unorthodox method of protection, I choose the latter. Your choice.
4. They make a positive statement
Each pair of Minga Berlin socks comes with a different message and individual story; the rich colours and patterns are certainly not put together by accident.
The deep blue and yellow stripes zig-zagging down the "picnic anarchy" line of socks, state the high confidence and trust in the European Union despite the current EU crisis, whilst the "Bubblegum Fiesta" model also includes a polychromatic option of pink and red – a marriage of colours that has made a big come back thanks to the recent logo by The Human Rights Campaign in support of Gay and Lesbian marriage. The logo of the latter went absolutely viral on the internet, as Facebook users traded their "duck faces" with the double pink bars splashed on the deep red background to show their support of the cause. Minga Berlin found, in true Berlin fashion, a more fun, physical and transportable way to share their own support of homosexual marriage and parenting.