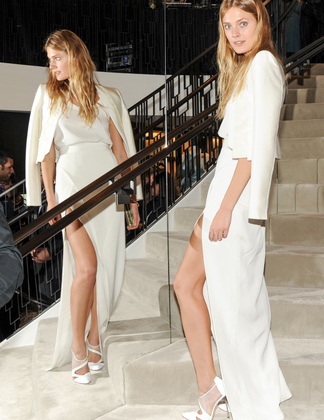 Constance Jablonski J'adores Citi Bikes, Avoids Spinning
|
For a wheel-y good time, call Citi Bike savant Constance Jablonski! The mod recently filled us in on her riding M.O.

What's your favorite invention of 2013?
Citi Bike.
Are you into spinning, too?
I'm not. I hate Soul Cycle! But I tried the Citi Bikes a few weeks ago and they're amazing. I'm French, and in Paris we've had [bike shares] for a long time.
How do the Velib' wheels in Paris compare to NYC's Citi Bikes?
They bikes are all broken in Paris. Citi Bikes are shiny and new—people really take care of them. Nobody's destroying them here.
Not yet, at least! Do you get scared of biking in New York?
Definitely. I'd never bike on busy streets.
If you do ride around the city, where do you go!
On the west side. I don't have the helmet and everything, so I worry about getting into trouble…