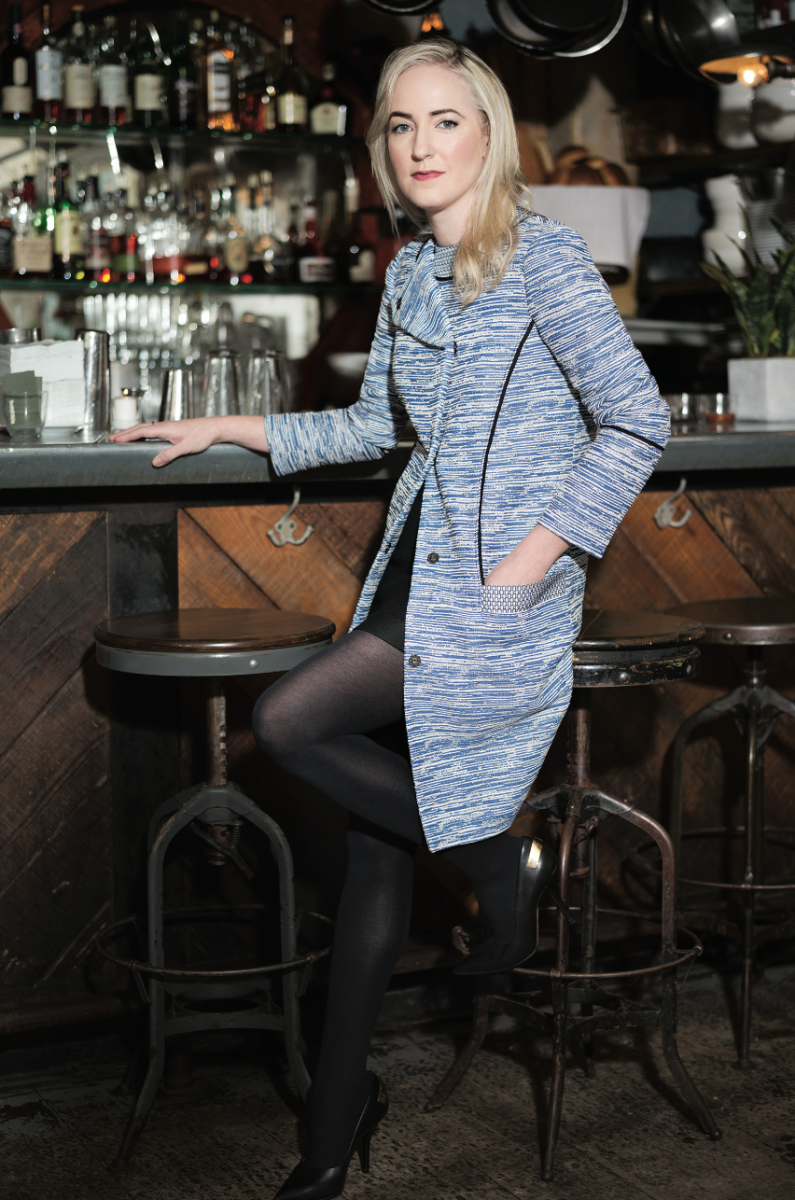 Sarah Meikle landed at Condé Nast Traveler in October as the rejiggered, wanderlust-inducing title's new fashion director. Meikle dissects her stylish travel uniform, her new gig, and other chic matters over tea and ricotta toasts at one of her local haunts, Tribeca's Smith & Mills.

Backstory, please!
I've been at fashion magazines my entire career, starting at Glamour as an assistant under Ruth Whitney. Then I went to Seventeen and Teen Vogue before going back to Glamour, where I spent eight and a half years.
What was appealing about this Traveler gig?
It was the magazine, the book, and the team that made me really want the job. Pilar [Guzmán] approached me about this opportunity, and it sounded like a unique experience. The magazine is just beautiful, and the photography is exquisite. I was a photography and art history major in college, and I cannot get over the quality of imagery in Traveler.
Did you know Pilar well before taking the job?
No, but we have so many friends in common. Pilar and [creative director] Yolanda Edwards have been working together forever, and they can finish each other's sentences. Their team has worked together for years, from Cookie to Martha Stewart Living to Traveler. It feels like a family here; it's an amazing place to be.
What's it like to helm the fashion coverage at a travel book?
Our readers live the ultimate luxury lifestyles, and they need to be equipped with inspiration and insider information in all the areas that interest them—food, wine, hotels, transportation, design, and of course, style. Our fashion pages always tell a narrative, because we look at style in a broader context, covering trends while always keeping in mind how fashion interacts with our readers' dynamic, globe-trotting lives. It's a really exciting approach, and one that truly reflects how so many people are living today.
What kind of stories are good Traveler fodder?
We're looking at designers who have deep travel knowledge and find travel inspiring. We recently produced a feature on Josep Font of Delpozo, who's from Barcelona and has his headquarters and studio in Madrid. For our March issue, we did a story on Tomas Maier and his love of Tokyo. It's not about Tomas's Italy, or about Bottega Veneta, or about his namesake line—it's about his passion for travel and how that influences his collections.
Will you be traveling much for your new gig?
I'll be going to Milan for Fashion Week. This is my first season covering it in this job, but in the future, I think there will be room to cover other cities. I'll also be traveling for certain stories.
Any dream destinations?
Morocco, Vietnam, and Cuba are at the very top of my list.
What's the greatest travel experience you've ever had?
Two years ago, my husband and I took our three young kids on a Northern California road trip over the winter holiday. We started off skiing in Lake Tahoe and ended up swimming in Palm Springs. We drove somewhere new every two days, listening to books on tape and singing songs. We stopped along the way in San Francisco, Mill Valley, and Bolinas, a sleepy surf town. We also stayed at the Madonna Inn on the Pacific Coast Highway, and went to a Clippers game in Berkeley. I'll never forget those memories.
Do you have a travel uniform?
Definitely. I'm obsessed with Nili Lotan army pants, sneakers or oxfords, a blue or blue and white striped button-down, a thin sweater, a blazer, maybe a fun scarf, and a hands-free, cross-body bag. And I love a good peacoat. My style is sort of taken from the boys, with a bit of a twist. That's basically my uniform all the time, though not necessarily during Fashion Week.
What's the absolute best suitcase?
Well, I resisted the roller bag for so long, until I realized it was ridiculous! Now, I love Globe-Trotter, a British company that makes vintage-inspired suitcases that have a slightly hidden roller aspect.
Who are your fashion pals?
April Uchitel [chief brand officer of the Spring app], Nacole Snoep [VP of PR at Calvin Klein], and Rachael Wang [market director of Style.com]. Malia Mills and I used to live together in Tribeca, when I was the fashion director at Seventeen. We collaborated on so many things together then, and she's still a very dear friend. And Anne Christensen is an incredible person—I always look forward to seeing her.
Non sequitur: Your brother-in-law is Jimmy Fallon, right? Tell us more.
Ha, yes! He's really into food, so we have very interesting Thanksgiving meals. There's always a lip-synch battle and karaoke competition—without the words, so you have to know the songs by heart. You have to be very confident in your karaoke skills, which I'm not!