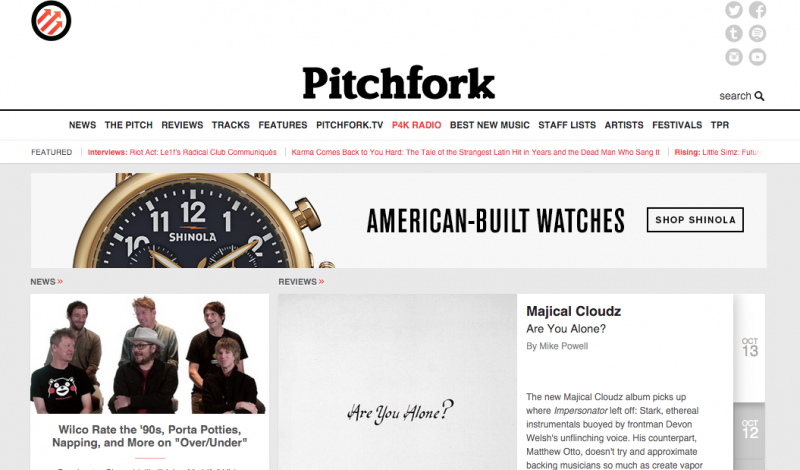 Condé Nast Acquires Pitchfork Media Inc.
|
Condé Nast announced today that it has acquired the music vertical Pitchfork Media Inc. in an attempt to expand the media conglomerate's digital network. Pitchfork was founded in 1996 and is best known for its music-oriented editorial, original music video content, quarterly print publication, and annual music festivals in Chicago and Paris. "Pitchfork is a distinguished digital property that brings a strong editorial voice, an enthusiastic and young audience, a growing video platform, and a thriving events business," said Condé Nast president and CEO Bob Sauerberg.
Pitchfork staff will report to Fred Santarpia, Condé Nast's chief digital officer, who led the acquisition. "Music content is one of the most prolific genres of content on the Web," said Santarpia. "The acquisition of Pitchfork reflects Condé Nast's continued belief in the power of authentic editorial voices to engage influential audiences at scale." Pitchfork is the only property within the Condé Nast portfolio whose coverage focuses solely on music. "Pitchfork is incredibly fortunate to have found in Condé Nast a team of people who share our commitment to editorial excellence," said Ryan Schreiber, founder and CEO of Pitchfork. "Their belief in what we do, combined with their additional expertise and resources, will allow us to extend our coverage of the artists and stories that shape the music landscape on every platform. We're honored to become part of their family." Pitchfork's monthly audience has grown to over 6 million unique visitors and it has a social media following of over 4 million. In the last five years, Condé Nast has increased its digital audience from 17.2 million to over 84 million unique monthly visitors.