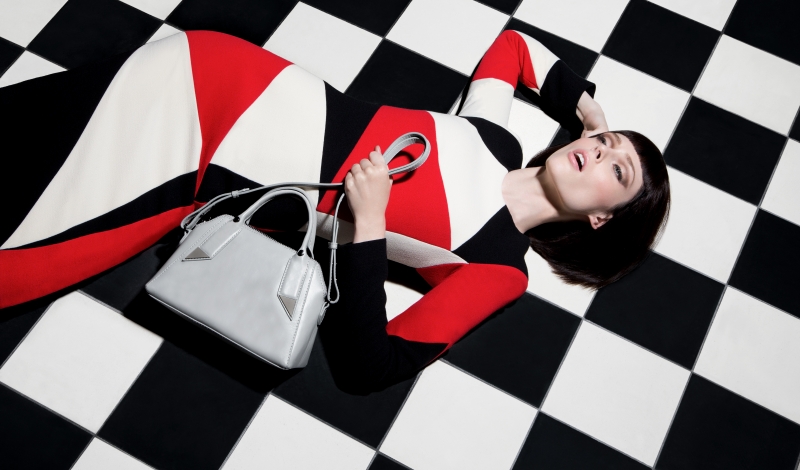 Courtesy
Coco Rocha: Bag Lady
|
This just in: Botkier New York has tapped Coco Rocha to design an exclusive Holiday collection of bags, which hits stores next month. The capsule consists of six styles, and it's just the beginning for Rocha, who is already working on collections for Spring and Fall 2016. We rang her up to get the scoop on her side project and sneak some questions in about life as a mom.
How did you and Botkier come together?
They approached me and my team, which was very exciting. I've done a few collaborations in the past with accessories, and I was excited to try bags and give my point of view. Sometimes models get a bad rap for trying something out of the box—you know, 'stick to modeling because that's your thing'—but I was determined to try my own thing and prove people wrong.
How involved were you in the design process?
When I'm given an opportunity or project like this, I always remind the group that I am not one of those people who sticks my name on something and never sees the product and doesn't talk about it until it's made it and I accept it. So from day one, I was very hands-on, to the point where I am probably annoying, but I want my aesthetic and point of view to come across. I think people know when they're being sold something that's not from the person or individual that they thought it was from, and I am one of those people, too. From day one, I was picking the leathers, and I had my inspiration board for the shape of the bags. [Botkier] has a great team who took my little scribbles, got what I wanted and accepted what I wanted. They brought me in to have a point of view.
We understand that the bags were inspired by your four favorite cities—New York, Paris, Milan, and London.
I've been in this industry for about 13 years, and I feel like I have learned so much and have watched so many designers. I thought it would be an appropriate homage to them and these cities—New York being kind of the cool kids and the fresh new designers, Paris being your classic chic, Milan being your lovers of leather, and then London being the hipster.
Have you been using your bags all the time?
I have! It's important to know what is functional and what is not, and [discover] what we should improve for the next season. The best way to do that is to use them yourself. You realize, 'Oh, this should have had an extra pocket,' or, 'This zipper isn't working the way I want it to.' Botkier, of course, already knows kind of how it should be—they have been working on [bags] for years. I have to say thanks to them. I haven't found a problem yet.
Who shot you for the campaign?
Sophie Elgort. When I started modeling, I worked with her dad [Arthur Elgort] a lot, and she was always there shadowing him, but we never had the chance to work together. I was very excited to finally get to do it! The bags have a lot of geometric shape to them—I like clean lines—and we wanted the photos to represent the same thing.
How's motherhood treating you, by the way?
Motherhood is great! She's the best little baby that I could possibly ask for! Especially with all the traveling that we do. She is so patient and up for anything.
How is she sleeping?
She sleeps 10 hours a night! I don't know how that happened. People like to ask, "How did you sleep train her?" I didn't do anything. She's teething right now so that is, of course, frustrating for a little baby, but she's so good. I know—so many moms think their baby is the best, but I really do think mine is the best.