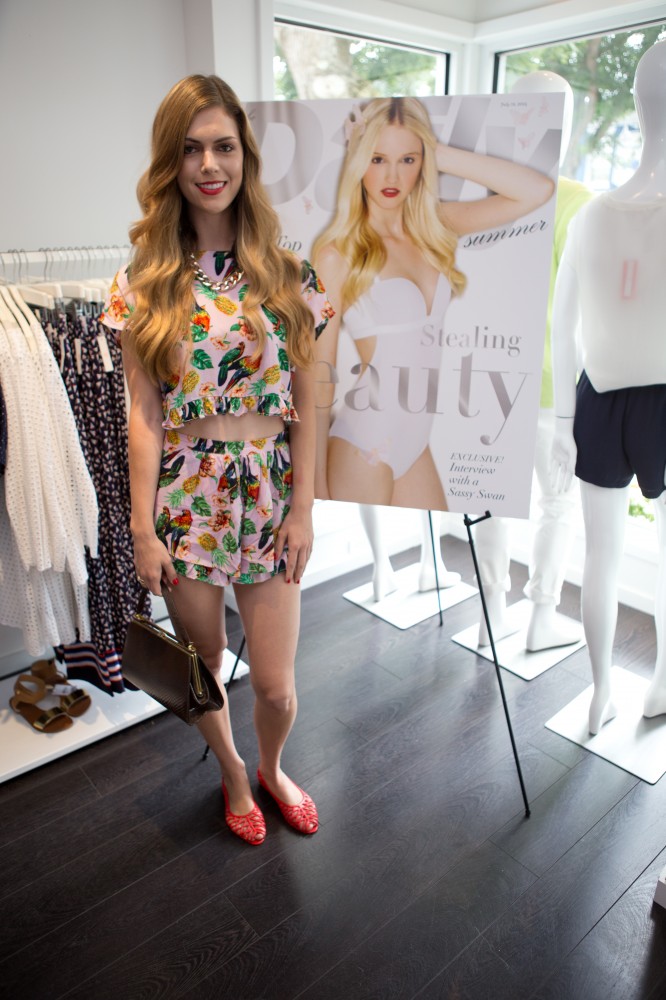 There are plenty of stylish shoppers to spot in the Hamptons, but where does one find the best of the best? At The Daily Summer's Chic of the Week bash at Joe Fresh in Southampton last weekend, of course! Without further ado…
Name, age and profession, please!
Sarah Lorraine White, 28, daughter, sister, friend and mother of two beautiful cats.
What's on your Joe Fresh shopping list?
That safari silk shirt, white straw sunhat, and polka dot ruffle dress.
What are your fave fresh fruits and veggies?
Strawberries and yellow squash.
Farm stands are huge in the Hamptons. Are you a fan?
They're all rather darling!
What's the freshest song of the summer?
"You and I" by Lady Gaga.
What's your top Hamptons memory, ever?
All of last weekend, which included truth or dare at The Surf Lodge, dancing to '80s and '90s music all night at Ruschmeyer's, karaoking at a friend's house in East Hampton, shopping in Southampton, frolicking through Channing Daughters Winery, spending all day on the beach, having girl talk at Southampton Social Club, and going to Cyril's four days in a row, where we swing danced.
What does your beach entertainment consist of?
Playing in the waves with my best friends, Kristen and Pauline, eating breakfast wraps, drinking iced coffee, and listening to us sing our favorite songs.
Which luxurious items are on your fall shopping wishlist?
Ralph Lauren Collection's Miranda Jersey Evening Dress, paired with Giuseppe Zanotti Alligator-Detail Satin Sandals, and Judith Leiber's Couture Satin Coffered Rectangle Clutch Bag.