A quick culinary break from our regularly scheduled fash programming! We got busy in the kitchen with Morgan Curtis, who designs gorgeous underpinnings under the name Morgan Lane and calls Jill Stuart mom, and her longtime pal Samantha Wasser, creative director at Esquared Hospitality, which includes delish downtown Mexican spot Horchata. The duo turned up the heat on Horchata's burners to whip up Salmón en Tamarindo, one of the resto's top dishes. (These pals are pro-heels in the kitchen, clearly.)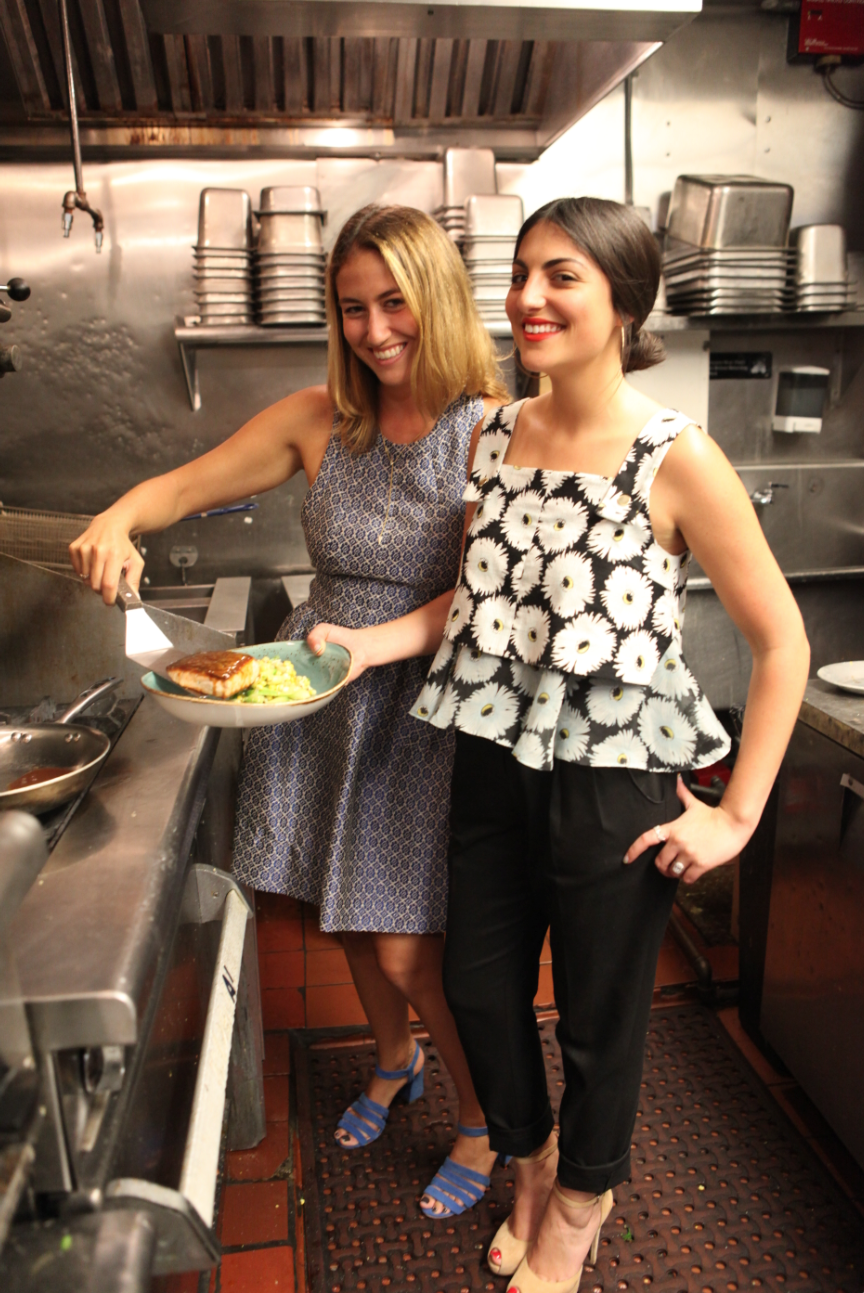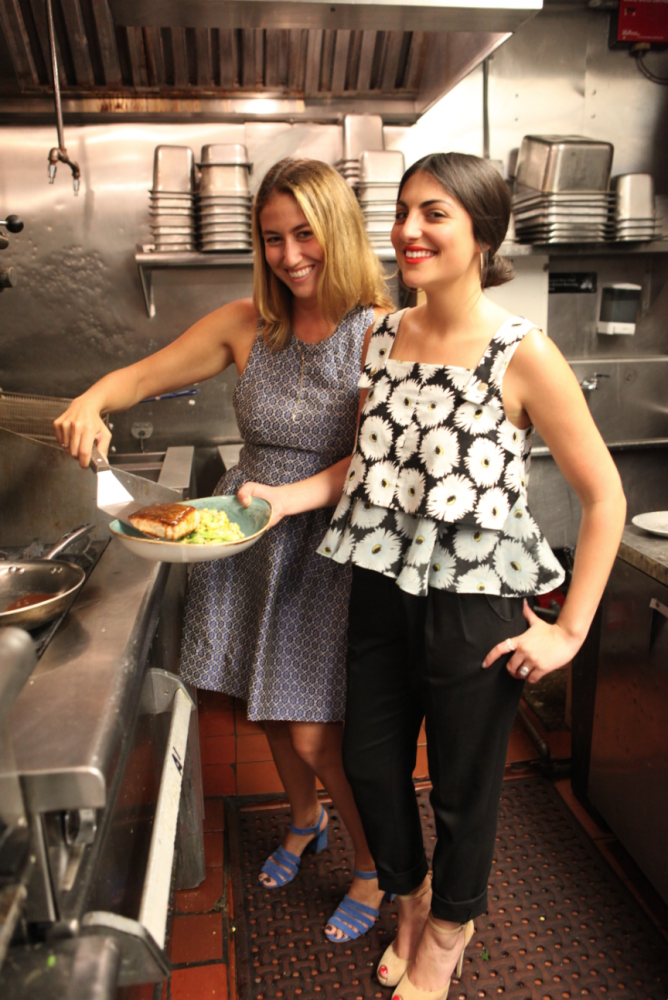 Horchata's Salmón en Tamarindo 
Ingredients (Serves 1)
7         oz.        Salmon fillet
¼       cup       Tamarind glaze (see below)
½       cup       Grilled Ccrn, off the cobb
½       cup       Zucchini ribbons (make with a peeler)
½       cup       Crema fresca
1          tbs.     Jalapeño, diced
1          tbs.      Epazote, chiffonade
Butter and salt as needed

Directions:
1)    Sear Salmon to rare (internal temperature of 120 degrees). Brush on glaze and place in a 350 degree oven for 4-5min.
2)    Meanwhile sauté roasted corn kernels in 1 tbs. butter. Add the jalapeño and cook another 2 min. Add zucchini ribbons and cook another
2 min.   Finish with crema fresca, and epazote. Season with salt.
3)    To plate: Place glazed salmon on plate.  Place corn and zucchini next to salmon. Drizzle any remaining tamarind glaze on salmon and around the plate.
Tamarind Glaze (makes 1⁄2 Cup; approximately 2 servings)
1⁄4 cup Tamarind Paste
2 tbs. Soy Sauce
2 tbs. Dark Brown Sugar
2 tbs. Lime Juice
1⁄2 tsp. Chipotle Puree
Directions: Add all ingredients to a bowl, stir well to combine.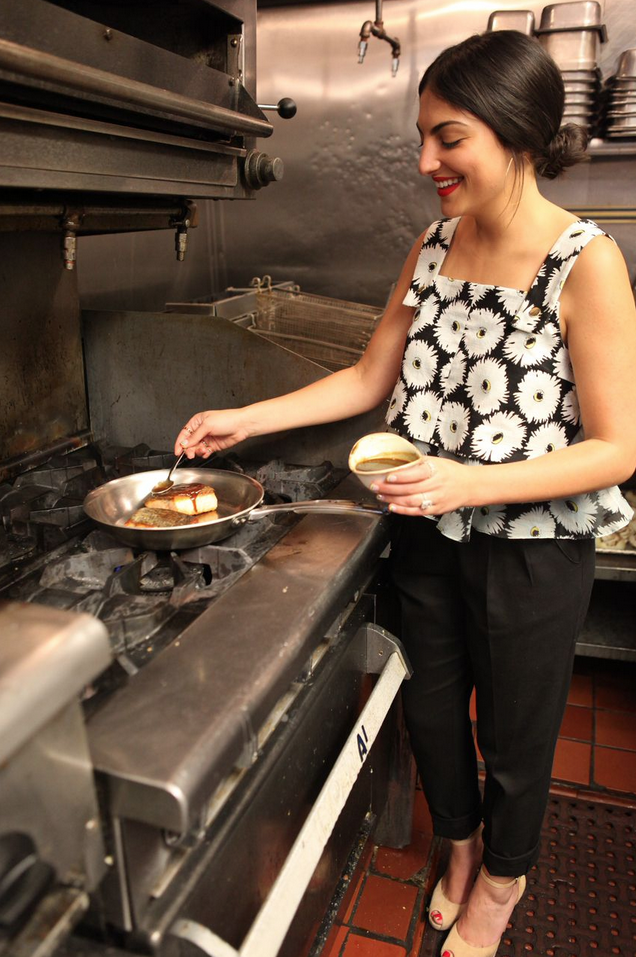 SKIVVY BANTER! With Morgan Curtis…
How's your lingerie line, Morgan Lane, going? 
Morgan Lane has really been a dream come true. I never thought I could come so far in a year! I've always been obsessed with lingerie, and to see my creations hanging in Le Bon Marche in Paris and on Amber Heard in W, for example, is more than I could ever ask for. I'm so happy doing what I love most.
How is working on Solid & Striped different from Morgan Lane?
Swimwear has always been another passion of mine. It lets me express my colorful yet classic side, while Morgan Lane is a little more girly and romantic. Morgan Lane is my baby, and Solid and Striped is my team.
What's the best advice your mom has given you for making it in fashion?
Don't make anything you wouldn't wear yourself, and always trust your own instincts.
How adept are you in the kitchen? 
I love to cook, and I'm especially good at following directions! Even if you're following a recipe, it still feels great when you master it. The hardest thing is the prep work and buying the ingredients because I'm so busy with work. Instead, I'll cooking classes with my boyfriend at Haven's Kitchen. Everything is laid out and ready to go! This one-on-one lesson at Horchata was exactly what I needed; I'll definitely do my best to recreate the dishes at home!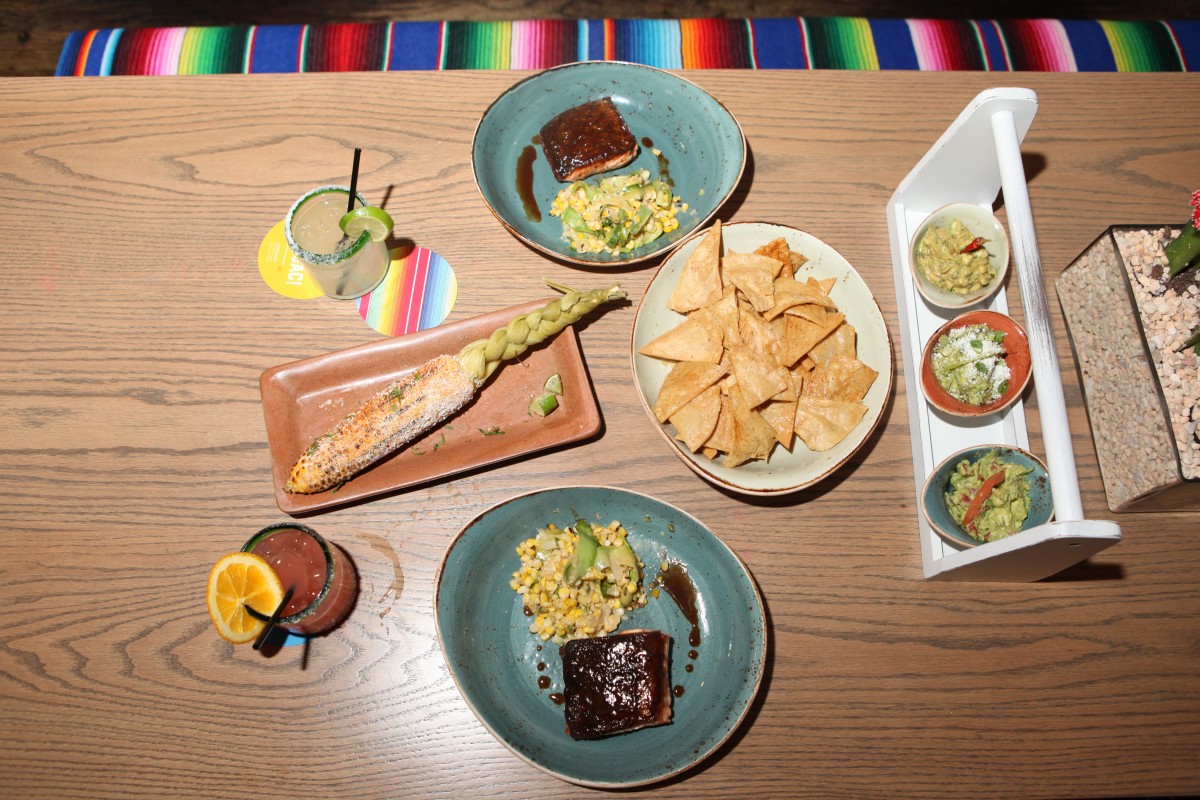 RESTO CHATTER! With Samantha Wasser…
How did you and Morgan meet?
We actually met on the first day of 4th grade! We both attended The Hewitt School, an all-girls school in NYC.
Why did you and Morgan whip up this specific dish? 
The Salmón en Tamarindo is one of our most popular dishes on the menu. It's light and flavorful! Also, it's super easy for us amateur chefs to make.
What kind of fashion or media folks have popped by Horchata? 
My friend Dana Veraldi of Deer Dana, who custom designed the tees for Horchata has become a regular along with the Dannijo girls who I adore.
Wes Gordon had his birthday party over the summer! How did that come about? 
Wes is dating one of my very best friends, Paul Arnhold. I stayed at their house in Connecticut over July 4th weekend. and Paul mentioned the idea of throwing Wes a "surprise" birthday party! The party actually fell on the perfect night: Wes was announced as a 2014 CFDA/Vogue Fashion Fund finalist earlier that day.
What do we absolutely have to try on the Horchata menu, besides the salmon? 
Hmm. That's a tough call! My absolute favorites have to be the Atùn Quesadilla, our Mexican version of the classic crunchy spicy tuna sushi roll. Also, the Pan de Maíz corn bread is out of this world!